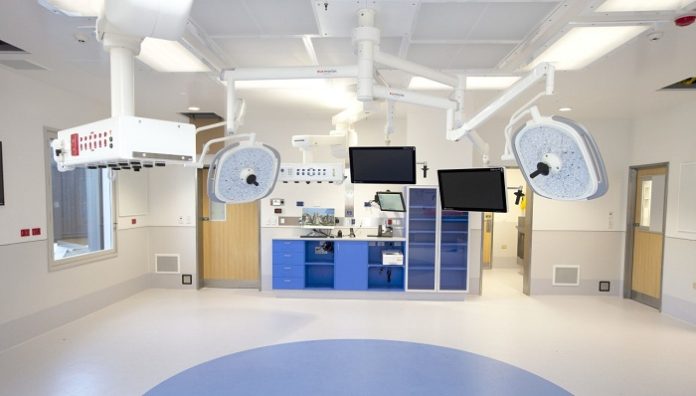 Carilion Giles Community Hospital (CGCH) is among the first hospitals in the United States to install GE Healthcare's next-generation advanced x-ray system, AMX Navigate. CGCH staff are using the portable, power-assisted x-ray system today after weeks of staff training.
GE Healthcare designed AMX Navigate to help x-ray technologists reduce the stress and strain of their jobs. The company conducted clinical research on portable x-ray systems, leading to a new design focused on improving user experience. The system's design incorporates a unique power-assisted Free Motion telescoping column that reduces the physical effort required for exams by around 70% using the system's main console.
"As x-ray technologists, my colleagues and I experience the strain from performing multiple x-rays every day," said Jennifer Collins, imaging services manager for CGCH. "Carilion is excited about AMX Navigate's design reducing the effort required for system set-up and processing x-rays. The system's smaller footprint makes it easier to move, reduces exam time, and allows us to quickly provide high-quality x-ray images in caring for the patients we serve."
AMX Navigate also offers Zero Click Exam. The feature streamlines an x-ray technologist's work through a barcode reader that matches a patient to an x-ray order and automatically selects individual patient settings, ensuring they receive the correct exam as scheduled. These workflow improvements operate in conjunction with others to eliminate up to 100 percent of user clicks. The system also features quicker processing and turnaround of images without affecting x-ray quality, producing images in under 10 seconds.
"The portability of AMX Navigate and its upgrades benefit Carilion's staff and all our patients," said Daniel Karolyi, M.D., senior vice president and chair of radiology administration for Carilion. "We'll be able to more seamlessly deliver x-rays for critical care patients by more easily bringing the x-ray bedside, eliminating the need to move a patient to the hospital's radiology department."
"No one is more familiar with the ins and outs of X-ray imaging than technologists," said Katelyn Nye, General Manager, Mobile X-ray and Artificial Intelligence, GE Healthcare. "That's why we worked closely with them to design new features focused on removing the stress and strain of the technologist's everyday workflow – from the positioning of a portable X-ray for an exam to its overall maneuverability from the Emergency Room to the Operating Room to the patient's bedside. Already, the feedback has been overwhelmingly positive – with many X-ray technologists saying our new system addresses their core needs unlike ever before."