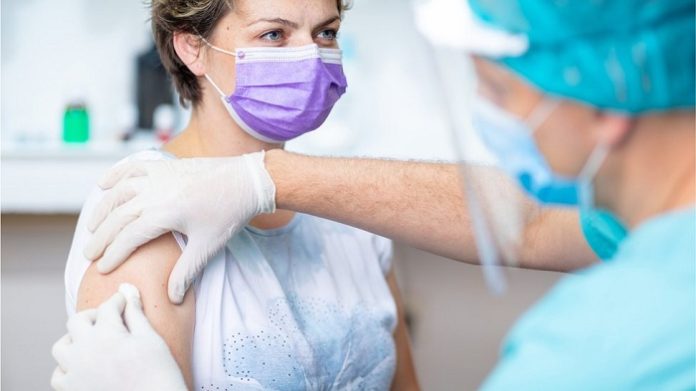 The South African Society of Obstetricians and Gynecologists wishes to clarify its position on COVID-19 vaccines in light of a newly published study on the association between menstrual cycle length and the COVID-19 vaccination, titled "Association Between Menstrual Cycle Length and Coronavirus Disease 2019 (COVID-19) Vaccination" and the subsequent media release by the Commission for Gender Equality (CGE), "Warning against imposing mandatory COVID-19 vaccination on employees and students" dated 16 January 2022. (See attachments below for reference.)
The most important findings of the study are:
An increase in cycle length of less than 1 day in the vaccinated cohort compared to the unvaccinated cohort. Although this increase was found to be statistically significant it is not clinically significant (clinically significant change in cycle length is defined as a change of 8 days or more).
Furthermore, this increase in cycle length was temporary with no difference in cycle length between the two cohorts by the third cycle after vaccination.
Vaccination had no effect on duration of menses.
The findings of this study and the conclusions drawn by the authors that there is no clinically meaningful change in menstrual cycle length associated with COVID-19 vaccination is very reassuring.
SASOG urges new mothers and mothers-to-be to be, to consider the results of numerous studies and monitoring programmes (both completed and ongoing), that reveal no significant risk associated with COVID-19 vaccinations during both pregnancy and breastfeeding.
As such, SASOG urges both new mothers and mothers-to-be to be vaccinated. Studies show that the risk for critical illness due to COVID-19 is higher for pregnant than non-pregnant women, particularly in the 3rd trimester.
It has been found that pregnant women who experience COVID-19 symptoms have a higher risk of being admitted to ICU, needing mechanical ventilation and dying, than non-pregnant women of the same age.
We therefore find it surprising that the CGE brought out a statement warning against mandatory vaccination of women. Not only is their interpretation of the study flawed, but they also chose to ignore the proven benefits of vaccination of women of reproductive age as pointed out above.
It is our opinion that their statement is irresponsible and has the potential to increase vaccine hesitancy amongst women.
As a society of South African OBGYN professionals, we are committed to excellence and equity in women's health.
We strongly recommend to women who might be uncertain about the risks associated with COVID-19 vaccination, to consult their doctor or clinic who will be able to provide them with the most up to date and reliable information to assist in making their decision.