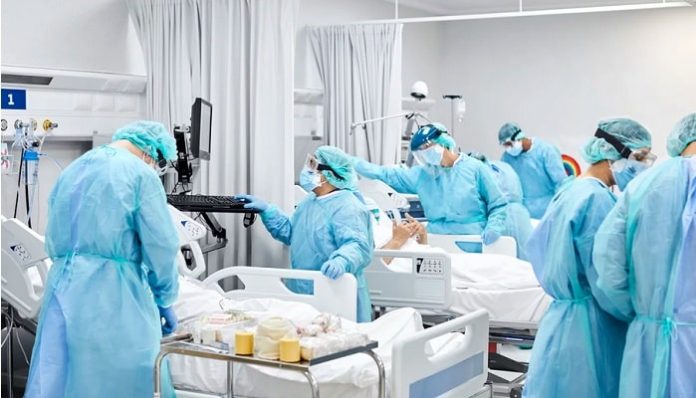 Hospitals in the US are getting battered by the day due to the onslaught of the pandemic. The major concern that has raised the alarm is workforce shortages as well as the rise in the cost of labour.

Almost 31% of the total hospitals in the country, nearly 1400 to be precise, have started facing critical shortage when it comes to staffing as per the AHA- American Hospital Association. In about 12 states, more than 40% of hospitals are reeling under workforce limitations. As a matter of fact, many hospitals have stalled performing specific procedures, have been forced to shutdown care units, and have diverted patients to certain other facilities.
Detroit's Henry Ford Health System having 75 beds, is shut due to the unavailability of enough health care workers. According to Wright Lassiter, systems president and CEO, this number went to almost 150 beds 30 days back. What this peculiar concern of staffing shortage has done is increase labor costs for hospitals, particularly when systems related to health are forced to move towards contract labor firms such as nurse staffing agencies to bridge the consistently occurring gap.
There have been instances where in some areas the pay rates for temporary nurses have been a whopping $240 per hour or even more. This has prompted the hospital association to seek help from the federal government as far as the price inflation is concerned. As per Rick Pollack, President and CEO, AHA, they have been consistently urging the federal trade commission to analyze and dig deep into the nursing staff agencies conduct which are being criticized for anti-competitive behavior. He adds that these agencies have gone on to exploit the critical shortage of healthcare personnel in times of the pandemic as they have practiced charging exorbitantly.
That said, job postings when it comes to nurses and other clinical staff have seen a surge of 45% and 41% respectively, between January of 2020 to January 22. It is also expected that 500,000 nurses will be leaving their positions in 2022 alone, which will further bring down the national shortage to 1.1 million nurses as per Bureau of Labor Statistics. As expected, it is the fatigue caused due to COVID-19 which has led to the talent drain. Lassiter further adds that there has been an increase of 600% in staff who have requested support for dealing with emotional issues or even personal stress.
Bruce Flanz, President and CEO, MediSys Health Network, says that the staff is understandably worn out. This is despite the wellness support that has been given to them. The pandemic as per him has caused many to retire early or even resign from their positions. Besides, the mandate for vaccines has led to the loss of a few workers, too.
According to him, they had to filter 78 from their 6500 employees, which itself meant that 99% of their workforce was already inoculated. This helped their organization tremendously during the current wave they are experiencing as they still had another 3% of their workforce out due to contracting COVID. As per the hospital association patients are put up in the hospital longer with an 8.8% increase in the average stay as compared to the levels found before the pandemic hit.
To keep up with the scenario, around 95% of the country's health care facilities have hired staff from contract labor organizations. Notably, it is respiratory therapists who are in huge demand in hospitals. Unfortunately, since supply is short and demand is at an all-time high, these contract firms have managed to squeeze out as much as they can from the healthcare firms pockets.
The surge in advertised pay rates for temporary nurses is 67% from January 2020 to January 2022, and hospitals often get billed 30% more by the staffing firms.
AHA has already sought Congress' help in dealing with staffing and financial issues by way of pooling in $25 billion into Provider Relief Fund, setup during the pandemic. The fund had $178 billion for all providers in addition to the $8.5 billion which was specifically focused on rural providers. However, most of the funds were pooled in before the last two waves and no allocation has been done or even announced for omicron or the previous delta surge.