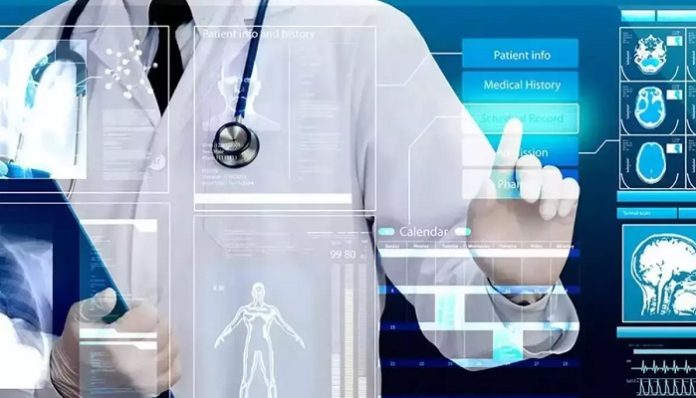 According to a recent analysis by Markets and Research, the Indian digital health market had a value of Rs. 252.92 billion in FY2021 and is projected to grow to Rs. 882.79 billion in FY2027, with a CAGR of 21.36% from FY2022 to FY2027.
The COVID-19 pandemic may be part of the reason for the rapid adoption of digital technologies in India's healthcare industry. There has been a noticeable rise in the usage of telemedicine, wearable technology, medical applications, the use of electronic medical records, artificial intelligence (AI), and machine learning (ML).
The use of electronic health records under supportive policy frameworks like the National Digital Health Mission (NDHM) as well as the Ayushman Bharat Health Account is an example of the digital push- ABHA. Healthcare executives told ETHealthworld that despite the significant changes that took place in 2022, technology disruptions will still play a significant role in the country's healthcare system.
Digital change is driven by COVID
All areas of healthcare can be impacted by digital transformation, from providing greater access to care to enhancing quality and reducing costs.
Healthcare delivery models are still under a great deal of pressure as healthcare systems throughout the world struggle to contain the COVID-19 outbreak, as per Vineet Aggarwal, CIO, Paras Healthcare. Healthcare providers are increasingly embracing innovations to address these issues and enhance the care given to patients as a result of an increase in patient traffic, employee burnout, workforce shortages, supply chain interruptions, equipment limitations, and antiquated buildings. In order to address current challenges and reimagine the Future of Health on the digital push from 2022 to 2023 with the goal of reaching true connectivity all across care ecosystem, providers are moving rapidly to virtual care and relying more and more on advanced technologies, including 5G telecommunications, cloud services, artificial intelligence (AI), VR and AR, Blockchain, as well as interoperable data and analytics.
According to Senior Vice President of Global Health Sciences at Cognizant, Surya Gummadi, as businesses adjust to the post-COVID market, digital transformation will continue. Businesses are refocusing their expenditures on patient-centered initiatives, creating robust and efficient supply chains, and adopting smart manufacturing. Additionally, there is a focus on cutting-edge research and development in fields like gene treatments and precision medicine. Given the current state of the economy, he anticipates that by 2023, digital spending will reflect a revived emphasis on cost minimization, as well as an emphasis on data analytics, automated data exchange, and improved patient experience and engagement.
Senior Vice President and General Manager, Global Leader, HLS Business, Persistent Systems, Ganesh Nathella, commented on the post-pandemic technological upheavals, saying that COVID vaccine manufacturing capabilities have established the platform for innovation. Innovative uses of mRNA technology are being made all around the world to cure and even reverse disease. Cell and gene treatments and their use in treating conditions like diabetes, autoimmune illnesses, and cancer will be the subject of the following wave of disruption. The manufacturing of cell therapies and digital health technology will propel growth.
Decentralized clinical trials have, since the conclusion of the pandemic, increased patient recruitment and participation, he continued. Restrictions on in-person visits even during times of COVID led to their establishment. Additionally, the IOT and remote monitoring have created virtual and home care delivery models that are more practical for patients and more affordable for payers. Non-acute care services will soon be provided outside of hospitals in a number of locations.
A significant rise in artificial intelligence is expected
Clinical outcomes, financial performance, and operational use cases in healthcare organisations can all be seen today where artificial intelligence and machine learning models are being applied.
According to Praveen Bist, CIO of Amrita Hospital, adoption of AI will grow in three different ways. First, by using a few straightforward strategies, it is simple to enjoy the fruits at hand. Second, as more data becomes available, they have a larger dataset on which to train the machine learning system, improving its accuracy and predictability. Last but not least, the IoT's availability of enormous databases makes it simple to centralise data and use big data techniques to gather useful information.
Technology has grown to be a significant facilitator, and co-founder and president of Portea Medical, Meena Ganesh, concurred that this trend will continue in the years to come. India's healthcare sector is significantly growing in terms of new offerings through technological platforms, next-generation diagnostic equipment, public-private partnerships, and home care, she said. Additionally, it is drawing a great deal of new capital from investors. The rapid development of AI, remote healthcare, wearable technology, and individualised, patient-centered healthcare are some developments to watch out for in 2023.
Similar sentiments were echoed by Mayank Bhargava, CIO of Fortis Healthcare, who predicted that the health sector would continue to put its emphasis on utilising technology to provide better health and care in 2023. He stated that 2022 had an increased focus on and awareness of health management, particularly mental wellbeing, and that trend is anticipated to carry over into 2023.
It appears that technology adoption will continue to experience good growth as experts express their firm opinion that AI, ML, and IOT will alter the Indian healthcare industry in the future. Additionally, disruptive technology will continue to lead the win-win healthcare market in the upcoming year due to the discovery of new COVID variations and the resumption of preventative measures.