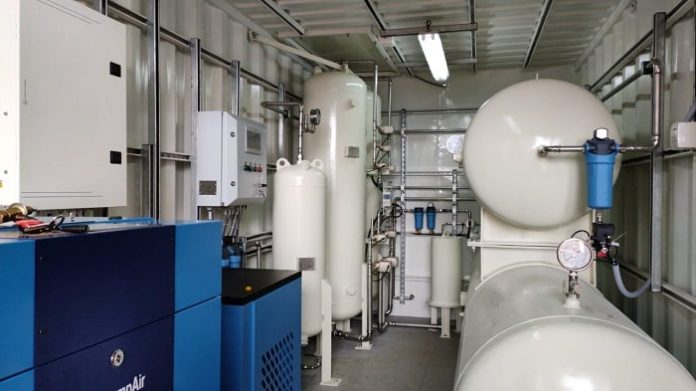 Many African countries are facing a growing crisis of severe oxygen shortages which is leading to preventable deaths, according to a recent report from the BBC. Whilst there are no official figures available, international health agencies have sounded a warning. But global gas process systems specialist Oxair has developed a simple solution to prevent hundreds of lives being lost in Africa – and it has already been deployed and proven.
Oxair engineer David Cheeseman explains: "A number of African hospitals, including the likes of Heal Africa in Goma, The Democratic Republic of the Congo (DRC), are already saving lives with an off-the-shelf Oxygen Pressure Swing Adsorption (PSA) system. These are high quality, robust medical devices designed to last and deliver consistent, high purity oxygen on tap to hospitals and healthcare facilities even in the remotest locations around the world."
Medical facilities are often forced to rely on outsourcing this life-giving gas, with failing supplies a potential catastrophe for hospitals, not to mention the problems associated with storing, handling and removing traditional oxygen cylinders. The situation is being exacerbated by the Covid-19 pandemic, with multiple remote hospitals and care facilities in low-income countries struggling to source the oxygen supplies they need.
PSA Oxygen offers better patient care with a permanent flow of high-quality oxygen. In this case a plug and play system with output pressure of five bar and a flow rate to suit the needs of the hospital, and capable of piping oxygen around the hospital to every department as needed. Or, in cases where the hospital does not have a central piping system, Oxair will supply an on-site cylinder filling system. It's a highly cost-effective and hygienic alternative to the inconvenience and uncertainty of cylinder delivery.
David adds: "Oxair's system delivers constant oxygen of 94-95 per cent purity through PSA filtration, a unique process that separates oxygen from compressed air. The gas is then conditioned and filtered before being stored in a buffer tank to be used directly by the end user on demand. We can turn around orders for ready-to-use, standalone Oxygen PSA units in just a few weeks, and we'll happily provide a charitable rate for organisations with a bona fide charitable status, to supplement funding available from international finance sources.
"We are ready to step up supplies and prepared to do whatever is necessary to help healthcare services during the current coronavirus crisis – and beyond – by providing this life-saving oxygen equipment in Africa and wherever else it is needed. The design of these PSA systems as 'plug-and-play' means that they are literally ready to start working as soon as they are delivered and plugged in, with voltage adapted to the country of delivery. So, hospitals can rely on technology that is tried and tested over many years, coupled with almost instant access to vital oxygen supplies."