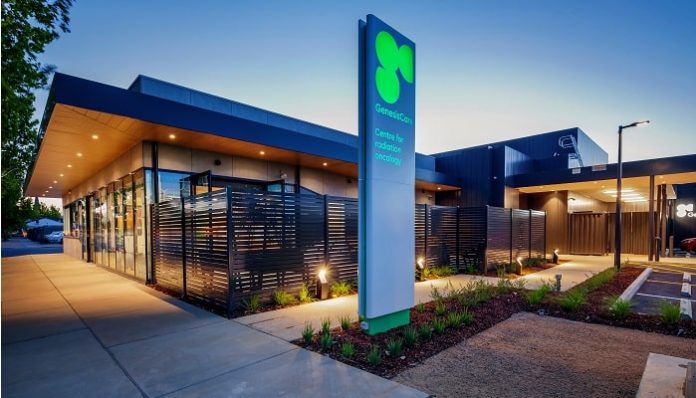 For the first time, cancer patients in Goulburn Valley no longer have to travel outside the local community for treatment, thanks to a new $11 million cancer care centre unveiled at an official opening ceremony.
The cancer treatment centre, which began delivering care to patients before Christmas, is open to both public and privately insured patients, and has capacity to treat more than 500 patients every year.
In December 2019, the Department of Health and Human Services, Goulburn Valley Health and GenesisCare, announced a shared care agreement to enable public patient access to treatment at the GenesisCare Shepparton centre. All patients at the centre can receive world-class cancer treatments and access to clinical trials, closer to home.
The facility provides comprehensive radiation therapy services using an advanced Varian TrueBeam linear accelerator machine to deliver highly targeted doses of radiation to tumours using Volumetric Modulated Arc Therapy (VMAT). International guidelines recommend radiation therapy in the treatment of half of all cancer cases.
Previously, patients had to commute hundreds of kilometres to Albury, Bendigo or Melbourne for daily radiation therapy treatment or be away from home for multiple weeks. A local service opens up access for many patients, including those who would benefit from rapid access to radiation therapy for pain management as part of their palliative care. Additional cutting-edge treatment techniques will be introduced at the centre in 2020.
The Hon Damian Drum, Federal Member for Murray, said: "The official opening of the new centre is a huge step forward for cancer care in the Goulburn Valley region and for regional Victoria. Previously, local patients were travelling up to 200kms from Shepparton to Melbourne, Albury or Bendigo for treatment, so this is fantastic news for the local community.
"The Federal Government is very proud to have assisted with the purchase of the advanced linear accelerator machine, which is now being used to deliver radiation therapy for local patients."
Shane Ryan, GenesisCare Victoria Oncology General Manager, said: "At GenesisCare, we are committed to ensuring all cancer patients, regardless of where they live, receive access to the highest standards of care close to home.
"We are pleased to be up and running, and to be partnering alongside the local community, the Department of Health and Goulburn Valley Health to deliver world-class treatment."
A team of more 12 experienced and respected oncologists, nurses and support staff have been recruited to deliver the highest quality of cancer care for the local community. They are supported by an international network of more than 3000 healthcare professions, including leading specialists across every tumour type.
"A special mention must also go to our fantastic local trades teams who worked tirelessly to ensure we could start offering treatment to patients as soon as possible."
Dr Grace Ong, GenesisCare Shepparton Radiation Oncologist, said: "The entire team here at GenesisCare in Shepparton is incredibly passionate about improving the health outcomes of people living in the Goulburn Valley.
"We have treated more than 50 patients since Christmas and the feedback has been overwhelmingly positive. The whole community has embraced our team with open arms, and they are just so pleased they no longer have to travel for treatment."
The facility is located at 124 Corio Street in the centre of the town, opposite GVH Community Health. No private health cover is required. For private patients, the cost of radiation therapy treatment is largely covered through Medicare via the Medicare Benefits Scheme and the Extended Medicare Safety Net programs.