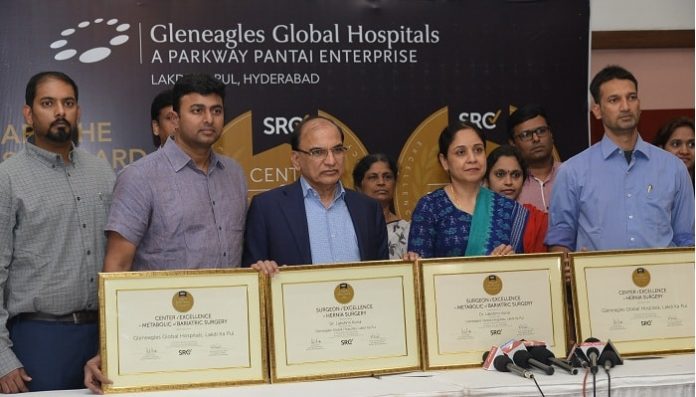 Gleneagles Global Hospitals, a Parkway Pantai Enterprise, announced that it has been certified as a "CENTRE OF EXCELLENCE FOR METABOLIC & BARIATRIC SURGERY" AND "CENTRE OF EXCELLENCE FOR HERNIA SURGERY" by Surgical Review Corporation (SRC), USA.
Gleneagles Global Hospitals is the only Hospital to be conferred with this recognition in both the states of Telangana and Andhra Pradesh and is the second in South India. Gleneagles Global Hospitals is known for providing highest quality care for patients who undergo bariatric and hernia surgeries and in the last one year a total of 500 surgeries were performed, which is a testimony for its outstanding clinical excellence and patient-care.
This award is a result of the efforts put in by Dr. K S Lakshmi, who has remarkably contributed to the field of Surgical Gastroenterology, Minimal Access & Bariatric Surgery, to Gleneagles Global Hospitals as well. The parameters that were judged by SRC (USA) to give these certifications to Gleneagles Global Hospitals were the Processes, Protocols, Clinical Pathways and Volume of work.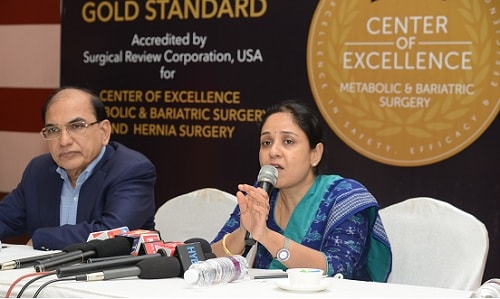 Chairman of Gleneagles Global Hospitals, Dr. K Ravindranath said "Individuals affected by obesity usually try to lose weight by conventional means such as dieting, increasing exercise, commercial weight-loss programs, etc. but in the long term bariatric (weight-loss) surgery is the only effective treatment.
It helps to improve or resolve more than 40 obesity-related diseases and conditions, including type-2 diabetes, heart disease, certain cancers, sleep apnea, GERD, high blood pressure, high cholesterol, and joint problems. Dr. K Ravindranath said that the same applies to management of Hernias. Even though Hernia Surgery is a very common Surgical procedure, the results vary from surgeon to surgeon and center to center.
The best surgeon and center should have least recurrence rate (less than 1%) and infection rate. This has been successfully achieved at GLENEAGLES GLOBAL HOSPITALS. A key component to this treatment is the accreditation process, which is awarded by the Surgical Review Corporation (SRC), USA which administers, best-in-class Global standards for quality surgical care."
Chairman of Gleneagles Global Hospitals further said "It is indeed an honour to be declared as a Centre of Excellence by SRC for Hernia surgery Metabolic & Bariatric surgery. This is in recognition of the values we strive for."
"At Gleneagles Global Hospitals, we believe in quality healthcare, which can be achieved only through pursuit of excellence, through Innovation, teamwork and a constant restlessness to surpass our own exacting standards. I congratulate Dr. Lakshmi for her success and greatly admire her drive and ambition to achieve perfection."
Dr. Vijay Vemuri, Regional COO- Gleneagles Global Hospitals, Hyderabad remarked that "Gleneagles Global Hospitals is strongly focused on improving safety and quality of patient care, lowering the overall costs associated with successful treatment. It is a teamwork spearheaded by Dr. Lakshmi at Gleneagles Global Hospitals and her efforts are highly commendable."
Dr. Lakshmi, who has performed more than 30,000 Minimal Access, 1500 plus Bariatric Procedures has an extensive experience of performing more than 5000 standard to complex Laparoscopic Hernia Repair said, "Our job does not stop at the surgery level. Postoperative care, patient education, long-term follow-up and cooperation from support groups are very important part of the process, and 'I' greatly appreciate the cooperation from all my colleagues and staff members at Gleneagles Global Hospital."
About Gleneagles Global Hospitals, a Parkway Pantai Enterprise: Gleneagles Global Hospitals is part of Parkway Pantai, a fully owned subsidiary of IHH Healthcare. In India, Gleneagles Global Hospitals operates a chain of multi-super specialty hospitals offering tertiary and quaternary healthcare services with over 2,000 beds and state-of the-art, world-class hospitals in Hyderabad, Chennai, Bangalore and Mumbai. A pioneer in kidney, liver, heart and lung transplants, Minimal Access & Bariatric Surgery. Gleneagles Global Hospitals provides comprehensive multi-organ transplant services in the country.
Gleneagles Global Hospitals aims to strengthen and expand its leading market position as a destination for multi-organ transplant for patients from India, Middle East, Africa and South East Asia. We are committed to further our aspiration of making quality health care more accessible to all.
About Surgical Review Corporation, USA
SRC develops and administers best-in-class accreditation programs for surgeons, hospitals and freestanding outpatient facilities throughout the world. These programs are focused on improving the safety and quality of patient care and lowering the overall costs associated with successful treatment. Data from program participants is being used to determine which treatments work best for which patients under which circumstances. This information enables clinicians, patients, payers and policymakers to make informed decisions that will improve healthcare at the individual level and for each specialty's patient population as a whole.
Website: http://gleneaglesglobalhospitals.com/