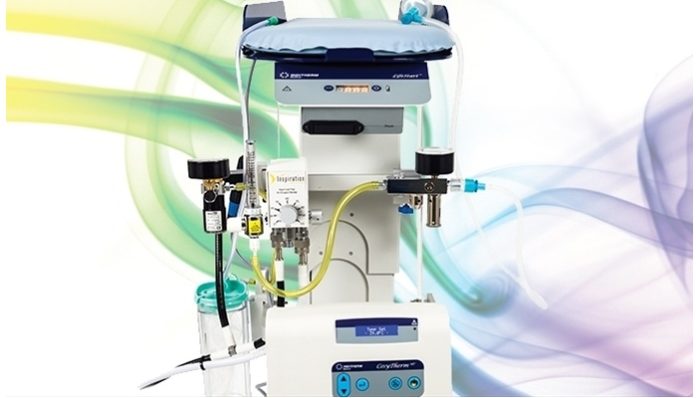 Inspiration Healthcare, a global provider of medical technology, are to acquire SLE – a specialist provider of neonatal ventilation products – for the sum of £18m following a successful fundraising round.
Every year, an estimated 15 million babies are born preterm, and that number is rising. The global market for neonatal medical equipment is set to reach $9.09bn by 2024.
With products that support new-borns in the first minutes of their lives, to respiratory products that support adults in intensive care, Inspiration Healthcare's innovative solutions are used and distributed to more than 50 countries around the world. Most recently, the firm has received £5m of adult ventilator orders from the NHS and a US Patent for a product that could help more than one million babies every year.
Inspiration Healthcare is set to become a global leader in neonatal intensive care equipment and is targeting £100m revenue through organic growth and acquisitions. This deal doubles the number of staff overnight, increases Inspiration Healthcare's revenue to £34m, enables the firm to take on additional manufacturing capability, and increase its global distribution network to cover the Middle East and Asia/Pacific.
This news comes following the successful acquisition of Viomedex – a manufacturer of disposable respiratory products in September 2019.
Neil Campbell, Chief Executive at Inspiration Healthcare, said: "We are delighted to have received such strong support for the Fundraising to drive our growth strategy and the acquisition of S.L.E. Limited, a leading designer and manufacturer of ventilators and capital equipment used in neonatal intensive care. Bringing the two companies together will significantly enhance our position as a leader in the global neonatal intensive care sector and deliver a number of benefits that include broadening the Group's product portfolio, an enlarged global distribution network, added manufacturing facilities and significantly increasing revenues and earnings."
Bernard Nelligan, Managing Director at SLE, added: "Improving the wellbeing of the tiniest of patients has been close to our hearts for the last 60 years and I have no doubt that under the ownership of Inspiration Healthcare that this will continue.
"Inspiration Healthcare is a fantastic business run by experienced experts in the neonatal field. This acquisition brings many future opportunities and enables the organisation to continue to innovate and develop life-saving products. With our key management team staying with the business long term, I am certain that we are in very safe hands and will go on to achieve great things."
Both firms have previously been awarded the Queen's Award for Enterprise: International Trade and have played a significant role in the UK Government's Ventilator Challenge as a result of Covid-19.
About Inspiration Healthcare
Inspiration Healthcare is a global provider of medical technology for use in critical care & operating theatres. The Company provides high quality innovative products to patients around the world which help to improve patient outcomes and it actively invests in innovative product opportunities and disruptive technologies.
Through investment in research and development the Company has 6 key own brand products that can be used within the first 6 hours of life to help premature and sick babies; helping with assessment, resuscitation, stabilisation as well as preventing brain damage. Additionally the Company has its own range of products for maintaining normothermia pre- during and post-surgery.
With product availability extending to over 50 countries through a distribution network, Inspiration Healthcare's success has been built on continuous innovation, excellent customer service and an inherent commitment to improving patient outcomes, working in close collaboration with key opinion leaders across the globe. In the UK and Ireland the Company has a direct sales team selling Inspiration Branded and complementary products from third parties, with an additional range of home healthcare products. This is supported by Technical Support for planned preventative maintenance and emergency assistance. Further information on Inspiration Healthcare can be seen at www.inspiration-healthcare.com