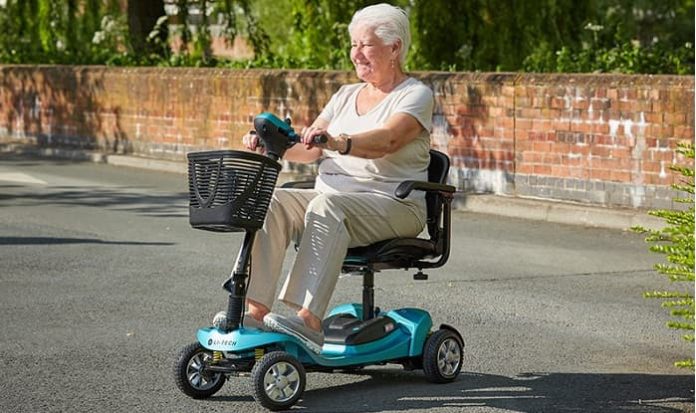 When you are disabled or differently abled, mobility is important to maintaining a high quality of life. And a mobility scooter is an ideal way to be able to get out and about. From doing your shopping, to seeing your friends and family, there really is no substitute to riding a scooter.
Yet, you do need to keep a few things in mind before you set out for the first time. After all, any kind of vehicle comes with a unique set of problems and safety is always a consideration.
In this article, I will go over several of the things you need to keep in mind when you are about to start using a mobility scooter.
Before you buy
Having the right type of mobility scooter is essential for getting the most out of it.
For instance, some scooters have four wheels for added stability. If you are unsure of how well you'll stay up on one when riding then this stability is added security. However, it also means that you have less maneuverability in tight spaces. If you need to be able to pivot effectively then a three wheel scooter is best.
Some have two seats so you can carry a passenger and others can be folded so you can easily put one in the trunk of your car so you can still drive without needing a special van.
Make sure to evaluate your needs so you get the best scooter that will allow you the independence that you are looking for. https://www.scootersnchairs.com/collections/mobility-scooters has a guide on the various types so check that out to learn more.
Plan your journey
Unfortunately, when out on your scooter you will still encounter some areas that are difficult or impossible to access while on your scooter. This can waste time and add some difficulty to your day.
Which is why you should do your best to eliminate any surprises by planning your route. Find out the best you can what your route will be like and any challenges you may face. Rather than just show up and see what happens. This includes finding out if the road itself is safe enough and is well paved, to any railroad crossings to any possible need for public transportation along the way.
Treat it like a motor vehicle
Even though you are accessing pedestrian areas, never forget that it is a vehicle. You are responsible for your safety as well as others when you are out and about.
Do not drink any alcohol or take any prescription drugs that will impair your ability to safely drive your scooter before setting out.
Also, driving while texting or even talking on a cell phone is not a good idea. Stop your scooter and take the time needed for the call or text while remaining stationary for your safety and others'.
Maintaining a safe speed is also essential. When you are riding too fast, it can be difficult to stay in control and react quickly enough to a dangerous situation.