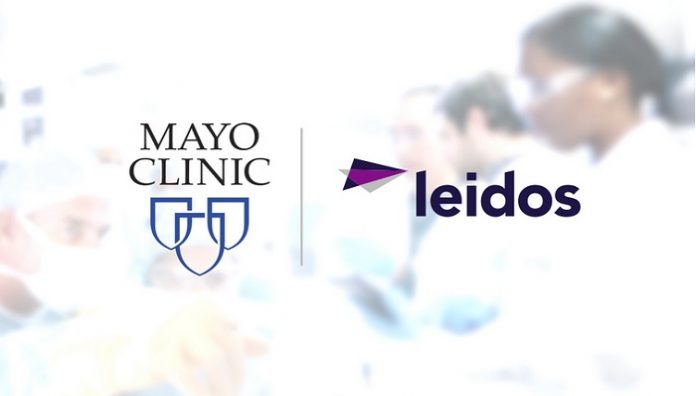 Leidos, a Fortune® 500 science and technology leader, and Mayo Clinic, are announcing a strategic collaboration. This collaboration will build on the combined strengths of both organizations to accelerate the research, development and market adoption of tools, technologies and therapeutics to make patients and their families more active participants in their care, ultimately helping them live happier, healthier lives.

The two organizations will work to build an accelerator on Mayo Clinic's campus in Jacksonville within the Life Sciences Incubator campus, a med-tech hub designated to advance new ideas and products from the research lab, through product development, for the improvement of human health and well-being. It will use Leidos' novel systems integration solutions and applied public health applications. Together, the teams will identify, develop and commercialize products, services and solutions that will create significant value and positive impact for the health care industry, health care providers, patients and consumers.
"The shared values and deep passion for transforming health care make this collaboration a powerful force for the advancement of innovative methods and quick translation of these solutions across the health care ecosystem," says Jon Scholl, Leidos Health group president. "The clinical knowledge of the Mayo Clinic combined with our technical expertise has the potential to truly transform the quality of health care in the future."
"We look forward to combining the power of our two organizations that will help us advance new solutions to solve the most complex health care challenges," says Kent Thielen, CEO of Mayo Clinic in Florida. "Working together will allow us to spark a vibrant accelerator to bring innovation to the direct benefit of patients more quickly."
About Leidos
Leidos is a Fortune 500® information technology, engineering, and science solutions and services leader working to solve the world's toughest challenges in the defense, intelligence, homeland security, civil, and health markets. The company's 32,000 employees support vital missions for government and commercial customers. Headquartered in Reston, Virginia, Leidos reported annual revenues of approximately $10.17 billion for the fiscal year ended December 29, 2017.
About Mayo Clinic
Mayo Clinic is a nonprofit organization committed to clinical practice, education and research, providing expert, comprehensive care to everyone who needs healing. Learn more about Mayo Clinic. Visit the Mayo Clinic News Network.