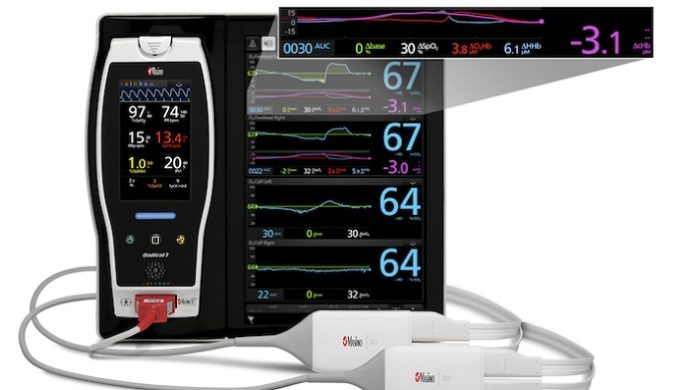 Connected care company Masimo has landed and expanded FDA clearance for its O3 Regional Oximeter, for both somatic applications and monitoring changes in the cerebral hemoglobin.
It specifically monitors somatic tissue oxygenation saturation, and can detect changes in a patient's hemoglobin, oxyhemoglobin and deoxyhemoglobin.
According to the company, its tool differs from peripheral pulse oximetry, because it can capture information about a "local issue's hemoglobin oxygen saturation, both in cerebral and somatic applications."
The new tool can be integrated with Masimo's SedLine brain function monitor or its Root patient monitoring and connectivity platform.
WHY IT MATTERS
The company is pitching this tool as a way for medical professional to monitor cerebral or somatic tissue levels. This tool could be used is the detection of early signs of renal dysfunction, as one example, according to the company.
"O3's expanded indication as a monitor of the oxygenation and deoxygenation components of cerebral tissue, along with the oxygen saturation of somatic tissue, represents an important milestone in helping clinicians and researchers shed additional light on how the body utilizes oxygen and in uncovering organ hypoxemia," Joe Kiani, founder and CEO of Masimo, said in a statement.
THE LARGER TREND
Masimo has a long history in the connected health space. In recent news the company inked a deal with the NBA in July which will require all league members to measure their oxygen saturation, pulse and respiration rate on a daily basis using the company's MightySat finger pulse oximeter.
That wasn't the company's only news this summer. In June it announced a new device aimed at reducing the symptoms associated with opioid withdrawal, called Bridge.