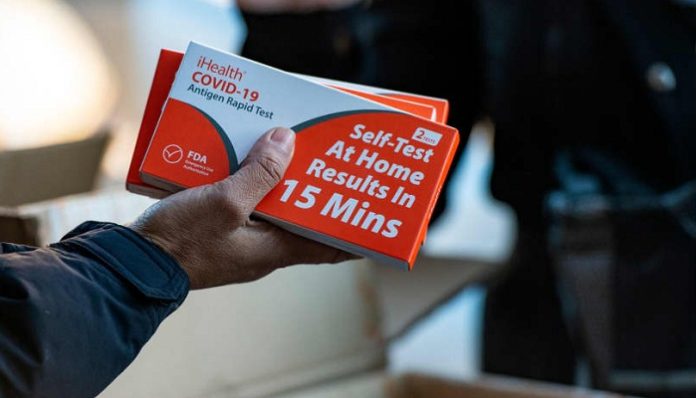 The USA has gone into reversal mode again. The ruling Biden administration confirms that people who have availed of Medicare, which happens to be a national health insurance program, shall receive till eight free home test kits for COVID-19 every month from the beginning of spring in 2022.

This step can be looked upon as a major breakthrough when it comes to curbing COVID-19-induced hospitalisation cases. According to the administration, it will be the first time in the history of Medicare that free of cost and OTC test will be covered. The pharmacies with other sources involved in the distribution will be reimbursed by Medicare, and enrolees will be able to pick up the free tests.
However a few days back the administration had said that the COVID-19 tests at home will not fall under the Medicare umbrella which essentially covers above 60 million mostly older Americans. That said, as per the Center for Medicare and Medicaid Services, the administration has now cited that it is important to get all-out access to be tested in the first place, and with that, they have devised a method to make payment for the test of those enrolled in traditional as well as modern Medicare plans.
With this development, people will now avail the test kits from pharmacies or other vendors starting in start of the spring. Until that time, the recipients of Medicare will be able to order test kits through the new government-designated website for COVID-19 tests, CovidTests.gov. The website will give Medicare recipients a free hand to order up to four kits per address, which will be delivered by the U.S. Postal Service.
Aside from that, Medicare enrolees can avail tests from healthcare providers at more than 20,000 free testing sites. Notably, Medicare also has lab-based PCR tests and rapid antigen tests covered under its gamut, which are specifically ordered by doctors and medical practitioners. This mandate, which started on January 15 by the Biden administration, also wants those covered under private health insurance to have access to the monthly allocation of free tests. Some experts are of the opinion that the plan to quickly execute home testing will be a treacherous task because of America's fragmented healthcare system.
The Department of Defence health care programme known as Tricare, which already covers millions of active duty and retired military families, had earlier said that it would not be covering home tests. That said, it will only cover the FDA-approved home tests when ordered by a provider for medically essential purposes only. The Defence Health Agency has gone on to say that it will review the guidelines on the home testing kits just to check if any changes are required.