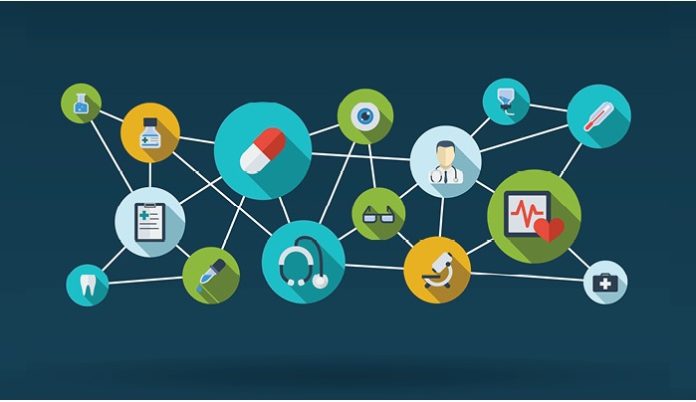 With the stickiness of telemedicine in a post-pandemic landscape weighing on the minds of healthcare providers, telehealth company executives and insurers alike, a newly released study shows significant levels of consumer insecurity on both sides of the remote versus in-person delivery fence. The nationwide study, published by global market research firm Martec and the healthcare marketing division of The Motion Agency, documents a dramatic 45 percent increase in consumers' concern over being in a hospital or doctor's office since the onset of COVID-19, juxtaposed against largely ambivalent feelings toward telemedicine.
"There are clearly tradeoffs with remote healthcare," said study co-author Jim Durkin, Founding Partner, Martec. "While 40 percent of respondents indicated missing the structure of in-person visits with their physicians, the lure of no wait times and easily getting appointments could balance that out."
More than half of all consumers have now experienced a remote visit with a healthcare provider, according to the study findings, up from 31 percent in February. Among those who haven't yet engaged in a virtual visit, a third say they're highly likely to consider one.
"The challenge," Durkin said, "is that the largest percentage of both groups – 46 percent of telehealth users and 53 percent of non-users – are neutral about future engagement. They're intrigued, but they still need to be won over."
This new study explores data collected from a June 2020 survey of 1,000 respondents across the United States, representing a cross-section of residents from states with major, moderate and minor COVID-19 stay-at-home and social distancing restrictions.
Being positioned as one of the most in-depth explorations to-date of the attitudes, behaviors and emotions of U.S. consumers during the COVID-19 pandemic, it utilizes Martec's proprietary Emotion Intelligence methodology to move beyond participants' conscious responses to unearth decision-driving nonconscious feelings.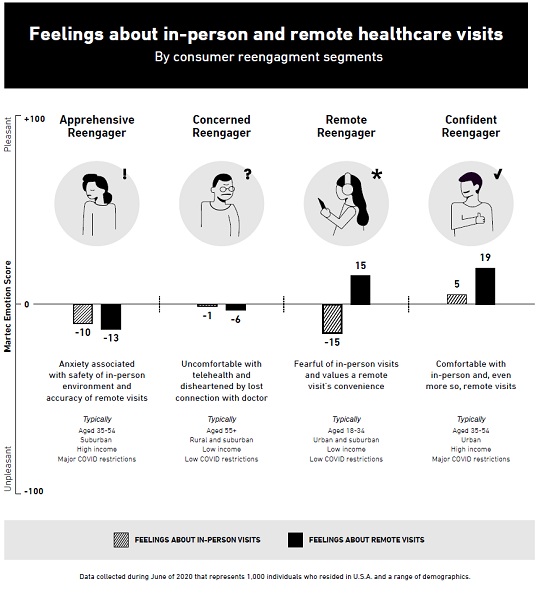 Emotion Intelligence
"Research shows that 95 percent of cognitive activity takes place on the nonconscious 'fast track,' as opposed to the slow, logical plain of conscious thought," said Chuck Bean, Partner and Chief Marketing Officer, Martec. "And when it comes to making decisions, people really do go with their gut."
The Martec Emotion Intelligence process maps respondents' words to 32 different emotion channels, ranging from the most positive (loyalty, kindness, acceptance, interest) to the most negative (contempt, anger, rejection, disinterest). A layered questioning approach categorizes chosen emotion words and their relative intensity to drill below the surface of conscious into nonconscious reactions, often presenting a telling disconnect between what people say and what they feel.
In this study, when addressing reengaging with healthcare providers in-person, 59 percent of conscious emotions expressed were positive (security, worth, serenity, confidence, joy), while only 38 percent of nonconscious emotions detected fell on the positive side of the spectrum. Among the 62 percent of negative nonconscious emotions identified were insecurity (which ranked number-one among both conscious and nonconscious emotions), fear and hesitation.
Interestingly, insecurity was also the top-ranking nonconscious emotion when respondents were asked about reengaging with healthcare providers remotely after the pandemic, despite security being the number-one conscious emotion expressed.
Overall, 67 percent of conscious emotions expressed about engaging with providers remotely were positive, in contrast to only 43 percent of nonconscious emotions. In other words, consumers have mixed emotions about telehealth, especially at a nonconscious level.
Consumer Segmentation
The study identified four unique consumer segments with significantly varying viewpoints on reengaging with the healthcare ecosystem:
The Apprehensive Reengager – Primarily Caucasian and married, these 35- to 54-year-old suburbanites represent the lowest incidence of telehealth experience among the identified consumer segments, both prior to and during COVID, and the highest level of concern about being in a hospital or doctor's office. They simultaneously expressed concern about the accuracy of telemedicine and skepticism about healthcare facilities' sanitization and PPE protocols – a dichotomy borne out by the group's Martec Emotion Scores (MES)* showing comparable levels of anxiety with both remote (-13) and in-person (-10) visits. Reporting the biggest drop in mental and emotional health of any segment, a high percentage of "apprehensive reengagers" live in states with major COVID-19 restrictions. They are college educated with annual incomes ranging from $50,000 to $150,000.
The Concerned Reengager – The oldest (55-plus) group among the segments, these individuals are predominately Caucasian and live in mostly rural or suburban areas with low COVID-19 restrictions. They reported a low incidence of remote visit experience, both prior to and during COVID-19, and although expressing a high level of concern about being in a hospital or doctor's office, the group's MES showed slightly more concern surrounding telehealth (-6) than in-person (-1) visits.
Specifically, they said they view in-person doctor visits as more productive than remote visits and expressed anxiety about telehealth technology. "Concerned reengagers" had the lowest annual income (under $50,000) and education levels (high school or trade school) among the consumer segments and reported little change in their overall mental or emotional health during the pandemic.
The Remote Reengager – These young (18 to 34) largely-singles live in primarily urban and suburban areas with low COVID-19 restrictions. They indicated high adoption of telehealth services, both prior to and during the pandemic, and while categorizing their concern about being in a hospital or physician's office as low, their MES showed a significant difference between concern for in-person (-15) visits and confidence in telehealth (+15). Representing mixed ethnicities, the "remote reengagers" said they view virtual healthcare as safer than in-person visits, at least until a working vaccine is widely available, and like the freedom and control remote visits offer. They reported little change in their mental or emotional health during COVID-19 and fall in the $50,000 to $75,000 annual income range with a bachelor's degree or high school education.
The Confident Reengager – These primarily urban 35- to 54-year-olds live in states with major COVID-19 restrictions and, according to their MES, are confident in engaging with the healthcare system in-person (+5) and, even
more so, remotely (+19). Among all segments, they represent the highest incidence of telehealth experience, both before and during COVID, the lowest level of concern about being in a hospital or doctor's office, and the lowest overall drop in their mental
and emotional health during the pandemic. Mostly married and of mixed ethnicities, "confident reengagers" enjoy the personal nature of in-person visits with their physicians while appreciating the convenience of telehealth. This group was the most highly educated (bachelor's degree or more) and reported the highest annual income ($75,000-plus).
Implications for Healthcare Providers
"There's no one-size-fits-all solution here," said study co-author Carol McCarthy, Executive Vice President, Healthcare, The Motion Agency. "To succeed in getting more patients to return and continue utilizing healthcare services, providers need to customize their outreach to each of these four consumer segments, meeting patients at their preferred form, or forms, of reengagement."
McCarthy advises that providers establish more frequent touchpoints with patients, as they work through their insecurities about reengaging with the healthcare system. Particularly critical is addressing safety concerns revolving around utilization of emergency rooms and urgent care, as study findings showed consumers especially reluctant to return to these facilities per fear of exposure to individuals with the virus.
On the remote side of the equation, McCarthy notes that the rapid adoption of telehealth during the early stages of COVID-19 afforded no time to educate consumers about when and how to best use virtual care. "Now, providers have the
opportunity to take a step back and help patients identify those use cases in which virtual visits can provide a valuable adjunct to in-person treatment."
Patient experience is paramount. Prior to the pandemic, patients expressed extreme frustration with in-office appointment scheduling, waiting times and cost transparency. Addressing patient experience dissatisfaction at this critical junction is imperative to mitigating loss of patient visits, procedures, and revenue. Successful providers will accelerate the redesign of the patient experience – both in-person and remote – to ensure offerings center on patient convenience, not their own.