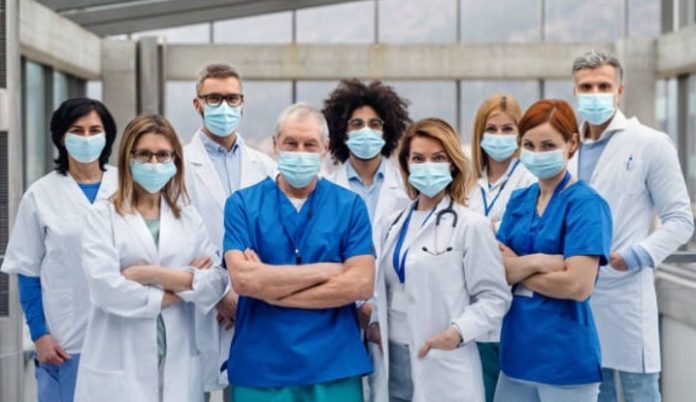 In preparation for the demanding winter season, the NHS will announce initiatives it will take to quickly increase capacity and resilience, such as by expanding staffing levels and bed availability.

Health officials will discuss strategies for preparing local services for increased demand by adding the equivalent of 7,000 more beds over the upcoming months through a combination of new hospital beds, virtual ward spaces, and attempts to optimise patient flow. In order to meet the increased demand, the NHS will also hire more call handlers nationwide, putting at least 4,800 people to work in the 111 call rooms and 2,500 in the 999 call rooms.
With an objective to answer calls within an average of 10 seconds and additional capacity in the 999 system, personnel will be better able to handle the record demand. Because there is a national health service, hospitals can continue to employ mutual support throughout the winter. For example, they can use NHS 111 services, which will aim to reduce wait times for patients while also lowering responsiveness by automatically redirecting calls between trusts.
The top physician in England stated that the NHS was taking every step feasible to ensure that it was ready for any further stress throughout the winter. The package of measures will also see the NHS collaborating more intently with care services to ensure that individuals end up receiving the support and assistance they need as soon as possible to be able to exit hospitals safely and to stay healthy in their homes and communities, as the most recent statistics show that only 40% of patient populations were able to leave hospitals when they were ready to in July.
Both the annual flu campaign and a fall COVID-19 booster programme are already the subject of extensive preparation to ensure that individuals who are most at risk get vaccinated before winter. Other initiatives will include strengthening non-hospital services' resilience, including:
In order to meet the winter's increased demand, an additional £10 million will be provided for mental health services. Professionals in mental health will be placed in 999 call centres so that people having a mental health crisis can be directed to the right services.
Additional social prescribing link workers and health and wellbeing coaches will be hired to complement GP services and assist patients with additional requirements.
Winter is usually a busy time for the NHS, and this winter is expected to see compounded challenges from COVID and flu, so it is right that they plan as early as possible for the additional demand that they know they will encounter, said Professor Sir Stephen Powis, national medical director of the NHS.
Staff are already under pressure due to the high demand for our services, with data suggesting the busiest summer ever for NHS emergency rooms, with 2.18 million A&E visits, nearly 900,000 999 calls answered in June, and the highest total of category 1 ambulance calls since records have been kept in July, reads the statement.
Before the winter, they want to be certain that they are taking all reasonable steps to free up potential so that staff can help patients receive the care they need. This includes hastening discharge, collaborating with social care, and improving community support through the growth of virtual wards. They are also maximising the benefits that a national health service offers; hospitals will team up to guarantee that patients can be seen anyplace in the nation and to shorten wait times for 111 calls.
As always, it is crucial that the general public continue to utilise NHS services in the customary manner, including calling 999 in an emergency and visiting NHS 111 online for other health concerns. And if they are eligible, schedule appointments for the COVID and flu vaccinations when the time comes.
Additionally, according to official NHS statistics released recently, despite the heatwave in July, NHS workers responded to more than 85,000 category 1 ambulance callouts, which is a record high and about two thirds more than in July 2020. (51,771). Furthermore, there were 23,610 more of the most serious instances than in July 2019, which is a third more than before the pandemic.
Hospitals have treated hundreds of thousands of individuals with COVID-19 this year, and there are presently more than 8,300 COVID patients in hospitals, while having to deal with unprecedented levels of demand for emergency services. According to Health and Social Care Secretary Steve Barclay, "He is working closely with the NHS at speed to guarantee they are ready for the demands ahead as they prepare for what might be a challenging winter. They can help patients get the care needed by improving capacity, bolstering NHS 111 and 999 assistance, addressing delayed discharge, and utilising emerging ideas like virtual wards.
He added that he has established a taskforce to increase the hiring of foreign workers for crucial positions throughout the system. At the same time, he is working to hire and retain more medical professionals so that they can continue to bust COVID backlogs after nearly eliminating them as part of the Elective Recovery Plan, which is supported by record investment. Prior to the end of July, the NHS declared it had almost completely eliminated two-year wait times for elective care, meeting the first goal of the NHS Elective Recovery Plan.
The NHS has already made strides toward the next goal, concentrating its attention on patients who have had wait times of more than two months following an urgent referral for a suspected cancer diagnosis or 18 months for routine care.