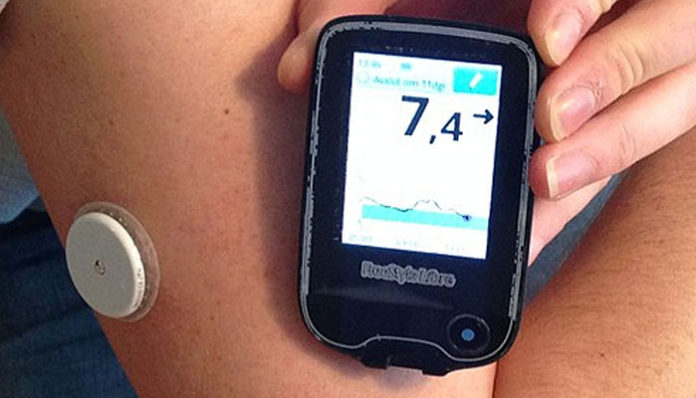 Diabetes patients may monitor their glucose levels at all times sans scanning or performing finger prick tests thanks to a wearable arm device that delivers data to a mobile app. Continuous glucose monitors, which record blood sugar levels by scanning a sensor, are typically more costly than their flash monitor counterparts. However, after the NHS and manufacturer DEXCOM agreed to a new cost-effective agreement, they will now be comparable in price and accessible to NHS patients on prescription.
The Dexcom ONE Real Time-Continuous Glucose Meter device attaches to the arm, lasting up to 10 days, and detects glucose levels from just beneath the skin using a sensor no larger than a bottle cap.
Once ordered, patients will get their starter pack from the hospital or GP office, which will include details on the medication and how to use it, a sensor, and a transmitter. Then, they can visit the pharmacy to pick up their repeat prescription. The agreement was reached when the NHS met its first long term plan goal of ensuring 20% of people with Type 1 diabetes benefited from flash monitors by March 2021, earlier than expected. According to current data, roughly three-fifths of those individuals are already using the device.
The widespread adoption of the technology will enable people with diabetes to better control their disease, which will ultimately relieve pressure on the NHS by lowering hospitalizations and associated diabetic conditions.
Dr. Partha Kar, national specialty advisor for diabetes and obesity, said that it was a big step forward for Type 1 diabetes treatment and all these devices will be life-changing for anyone who has the illness, offering them more options to manage their condition in the most comfortable way possible, as well as the best opportunity at living healthier lives, lowering their risk of serious health problems and illnesses linked with diabetes, which in turn reduces demand on wider NHS services.
The new agreement also satisfies their promise to provide patients with the most advanced medical technology at the best price possible for taxpayers' money, sparing the NHS millions over the ensuing years.
Theresa May, a former prime minister of the United Kingdom, asserted that this is another crucial milestone for the NHS in caring for people with Type 1 diabetes. People with diabetes see a significant improvement thanks to CGM; this technology is truly transformative. She added that she was happy to report that the NHS has already surpassed the Long Term Plan's goal for the number of individuals receiving flash monitoring. Although there is still much to accomplish, these are enormous advances.
James Morris, the minister of health, said that is a great illustration of how technology can assist individuals manage their chronic illnesses from the convenience of their own homes, relieving burden on the NHS and enhancing patient outcomes. They are committed to utilising cutting-edge technologies to enhance healthcare around the nation. They appreciate the NHS for successfully negotiating this arrangement, which helps patients and provides value for money.
The introduction of Dexcom ONE to the NHS England drug tariff is a substantial improvement in the choice of diabetes technology since it offers an alternative to time-consuming finger pricking and scanning, according to Vice President, UK & Ireland, Benelux, France, and Spain at Dexcom, Karen Baxter.
They work hard to make it simpler for the diabetic community to get access to the greatest technology available to manage their diabetes and are immensely proud of the diabetes community. As a next step, they will be collaborating closely with medical experts to make sure the diabetes population can take advantage of reimbursement and increased Dexcom CGM availability as soon as feasible.
Since he was two years old, Andy Lavender, 56, has had Type 1 diabetes. He is a local chair for the charity Diabetes UK and a Live Well coordinator for the NHS. In his capacity as the local chair, Andy addresses diabetes patients and the issues they deal with on a daily basis. He hopes this is the start of the end of individuals having to draw blood multiple times a day to monitor their blood glucose, Andy added. He used to test his blood 14 times a day before getting the CGM, and now all he has to do is glance at his smartphone to see the blood glucose level. He realises that many individuals prefer to test their blood sugar in private or in a coffee shop rather than in public, but now they may simply peek at the screen. Controlling a condition that can be impacted by so many factors is far more beneficial and less uncomfortable.
The twin sisters, Elise and Rochelle Featherstone, who are both 25 years old and have Type 1 diabetes, are employed by the West Yorkshire Integrated Care Board. Rochelle received a diagnosis a year after Elise, who received hers at the age of 5. The sisters began using continuous monitors in June 2019 and claim that the technology has changed their lives by significantly improving their health and lowering the stigma associated with diabetes.
The Type 2 Diabetes Prevention Programme aims to stop thousands of people from getting the disease and, in the long run, free up NHS resources. The NHS spends about £10 billion a year treating diabetes. The NHS now offers a wide range of other diabetic therapies, including the Freestyle Libre, which automatically regulates blood glucose levels by dispensing insulin directly into the bloodstream.