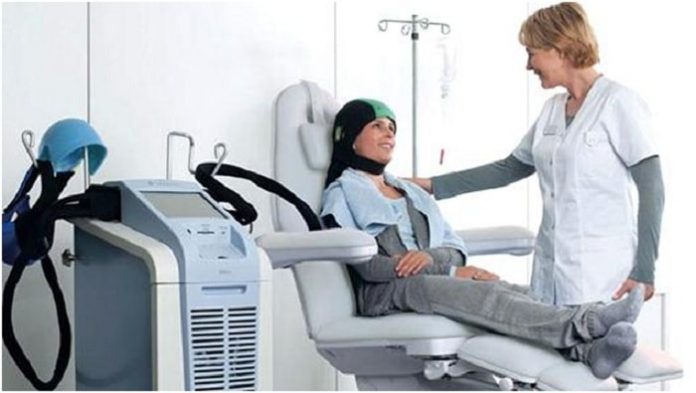 When Connie Waldt was diagnosed with stage 3 metastatic breast cancer in April 2017, her first thoughts were of her six grandchildren — all between six and 10 years old — and how they might react to the sight of a bald "Mom Mom."

"I was scared they were going to be afraid of me," said Waldt, who works part-time as a bartender. Once Waldt lost the hair on her arms, her 8-year-old grandson confessed his own fears. "He said, 'I hope you don't lose your hair, because I don't want people to stare at you when you take me to Toys R Us,'" she recalled.
After many months of chemotherapy and a mastectomy, Waldt's tumor is gone, her prognosis has improved, and she still has a full head of hair, which she dies a defiant hue of pink.
The secret to Waldt's hair retention is the DigniCap, one of two devices recently cleared by the FDA to prevent hair loss in cancer patients through a process known as scalp cooling. Though the concept of scalp cooling has been around for decades — patients have been
known to place bags of frozen peas on their heads during chemo — researchers and analysts say it is now poised to become the first mainstream solution to cancer-related alopecia, a problem that affects about 65 percent of cancer patients worldwide and represents a $710 million annual market in America alone.
"There are plenty of folks out there who have tried various techniques" to prevent hair loss in cancer patients, said Dr. Leonard Lichtenfeld, deputy chief medical officer with the American Cancer Society. "But none that I'm aware of has gotten anywhere near the traction that scalp cooling has." In November the Cleveland Clinic named scalp cooling one of its top 10 medical innovations for 2018.
How it works
Scalp cooling operates on a deceptively simple principle. By dropping the temperature of the scalp a few degrees before, during and after chemotherapy treatments, it constricts the blood vessels in the head and prevents chemotherapy from reaching the follicles. The cooling is also believed to slow down the activity of the follicles, making them less attractive to chemotherapy — which works by seeking out and shutting down the fastest-reproducing cells in the body.
Dignitana, the Swedish company that makes DigniCap, was far from the first to sell a device promising to prevent hair loss through scalp cooling. Even today, dozens of freezable gel caps, wig liners and even scalp-cooling conditioners are available online. Dignitana, which distributes its devices to more than 30 countries, was simply the first company to convince the FDA it works.
More from Modern Medicine:
6 amazing medical advances to expect in 2018
Scientists rushing to develop a universal flu vaccineAfter Trump's Twitter blasts, demand for radiation pills spikes
In 2014, Dignitana published a clinical study involving 117 breast cancer patients. Of the 101 women who used the DigniCap during treatment, 67 lost less than half their hair. In comparison, all 16 patients who did not use the cap lost 100 percent of their hair. In December 2015 the FDA cleared the DigniCap to be marketed as a hair-loss prevention
treatment for breast cancer patients in the United States.
In July 2017 the FDA expanded that clearance for use on patients with solid tumors (such as those with prostate cancer, meaning it could now be marketed to men, though women suffering from breast, ovarian and cervical cancer still make up about 95 percent of its customers). And in April the FDA granted clearance to a second company, Paxman, which had produced the first randomized study demonstrating the efficacy of the treatment. (Their clearance was granted specifically for breast cancer patients.) That study was so successful it was halted early.
Today, DigniCap is available in 125 treatment facilities in the United States — including 10 of the 13 National Cancer Institute Cancer Centers — and the Paxman device is available in 70 facilities, with each adding new ones rapidly. Memorial Sloan Kettering in New York City; Moffitt Cancer Center in Tampa; the Dana Farber Cancer Institute in Boston and the Rocky Mountain Cancer Center in Boulder, Colorado, all carry some form of approved scalp-cooling device.
A high price tag
Both devices work similarly — cooled liquid is run through a tight cap that the patient wears before, during and after chemotherapy — but the companies follow different revenue models. Dignitana makes the bulk of its money from leasing its machines to hospitals — about $1,000 a month per device — and takes a small fee from patients, who typically pay between $275 to $500 per treatment. Paxman, which is based in the United Kingdom, charges hospitals about $250 a month to lease the machines but charges the patients anywhere from $1,300 to $2,200 for a personal cap kit, which can be used for up to 12 treatments. (There is no cost for additional treatments beyond the first 12.)
"We are confident that, hopefully, insurance will eventually pay for this product, whether it be in full or in part," said CEO Richard Paxman, whose father started the company after his wife lost her hair to breast cancer treatment.
"Every morning, I woke up, I looked in the mirror and I saw my hair. I don't care how tired I was. It made me feel better."-Connie Wald, diagnosed with stage 3 metastatic breast cancer in April 2017
Whether insurance companies decide to pay will have a major impact on just how widely adopted scalp cooling becomes. At the moment, Aetna is the only insurance company to consistently reimburse patients for the treatments. But both Dignitana and Paxman are actively courting other health insurance companies to follow suit.
The pros and cons for patients
The treatment is not without its own side effects. The cooling can be uncomfortable for some — Melissa Bourestom, vice president of marketing for Dignitana, compares the feeling to an ice-cream headache. (On a scale of 1 to 10, Waldt rated the pain a 4.) And it doesn't work with all kinds of chemotherapy, which is one reason the FDA has, so far, limited its use to a handful of cancers.
In the past, doctors have expressed concern that preventing chemotherapy from reaching the scalp could allow cancer cells to hide there. But Dr. Lichtenfeld said modern treatments have mostly eliminated that concern. "As a result of the newer therapies, today scalp metastases are much less common than they were in the past," he said.
Given the grave dangers facing cancer patients, it can be tempting to dismiss hair loss as a merely cosmetic concern. But baldness caused by chemotherapy and radiation can have a substantial negative effect on a patient's sense of identity and well-being.
"It's devastating enough to be told you have cancer, but it can be even more devastating to put up with the side effects of the therapy," said Dr. Lichtenfeld. "Any element of a woman's identity that is changed as result of the treatment for the disease has serious impact on her self esteem and quality of life," which can negatively affect her prognosis.
For Waldt, keeping her hair meant keeping her dignity and her privacy. "Because I had my hair, it was my choice who I would tell," she said. "Most of my customers would be like, 'I didn't even know she had breast cancer!'"
Most important, she says, it made her feel good about herself during a traumatic period. "Every morning I woke up, I looked in the mirror, and I saw my hair," she said. "I don't care how tired I was. It made me feel better."