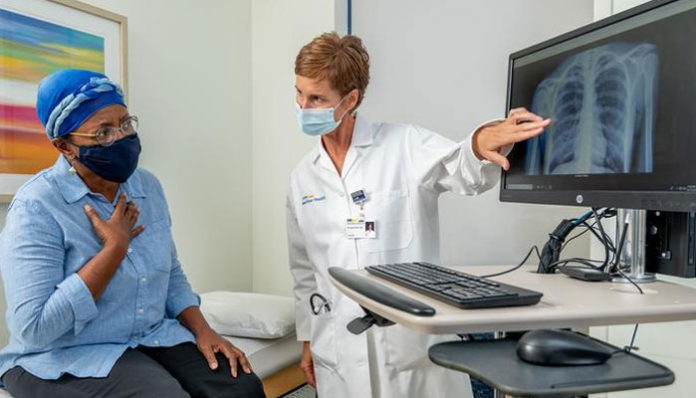 For hundreds of patients with severe respiratory cancer, the first new mesothelioma medication to be authorised in nearly 15 years will be made accessible, according to a recent announcement from the NHS.
After the NHS reached a new commercial agreement for the drugs, NICE today authorised the life-extending therapy for use. It will combine nivolumab and ipilimumab and be made available on the NHS right away, helping about 1,000 people in England annually. Malignant pleural mesothelioma is a type of lung cancer that has an impact on the respiratory system. The first symptoms typically develop decades after asbestos exposure in the majority of cases, which are related to occupational exposure.
With almost 2,700 instances of mesothelioma identified each year in the UK, it is the country with the greatest incidence of the disease worldwide. The majority of those affected were exposed to asbestos before the substance was outlawed in 1999. With clinical trials showing 8% more people surviving with mesothelioma after three years and 13% more showing their cancer had stopped making progress in the same time period, the mixture is the first immunotherapy remedy for untreated mesothelioma and offers a more effective substitute to chemotherapy.
Patients will get the medications intravenously once every three weeks (nivolumab) and once every six weeks (ipillmumab) for a maximum of two years. The NHS is happy that this novel treatment combination will now be available for patients with this aggressive type of cancer, providing them with more valuable time with their families and friends, said National Clinical Director for Cancer for the NHS in England, Professor Peter Johnson.
They are aware that many people who have previously been exposed to asbestos are regrettably at an increased risk of developing mesothelioma, but there are currently few treatment options available. This increases the importance of the new immunotherapy medications and strengthens their resolve to employ cutting-edge therapies to provide patients with a greater chance at a long and healthy life. Although malignant pleural mesothelioma isn't as well-known as some other cancers, there is still a significant unmet need for patients, according to Scott Cooke, who is the General Manager UK and Ireland, Bristol Myers Squibb. This new therapy option represents a significant advance.
Although mesothelioma was historically a disease of industrialised males, NICE also emphasised in its released guidelines that it is now also affecting women and younger individuals.Breathlessness, chest pain, weariness, sluggishness, weight loss, and coughing are among the symptoms. Malignant pleural mesothelioma advances swiftly and has a terrible prognosis, with about 8–10% of patients living for three years. Mesothelioma is treatable but incurable.
Colin Beamish, 81, a father of six children and a grandfather of four, was given a mesothelioma diagnosis in January after experiencing breathing problems the previous year. In the 1950s, he enlisted in the Royal Navy as a youngster and worked on radar and communications equipment for warships and submarines. He claims that asbestos-covered deck heads were crossed by the wires he worked with, but prior to his diagnosis, he was unaware of mesothelioma.
Back then, one was given a job and one just had to get on with it, but there was really no awareness of asbestos and it didn't concern him at the time, he added, expressing his optimism that the new medicine mixture would be able to assist individuals like him in the future. Because of his existing health issues, he would probably already refuse chemotherapy and thereby believe it's great that this new treatment works. The idea here is to offer people and their family as much time as possible.