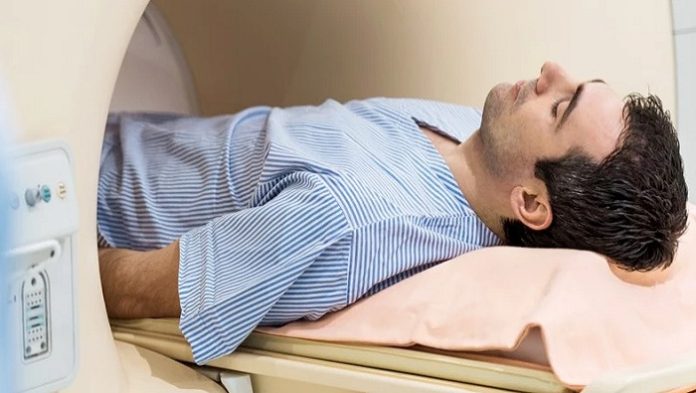 Nuffield Health Glasgow Hospital, part of the UK's largest healthcare charity, is the first independent hospital in Scotland to offer prostate cancer patients radiotherapy treatment withSpaceOAR® hydrogel, which reduces the risk of side-effects such as pain, incontinence and erectile dysfunction.
Prostate cancer can affect 1 in 10 men in Scotland and is the most common cancer amongst men in Scotland (Prostate Scotland).While surgery to remove the gland is one option, typical treatment plans include a high dose of radiotherapy that aims to effectively kill cancer cells so they cannot spread any further.
This involves blasting the prostate with powerful X-ray beams that destroy cancer tumour cells. Due to the prostate being close to other organs and tissues, such as the rectum, there is a risk of long-term damage and side effects such as rectal pain, bowel and urinary leakage or incontinence and sometimes erectile dysfunction.
SpaceOAR®, a water-based hydrogel is inserted into the cavity between the prostate and rectum, creating about 1cm of space. This allows the prostate cancer specialist to deliver radiation to the prostate and reduce exposure to surrounding healthy tissues, with positive patient outcomes globally and at median 3 years, SpaceOAR® Hydrogel reduced declines in bowel quality of life by 70%.
Patients in Scotland can now have SpaceOAR® Hydrogel inserted at Nuffield Health Glasgow and then return to their local radiotherapy centre for subsequent treatment where teams will incorporate SpaceOAR®when planning/delivering the radiotherapy treatment.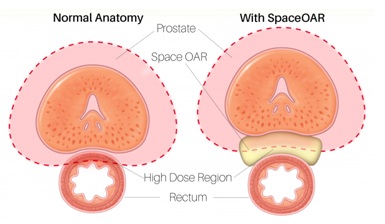 Julie Campbell, Hospital Director at Nuffield Health Glasgow Hospital says: "We are proud to be the first independent hospital to offer SpaceOAR® Hydrogel to prostate cancer patients in Scotland, as part of a wider radiotherapy treatment plan. Over 100,000 SpaceOAR® Hydrogel treatments have been provided worldwide, with positive good outcomes for patients with reduced side-effects, including bowel, urinary and sexual problems.Making this innovative radiotherapy treatment technique available in Scotland supports Nuffield Health's purpose to build a healthier nation."
Dr Abdulla Alhasso, Clinical Oncologist at Nuffield Health Glasgow Hospital says:"SpaceOAR® Hydrogel is a major step forward to improve on the quality of radiation therapy for prostate cancer patients. It can help to significantly reduce the toxicities associated with prostate radiotherapy and thus improves on the therapeutic ratio and quality of life. This significantly positive impact together with the simplicity of the insertion procedure make it a very attractive strategy for both prostate cancer patients as well as for the treating physicians to consider. SpaceOAR® Vue Hydrogel is another step forward and a higher level of technology that adds additional value to this technique as it is designed to improve on the accuracy of imaging during planning and subsequent treatment."
About Nuffield Health
Nuffield Health is the UK's largest healthcare charity. For the last 60 years, Nuffield Health's experts have been working together to make the nation fitter, healthier, happier and stronger, all for the public benefit. As an organisation with no shareholders, income is invested back into the vision to build a healthier nation.
Nuffield Health Glasgow Hospital, located in the heart of the West End of Glasgow is one of Scotland's leading private hospitals. We recently embarked on phase three of our multi-million-pound refurbishment, adding state of the art equipment like our MAKO robotic arm for orthopaedic surgery and a new ambulatory theatre. We have a special focus in the areas of orthopaedics, spinal surgery, men's health, ophthalmology, weight loss surgery and cosmetic treatment.
The Charity does this through its day-to-day services across 31 award-winning hospitals, 113 fitness and wellbeing clubs, healthcare clinics, and over 200 workplace wellbeing services, and through flagship programmes to support communities by widening access. Through these flagship programmes,we aim to help to improvepeople's livespeople who normally would not have access to Nuffield Health's services.
One of these flagship programmes is developing the UK's first specialistrehabilitation programme to support patients in their recovery after they have received medical treatment for COVID-19.The programme, which blends together physical therapy and mental health support, works withlocal NHS trusts and referrers is now running at 17 of our fitness and wellbeing centres across the UK, ahead of a larger rollout to over 40 sites by May.
Our patients work with a rehabilitation specialist for personalised advice and on a recovery plan, consisting of a six-week virtual programme of at home exercises, before moving to one of our fitness and wellbeing centres. We will share the outcomes with the NHS and other healthcare providers.
Nuffield Health delivers a sector-leading 94% of hospitals rated as Good or Outstanding by national regulators. With a breadth of expertise, Nuffield Health provides connected care spanning from personal training and health MOTs to supporting people on their fitness journeys, helping patients recover with physiotherapy or emotional wellbeing counselling, or providing hospital treatments for illness and serious conditions like arthritis or cancer.