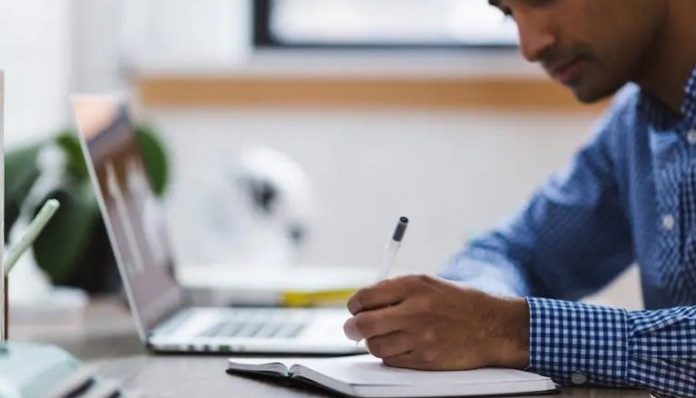 Are you trying to choose between getting your nursing degree online or in person? Not sure which option would suit you and your lifestyle best?
Read on for a comparison of the pros and cons of both psychiatric nursing practitioner education types. We discuss clinical training, convenience and flexibility, costs, networking, accreditation, and more.
Online Programs for Psychiatric Nurse Practitioner Education 
Pros
Online learning allows students to weave their education into their schedules. As opposed to adapting their established life to a set schedule.
Additionally, students have access to various learning formats. Those with diverse learning styles (eg. neurodivergent individuals) can learn in the way that suits them.
Many nurses are already working within their chosen field, but have decided to upskill. Online study allows them to combine work and education.
Maintaining a healthy work-life balance is crucial to avoid burnout. A student who studies online can better maintain this balance, especially caregivers.
Research an nurse practitioner program online and you'll find a broad range of program options to choose from. Generally, there is a more diverse choice online vs. in a traditional setting.
Cons
Limited Face-to-Face Interaction
Someone who thrives in an interactive setting may find the lack of peer connection isolating. It is often useful to interact directly with one's peers to enhance open-mindedness and creativity.
Networking is also extremely difficult in an online setting. A lack of networking may create a deficit for your future endeavors.
Someone with a high level of self-discipline, independence, organization, and time-management skills will certainly succeed in an online setting. 
However, if you struggle with self-motivation, and need accountability to be able to motivate yourself, an online nursing program may not be the ideal choice.
Potential Lack of Hands-on Training
A common concern with online nursing programs is the potential lack of hands-on training. That's what nursing is all about, right? Not all online learning centers have the technology to provide students with simulated clinical scenarios.
Traditional Programs for Psychiatric Nurse Practitioner Education
Pros
Hands-on Clinical Experience and Structure
Traditional psychiatric nursing education facilities offer hands-on experience. This gives you ample opportunity to work with actual patients in a clinical setting. 
If you're someone who requires structure to succeed, a traditional program may work better.
On campus, students can build relationships with peers and faculty members. This encourages mutual support, trust, active participation, teamwork, and conflict resolution.
Maybe you're yearning for an exciting college experience. You'll be able to participate in normal college events, such as concerts and sports.
Reputation and Networking
Form a positive reputation amongst your peers and especially the higher-ups in the psychiatric nursing field. And get a solid letter of recommendation for future jobs or master's endeavors from a faculty member who knows you well.
Cons
All of us have work or personal commitments outside of our studies. Traditional learning programs require you to adapt to a set schedule that may conflict with your current lifestyle.
Online studies mean students can work from anywhere with an internet connection. This is useful when there are limited geographic options for traditional psychiatric nursing programs close to your residence.
On-campus learning generally translates to higher costs than online courses. These costs are associated with transport and campus resources.
Comparison of Clinical Training
Online Programs
Both psychiatric nurse practitioner programs have clinical training requirements. And are required to meet the same accreditation standards.
The downside of online studies is that this is left in the student's hands. Online students are often required to find their placement sites. As you can imagine, this can be challenging. Many placements have not been vetted by your educational institution, which may lead to a disappointing, sub-optimal clinical experience.
Some online learning facilities present you with real-life practice patient scenarios. These can be completed without setting foot in a classroom if that's your preference.
Traditional Programs
Attending a traditional program has its benefits when it comes to hands-on clinical experience. There is a massive emphasis on this aspect of a psychiatric nursing degree.
Traditional programs have often long-term connections with well-established clinical sites. The sites with which they partner are already vetted. And your placement is usually pre-arranged. Ensure you thoroughly investigate your chosen institution's clinical rotations before registering for the course.
Additionally, mentors and professionals are in your immediate vicinity on campus. This translates to easier communication, networking, and increased opportunities for guidance.
Accreditation and Credibility
Online Programs
To be officially registered in your state, there are a few hoops to jump through. A Bachelor of Science in Nursing (BSN) student is required to take the National Council Licensure Examination (NCLEX). This is required to achieve their Registered Nurse (RN) license or to attend a Master's Nursing Program. 
Ensure your online institution has these same requirements. You want the degree you achieve at the end of your years of study to be credible and accepted by professional organizations. Also, consider whether it's an internationally accepted qualification.
Furthermore, inquire about the student outcomes and success rates of your online program. What's the NCLEX pass rate? What's the school's ranking and academic quality?
Traditional Programs
It's less imperative to inquire about reputation and credibility when it comes to traditional programs. This is often a given. Online learning is a rather recent method of education, whereas in-person programs have been around for centuries.
However, still do your research into the school's ranking, for RN programs, for example. You aim to make sure your chosen educational institution is recognized by professional associations and regulatory bodies.
Face-to-face psychiatric nursing programs tend students ample access to alumni networks. You'll foster industry connections naturally throughout your studies. 
Cost and Financial Considerations
Online Programs
As mentioned previously, studying online can reduce the cost of your studies overall. No need to travel to your campus or pay for a residence on or near your campus. 
Since students can work and study simultaneously, this lowers the immediate cost of the course. Or rather helps to keep one's budget on track.
There are also financial aid options and scholarships available. These are highly desirable though, so the competition is tough.
Traditional Programs
The facilities offered on campus are generally highly useful. Many institutions have writing labs, library research assistance, advocacy services, counseling, a career center, social groups, and accessibility services. But, of course, these resources come at a cost. 
On-campus learning additionally involves travel, housing, and campus fees. Not to mention the time cost. Often a commute includes driving, parking, and walking to class, which can subtract precious time from a nursing student's packed schedule.
But once again, financial aid options and scholarships are available for the chosen few.