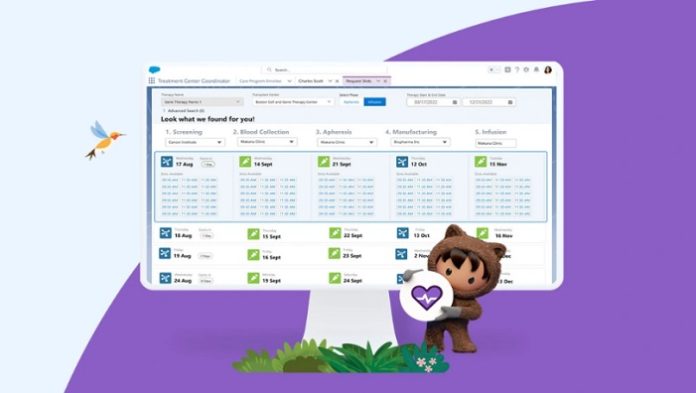 The debut of a new customer relationship management tool by Salesforce that integrates with current electronic health records was revealed recently.
According to Salesforce, the Patient 360 for Health CRM platform is built for productivity and cost effectiveness. The business advocates a number of its qualities:
It claims that behavioural health provides doctors and case managers with resources like interactive health timelines filled with patient health milestones and behavioural events, crisis assistance with pre-configured processes for patient admission, evaluations, and automated reports.
In order to give pharmaceutical businesses access to the utilisation of patient therapies, from referral and scheduling appointments to drug production, they built Advanced Therapy Management.
In order to construct comprehensive patient profiles, Salesforce Genie for Healthcare incorporates clinical and nonclinical information, such as current drug use and socioeconomic determinants of health.
Patient Care Coordination Utilising Slack, a team communication application, to manage caseloads and enable users to inquire about patient care in a safe setting.
MuleSoft Accelerator for Healthcare, which unifies data from EHRs, laboratories, billing, and scheduling using HL7 v2 and FHIR R4 standards.
Utilization Management Automation will process and display information exchanged between providers and payers on dashboards.
Pharmaceutical and medical device firms have access to online marketplaces where they can sell goods and provide subscriptions.
The new healthcare features created for the 360 platform on Salesforce's health cloud have already been used by Advanced Recovery Systems, Bluebird Bio, and John Muir Health, even though Patient 360 for Health is a relatively new product.
Providing a unified, comprehensive picture of the patient to the physicians, hospitals, and care facilities that support them is one of the largest difficulties health systems face today, according to executive director of marketing and digital consumer experience at John Muir Health, David Hook.
Healthcare firms now have secure access to CRM tools that analyse patient data for individualised communications thanks to the Salesforce health cloud, which is for clinicians, payers, medical device and tech companies, as well as specialised pharmacy groups. It also provides capabilities for reporting, hiring, and other things. According to Salesforce, the approximately $4 trillion that is spent on healthcare every year in the United States goes toward administrative costs, and workforce shortages are driving up costs.
However, issues with the workforce transcend the COVID-19 pandemic's impact.
Clinicians have identified the following as stressors causing burnout and resignations: EHR discontent, technical difficulties, and excessive documentation needs. Before the pandemic even started, the American Hospital Association published a report on important workforce trends that highlighted how technology may help with the professional staffing shortfall. The AHA stated in its report that while there are difficulties, there are also possibilities to improve treatment, inspire and retrain workers, and modernise procedures and marketing strategies that reflect the change toward delivering the right treatment, at the right time, in the right environment.
According to CRO for healthcare and life sciences at Salesforce, Lashonda Anderson-Williams, today's enterprises must invest in streamlined solutions that boost time-to-value, cost reductions, and productivity without sacrificing patient outcomes. Even in the face of rising expenses and workforce shortages, she added, Patient 360 for Health technologies enable clients cost-saving automation, targeted knowledge, and real-time data capabilities to assist deliver patient success immediately.