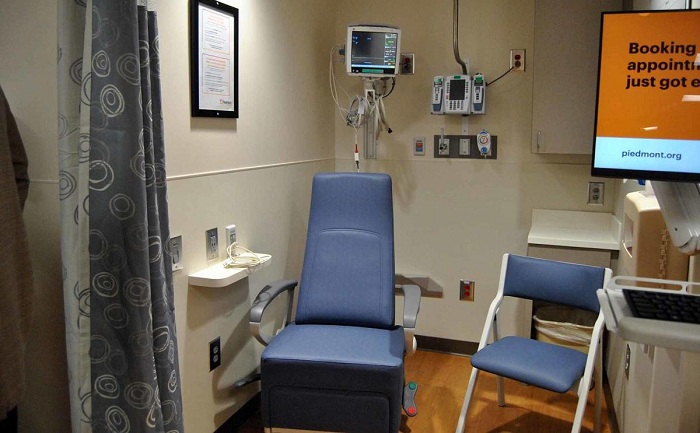 Piedmont Henry Hospital recently unveiled brand new, first of its kind in Georgia vertical treatment spaces in the hospital's emergency department (ED) designed to provide better, faster care for patients.
Known as a vertical model, the hospital converted 10 rooms in the emergency department into 18 treatment spaces fully equipped to expedite care for lower acuity patients and free up much-needed bed capacity for more acutely ill patients. Instead of horizontal stretchers (beds), the vertical treatment spaces feature a comfortable recliner, monitors, oxygen and suction equipment. In addition to ensuring a faster delivery of care, this new treatment model has proven successful in improving patient safety and satisfaction.
"This is major milestone not only for our hospital but also for the Georgia health community," said Deborah Armstrong, CEO of Piedmont Henry. "Making this investment in our community not only shows Piedmont Henry's commitment to better serve our patients, it also ensures they have the best possible experience while in our care."
Piedmont Henry has seen a significant growth in volume over the last several years. As one of the busiest in the state and in the Piedmont Healthcare system, Piedmont Henry's ED serves close to 90,000 patients each year.
"Nobody plans on going to the ED but if you have to come, you want to leave as soon as possible," said Dr. William Watkins, ED medical director at Piedmont Henry. "The addition of these vertical treatment spaces allows us to quickly and effectively treat more patients, which helps reduce wait times and length of stay."
In addition to this project, Piedmont Henry recently added two new operating room suites and a minor procedure room to its Outpatient Surgery Center. Using the latest cutting-edge technology to provide the highest quality of care and services possible, the additional surgical space is expected to improve the efficiency of surgeons and staff, allowing them to perform more procedures in a safe, comfortable and timely manner.