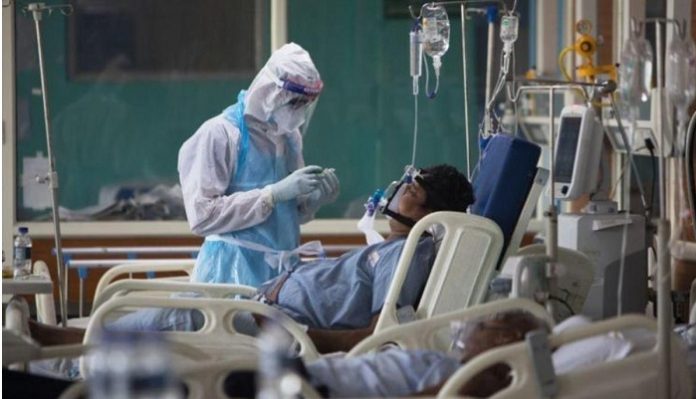 According to a finding by a large UK study, patients hospitalised because of COVID-19 aren't out of the woods completely as many might end up in healthcare centres again after a few months. Even if compared with the flu cases that were hospitalised, COVID patients had to go through the worse.

The researchers are assuming, due to their findings, that ten months after leaving the healthcare centre, patients who contracted COVID-19 were twice as likely to be either hospitalised or even die as compared to the general population.
As per the experts, the findings that have come to light lay stress on the fact that getting back on track after contracting severe COVID can be stressful and time-consuming. Chief of Pulmonary and critical care medicine, University of Michigan Health, Dr. Meilan Han, says that it is a common error that people make regarding all being well when COVID patients get discharged from the hospital.
Notably, COVID-induced lung infection takes weeks to months to clear, whereas scarring of the lungs may be permanent in some patients with severe COVID-19. Blood clots are another occurrence beyond the lungs that is an outcome of COVID-19 as per Hans. She adds that she has seen patients discharged from the hospital for pneumonia only to be readmitted for blood clots. There are other variables too that strike, such as patients having pre-existing health issues that make them more vulnerable to getting severely ill.
According to Dr. Aaron Glatt of the Infectious Diseases Society of America,those conditions may worsen more due to the onslaught of COVID. One of the primary reasons may be a toll on mental and physical health because of medication charges as well as disruption in sleep to even deconditioning, which means the decline in strength of the muscles as well as effects on the heart and the capacity to breathe, which go on to make the daily routine precarious. What Dr. Glat advises patients to do is consult their regular doctors as soon as they come out of the hospital. By doing so, they (the patients) would ensure that everything is in place while managing the chronic conditions as well.
As per an online published study, medical records of around 25,000 UK adults who survived COVID-19 hospitalisation were taken out. The majority of them happened to be over 60 years of age or older. Every patient was compared to five people from the general population of the same area, age, and gender. They were again compared to the people, more than 16,000 to be precise, who were admitted for flu.
COVID-19 patients were the worst hit of the overall lot, as around 35% had been hospitalised again or even died. No wonder COVID-19 patients were at par with FLU patients as far as the risk of getting hospitalised was concerned for numerous reasons. But their risk of succumbing was higher. 5% of influenza patients had passed away post their discharge after six months, but the COVID-19 patients' percentage stood at 7.5% in this regard.
When it came to preexisting dementia, COVID-19 patients had a greater risk of being hospitalised or even dying as compared to patients suffering from influenza. Patients with a mental health condition who were also infected with COVID-19 had a 37% higher chance of being hospitalised than flu patients. Hans says that the readmissions that are too cognitively related are concerning. According to him, many patients have complained of brain fog following COVID recovery, and how this affects cognitive function is an area of study.
However, the patients suffering from the virus were all hospitalised in 2020, and it isn't clear what the numbers are today. As per Krishnan Bhaskaran from London School of Hygiene and Tropical Medicine, since the time the patients during the study were hospitalised, a lot of changes have happened in care, introduction of vaccines and major vaccination campaigns, etc. The experts do agree on the fact that the bottom line for all those hospitalised due to COVID remains the same, and that is to keep all the follow-ups done with the doctors and share them if any symptoms appear or worsen. Bhaskaran adds that the best way to avoid hospitalisation in the first place is to take the vaccine or a booster.