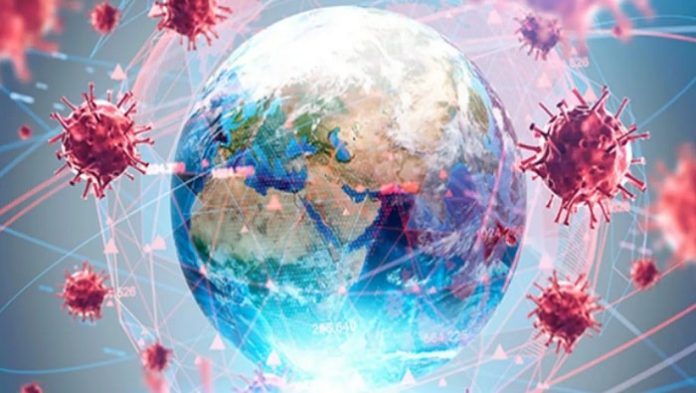 The COVID-19 pandemic is the global challenge of a lifetime for healthcare organizations, stressing their economic, strategic, and human dynamics in every way imaginable.
In April 2020, the median operating margin at U.S. hospitals stood at negative 29 percent. Inpatient and outpatient revenues were down 25 percent and 50 percent respectively from the year before, while expenses were rising.[i] At the same time, patient, provider and payor behaviors were rapidly changing. Seemingly overnight, for example, telemedicine moved from an interesting option to a reimbursable patient service that may permanently alter care delivery.
The task ahead for healthcare leaders is immense: to simultaneously solve for rebuilding revenue and business operations while radically reducing costs and reimagining the patient care portfolio to meet new expectations around safety and access—all at speed.
The potential to emerge stronger through transformative change is real. With a structured framework, an agile approach to change, and intense execution, healthcare leaders will advance their organizations to a new future.
Rebuild Framework: Optimizing Your Potential for Success
The process of recovery and rebuilding will be complex, dynamic and filled with uncertainty. GE Healthcare Partners has created a framework to help organize the efforts and align teams. The framework defines four domains that each focus on a set of specific interventions (Fig 1).
Stress Test & Reprioritize: Develop a business impact analysis and use tailored scenarios to stress-test the organization's near-term financial performance, operations, and future enterprise strategy. This analysis will help create a blueprint to adapt and reposition the organization.  From a culture perspective, adopt mechanisms used in the crisis response—such as rapid problem solving and clear accountability—to reset expectations for a more agile organization.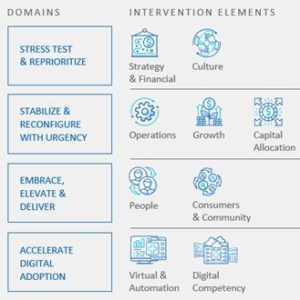 Fig.1. Rebuild Framework
A structured plan to help hospitals and health systems rebuild revenue and reduce costs while reimagining the patient care portfolio.
Stabilize & Reconfigure with Urgency: Create an analytical, fact-based stabilization plan prioritizing "no regrets" actions along with near-, mid-, and long-term initiatives —and then fast track operational changes to rebuild revenue and reduce costs. It's also critical to look for opportunities to play offense: revitalize the strategic growth portfolio with more focus on digital, virtual health, new ways to engage consumers and even potential M&A activity. Throughout this stage, avoid the impulse to "peanut butter spread" actions by equally allocating focus, capital, operating expense, and talent. Instead, examine the return on investment for proposed initiatives to help place key "bets."
Embrace, Elevate & Deliver: Implement a fluid workforce strategy that emphasizes the physical and emotional well-being of team members and physicians, and calibrates policies, procedures, staffing patterns, and other variables to reflect new realities. Commit to a robust consumer strategy to anticipate evolving behaviors, pivot experiences and rebuild confidence.
Accelerate Digital Adoption: Use the momentum of the rapidly accelerated digital and technology adoption to facilitate new virtual care models and remote work that improve the patient experience, drive cost effectiveness, and improve employee and patient safety. Prioritize and advance the digital competencies of the organization, such as transitioning to a standard operating Command Center enabled by artificial intelligence and real-time analytics.
The Path Forward: Protect, Secure, Advance
The rebuild and recover process will span many months in a non-linear fashion for most healthcare organizations. An end-to-end plan will help to continuously guide the team with the critical steps needed to adapt for a new future.
1-3 MONTHS
PROTECT: Take immediate action to rebuild revenue and clinical/non-clinical operations
Providers are moving quickly to assess the new landscape and its impact on culture, consumers, workforces, operations and leadership. Virtually all organizations are now offering elective procedures in alignment with local and state guidelines, and we see strong energy around engaging with consumers about safety and regaining their confidence. Leadership teams are re-evaluating all projects with a strong emphasis on mission-critical needs or near-term ROI, within the next few quarters. In addition, many have implemented a renewed cost focus in this early stage, especially around the typical cost levers, such as capital freezes, contract labor, premium pay, supply chain, etc.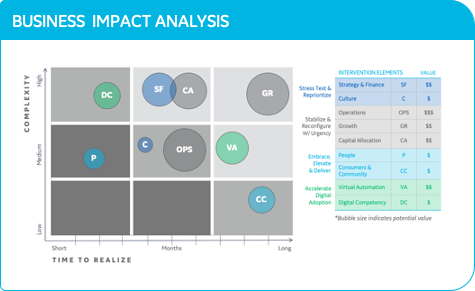 Fig. 2. Business Impact Analysis
Get a clear picture of the relative complexity and value of proposed activities.
In the Protect phase, we recommend:
Conducting a Business Impact Analysis to define the impact to cash flow, balance sheet, and income statement (Fig. 2).
Preparing a minimum of four tailored scenarios: base case, lockdowns return, best case, worst case.
Building a Stabilization Plan to establish a portfolio of actions, prioritized based on their ability to reduce per unit costs and protect the viability of the organization.
Engaging consumers with proactive, customized, and omnichannel communications.
Updating the enterprise strategy (short and long term) to reflect impact
Activating clear, routine communication for the workforce.
Crowdsourcing employees to build upon lessons learned during the crisis response and incorporate them into new operating mechanisms for efficiency and quality improvements
2-12 MONTHS
SECURE: Activate the stabilization plan and begin to play offense in terms of building revenue
At this stage in the rebuild process, the focus is activating the team, launching your slate of prioritized actions, and monitoring the execution. We recommend:
Establishing a governance structure and operating mechanisms to activate the rebuild plan.
Initiating a steering committee, executive sponsors, action leads, and dedicated PMO resources.
Transitioning the temporary Incident Command Center approach into a Rebuild Command Center to guide actions.
Activating the Stabilization Plan, with immediate focus on no-regret actions and high-impact areas.
Implementing growth initiatives to play offense, not just defense.
Building and implementing a Rebuild Scorecard to monitor actions and progress (Fig. 3).
Implementing Action Maps to clearly identify and track all actions, status, dependencies and risks.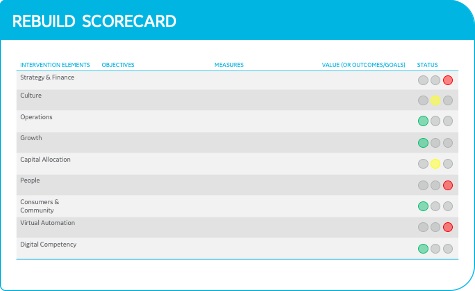 Fig. 3. Rebuild Scorecard
Monitor actions and progress at the senior executive and Board of Directors levels.
6-12 MONTHS
ADVANCE: Redesign care delivery and push the organization to achieve a "better" normal
This stage is about ensuring value realization and evolving the organization through innovation, advanced technology, and new business and operating models. The disruption creates unique opportunities to capitalize on new patient expectations and implement more innovative and, in many cases, more cost-effective delivery processes.  Providers will be focused on:
Redesigning care delivery using advanced technology and virtual capabilities.
Daring to be bold: seeking out and scaling new business and operating models, such as expanding a virtual care and remote monitoring strategies into new areas, like labor and delivery, pharmacy, or radiology.
Elevating culture and workforce by resetting roles and expectations to achieve greater agility and empowerment.
Communicating frequently with consumers and staff, and soliciting their feedback.
Establishing a robust value management committee to measure actions and results (Fig. 4).
Pushing the organization to continue to flex the innovation, selfless teamwork, rapid decision-making and implementation muscle.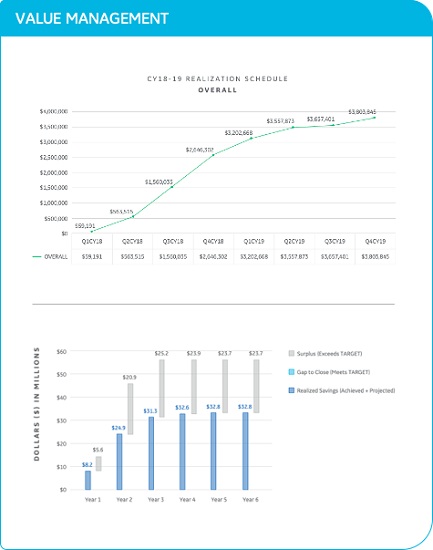 Fig. 4. Value Management
Ensure value realization by monitoring results against the business impact analysis.
An unprecedented opportunity to evolve
The COVID-19 pandemic forced an industry-wide challenge to rethink and reshape healthcare for the better.  How will healthcare organizations adapt and evolve going forward?
Across GE Healthcare, we rapidly mobilized to drive innovation in response to the global pandemic. For example, to help hospitals manage critical capacity, GE Healthcare created two new COVID-19 Command Center Tiles, or apps—the first one ready in just 13 days and then deployed across 100 hospitals in less than 45 days. In addition, GE also announced research to test how AI can help predict COVID-19 severity with the University of Oxford and Paris hospitals. As the saying goes, "necessity is the mother of innovation" and there are other examples within GE and GE Healthcare and across many organizations that have risen to the challenge during these unprecedented times.
The commonalities among these initiatives — creative partnering, rapid product development and deployment globally, and flexible use of capacity—are all powerfully effective principles we hope to expand on in the future. In a similar vein, hospitals and health systems will have opportunities to move more aggressively into mutually beneficial partnerships and mergers that leverage individual strengths, direct more capital investments toward intelligent health technologies that improve clinical and non-clinical outcomes, and rethink physical and virtual capacity in new ways to achieve cost-effective growth.
COVID-19 has highlighted the need to build, invest in and scale a modern digital infrastructure that enables an intelligence-based health system. The pandemic has created a new urgency to evolve, and the opportunity to make real progress is here.
For more information and to download the full COVID-19 rebuild guide
About GE Healthcare Partners Consulting
True change occurs at the intersection of strategy, analytics, technology, and activation.
We're committed to helping you realize a thriving future by:
Reducing the cost of care and improving financial performance
Evolving your business model to optimize value creation
Enhancing care delivery through digital transformation
Migrating to a care ecosystem strategy
As the advisory arm of GE Healthcare, we're different. Healthcare is in our DNA and we live it every day, offering you the extensive platform and resources of a $17 billion global technology leader backed by 100+ years as a trusted industry partner.
Reference
[i] KaufmanHall (May 2020). National Hospital Flash Report. https://flashreports.kaufmanhall.com/executive-summary-may-2020?_lrsc=025a3645-a38a-4353-9e32-cb3f47b9970a&utm_source=linkedin&utm_medium=elevate