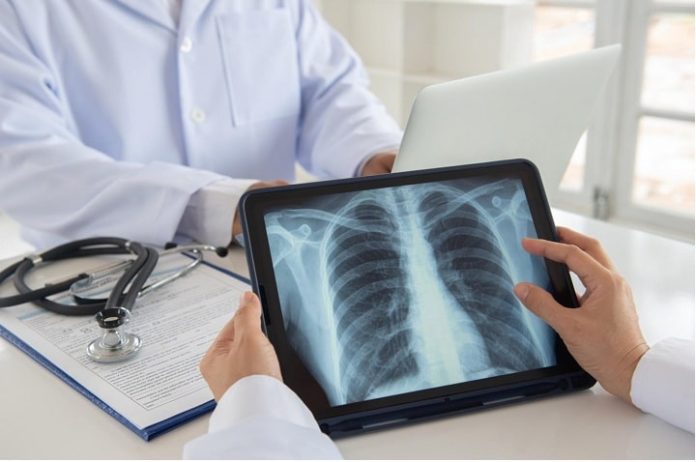 The head of the NHS revealed today that a breakthrough targeted medication treating lung cancer would be made accessible to anybody who qualifies, owing to a new drug deal. Sotorasib is a drug that targets a genetic abnormality known as the "death star" by doctors and scientists. It has been shown in clinical studies to stop lung cancer from spreading for seven months. Because of an early access arrangement with the manufacturer, NHS patients in England were the first in Europe to receive the medicine in September last year.
Approximately 100 people have already benefited from the procedure.The NHS chief executive, Amanda Pritchard, announced the new contract, saying it would assist even more patients, including 600 people qualifying for the "cutting edge" treatment each year. The lethal 'death star' mutant of the KRAS gene, so named for its spherical form and impenetrable nature, affects about one out of every eight lung cancer patients.
This new medicine has been in development for more than 40 years, and it is the latest deal the NHS has made as part of its promise to make more cutting-edge treatments available. The medicine, which may be given at home to enhance the user experience for patients, might also be a game-changer in the management of some of the world's worst malignancies, such as pancreatic and colorectal tumours.
It's also intended to provide a longer and better life than traditional chemotherapy, with fewer side effects and a higher quality of life for patients. It is an excellent news for thousands of patients and families because they will now be able to obtain this first-of-its-kind treatment thanks to another arrangement secured by the NHS, says Amanda Pritchard, NHS chief executive. From life-changing pharmaceuticals for cystic fibrosis to breakthrough cures for sickle cell disease, this is the latest in a line of deals they have reached to provide patients with the most cutting-edge cures at a reasonable cost for taxpayers. She adds that the NHS is committed to safeguarding many lives from cancer through early identification and treatment, and cancer has been emphasised throughout the outbreak, so anyone with symptoms or concerns should come forward and get examined as soon as possible.
It's extremely interesting to see this ground-breaking medication coming into use after 40 years of study on this crucial goal, to directly help patients with lung cancer who carry this specific mutation, says Peter Johnson, NHS clinical director for cancer. As per him, the NHS is devoted to helping more lives from cancer through better diagnosis and treatment, with molecular testing with its genomics programme becoming extremely relevant for choosing the best treatment options, and this deal will make this drug readily available for patients who need it the most.
As part of the national war against cancer, they are dedicated to accelerating detection times and delivering innovative treatments, says Sajid Javid, Health and Social Care Secretary. This includes ground-breaking medicines like Sotorasib, which is the culmination of decades of research and is backed by the Cancer Drugs Fund, and will allow scores of more lung cancer patients in England to receive the care they require.
This historic agreement will go on to strengthen the NHS and assist them in making the UK's cancer care system the finest in Europe. The NHS struck a deal, and the medicine will now be available under the Cancer Drugs Fund (CDF). This ground-breaking medication inhibits cell proliferation and cancer progression by attaching to the KRAS G12C mutation and leaving it inactive.Patients can take Sotorasib as a tablet at home, making it easier than ever to get the help they need and eliminating the necessity of inpatient hospital visits.
Lung cancer is the third most common cancer in the UK, with around 50,000 individuals diagnosed each year. This medication will primarily be used as a second-line treatment for patients with severe lung cancer and those who have had their illness progress following chemotherapy. Following a confidential deal with manufacturer Amgen that allowed the drug to enter the CDF, the NHS is now able to fast-track Sotorasib to its patients on a budget-neutral basis. Around 1,200 eligible patients are likely to benefit from therapy in the next two years.
The agreement lets patients get the new medicine while more information about its clinical and economic benefits is gathered. This will help the National Institute of Health and Clinical Excellence (NICE) decide if it should be used on a regular basis in the NHS.Over 75,000 patients have benefited from speedier accessibility to over 90 different cancer treatments thanks to the CDF in just over five years. Building on the CDF's success, the NHS will establish a new Novel Medicines Fund later this year, which will assist faster access to non-cancer treatments and offer a total of £680 million in ringfenced healthcare spending for innovative medicines, alongside the CDF. The Innovative Medicines Fund consultation ended in February, with 96 percent of respondents supporting the new fund's goals.
Sotorasib provides a new therapy option for eligible patients whose lung cancer is found to contain the KRAS G12C mutation, states Executive Medical Director at Amgen UK and Ireland, Dr. Tony Patrikios. Well over half of NSCLC patients had advanced or metastatic disease just at time of diagnosis, and the prognosis remained dismal across the UK. Amgen is happy with its partnership with NHS England as well as NICE to ensure that people with NSCLC who could benefit from Sotorasib can get treatment as soon as possible.
This is the latest in a series of commercial agreements reached by the NHS in the last year, securing innovative treatments for patients with a variety of conditions, including an at-home treatment for spinal muscular atrophy, a life-saving gene therapy for metachromatic leukodystrophy, and groundbreaking care for thousands of children with peanut allergies, as well as better access to the "miracle" triple therapy for cystic fibrosis.