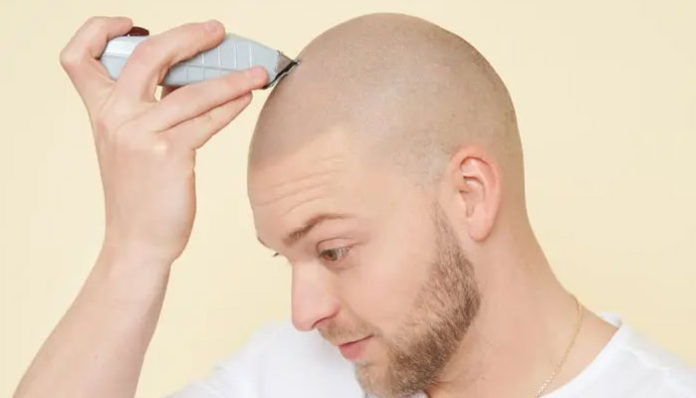 If there's microblading for eyebrows, there's also a similar process that's done on your scalp and this is called Scalp Micropigmentation (SMP). SMP gives the illusion of a fuller head of hair. This cosmetic treatment is offered in many scalp micropigmentation clinics such as Scalp Evolution. But how is it different from microblading?

Although both microblading and scalp micropigmentation fall under the same category, which is micropigmentation, they are very different when it comes to their methods of implanting pigment.
Microblading is usually done using a manual blade whereas scalp micropigmentation is done using an electronic tattoo device. The reason for this is because the skin on your scalp is thicker so it needs something with more power to penetrate it.
Scalp Micropigmentation: How Does it Work?
Scalp Micropigmentation by Scalp Evolution doesn't aim to create hair-like lines. Rather, they use tiny, layered dots in varying shades of black to mimic the appearance of shadows on your scalp. This technique is called pointillism, and it makes the micropigmentation look more natural and defined.
Getting scalp micropigmentation service from a skilled practitioner will guarantee natural looking dots that resemble hair follicles. These dots blend in perfectly with your complexion too.
Scalp micropigmentation is great for men and women who experience all types of hair loss. This includes people who have:
Alopecia
Thinning hair
Cancer
Pattern baldness (both male and female)
Does Scalp Micropigmentation Hurt?
Because the process resembles that of getting a tattoo, it is obviously going to hurt. But how painful it can get depends on one's pain tolerance and how the SMP is done.
Before the procedure, the SMP specialist will apply a numbing topical agent to your scalp. Although this will numb your senses, you might still experience some discomfort. But the amount of discomfort you'll feel depends on your tolerance to pain.
What to Expect with Scalp Pigmentation?
After the initial consultation with your Scalp Evolution SMP specialist, you will be briefed on what to expect during the scalp micropigmentation procedure and how you should prepare in advance.
For instance, here are some rules below:
Take a shower before the treatment. You won't be allowed to wash or wet your scalp (including sweating) for four days after each treatment.
Each SMP treatment can take about four to five hours
The number of treatments you need will depend on how much scalp is getting SMP. Even small areas in your scalp, like the widow's peak, will require three to four treatments.
Treatments are usually scheduled a few weeks in between.
You'll be advised to avoid swimming, using steam or sauna rooms, or taking hot showers in the weeks following your treatments.
It's also advised that you keep your scalp from being exposed to the sun four days after your first treatment. Five days after the treatment, you can expose the treated skin to the sun for 45 minutes to an hour.
Take note, however, that the less you expose the treated area/s to the sun, the better the retention.
After the final treatment, you'll be advised to:
Avoid swimming, going to saunas and steam rooms for 4 weeks after the final treatment
Avoid getting in the sun 4 weeks after the treatment. Use SPF 30-50 after the 4-week period.
Avoid doing any heavy exercises five days after your last treatment
Start moisturizing the treated area regularly four days after your final treatment.
How Much Does SMP Cost and How Long Does It Last?
The cost of getting an SMP treatment varies depending on how much area of your scalp needs to be covered. Typically, a treatment can cost you around $400 to $1000.
Micropigmentation is a semi-permanent treatment, which means that even the effects may last for years (with some lasting up to eight years!), the treated area will slowly fade over time. This is because our skin naturally exfoliates itself.
The color may lighten over time, but there shouldn't be any change of color. If this happens, then that means the SMP specialist used the wrong pigment.
If you suffer from dry skin, however, the fading will happen faster. This is due to the tendency of the skin to flake with dry skin, unintentionally exfoliating the pigment in the process.
What Are the Risks Involved in SMP?
Just like any medical and cosmetic procedures, there are risks that come with SMP.
Although you really can't consider micropigmentation a tattoo, permanent makeup services like SMP do come with similar risks as tattoos. These risks include allergic reactions to some components in the pigment as well as infections related to tattoo ink.
The most important thing to understand is that SMP artists or specialists do not need any formal training to perform the procedure on patients. This is why it's important that you do your research when choosing a good practitioner.
How to Find a Good SMP Center
Before you decide on the clinic you get your SMP treatment done, it's important that you do your research first. Make sure you check out the office or clinic where the service will be performed.
A good quality SMP treatment center should have the following:
SMP training certification
Body art practitioner license
County health permit
Bloodborne pathogens certification
A sink
A clean and sterile environment
Barrier protection during treatment
Packaged needles that are opened only in front of the client
Licensing and regulation for SMP varies by state. In California, for instance, the process for practicing tattooing, body piercing, body branding, or permanent makeup (SMP included), is licensed and regulated the same way. Despite that, licensed tattoo artists can easily shift to SMP even without any training.
The Food and Drug Administration (FDA) also warns consumers against the risks involved with tattoos and permanent makeup. This is especially due to the fact that the FDA has not actually regulated the inks and pigments used in tattoo and permanent makeup.
Experts at Scalp Evolution also warns that SMP results can end up in failure if it is performed by inexperienced practitioners. So, if you have any hesitation toward an SMP practitioner or SMP clinic, it's best for you to simply cancel the appointment and go to someplace that's more trusted.