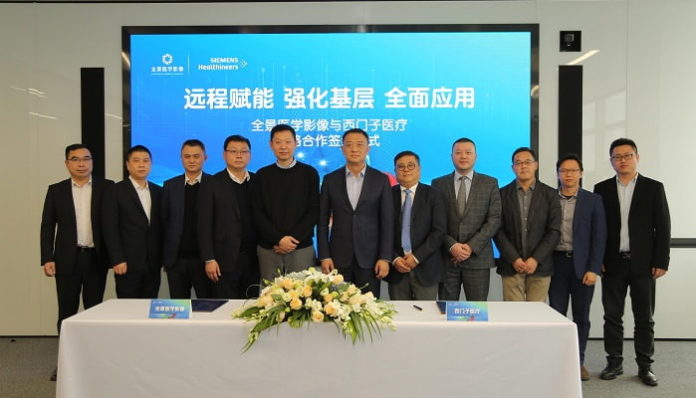 Siemens Healthineers and Universal Medical Imaging have signed a strategic collaboration agreement to help primary healthcare institutions in China improve the efficiency of their image screening and disease diagnosis using advanced imaging diagnostic equipment and remote scanning assistant tools from Siemens Healthineers and the nationwide medical imaging experts at Universal Medical Imaging. The companies will help medical staff and healthcare providers increase access to high-quality care for patients by providing them with more accurate, convenient, and timely diagnostic services.

Data from the National Health and Medical Commission in China shows that so far, telemedicine has covered nearly 90 percent of the provinces in China. While the coverage rate is high, it is still challenging to provide grassroots healthcare staff with full access to the existing imaging equipment and telemedicine technology. It is also difficult to transfer knowledge from top experts in big cities to the provinces.
Jerry Wang, President of Siemens Healthineers Greater China, said: "At this stage, key to the comprehensive implementation of imaging equipment at primary level is first to leverage digital and telemedicine technology and second to strengthen the connection between grassroots medical staff and imaging experts in large cities. The intention of our collaboration with Universal Medical Imaging is to build a primary medical ecosystem of 5G remote imaging diagnostics with the help of their expert resources and the technical advantages of Siemens Healthineers' 5G remote scanning assistant technology. This will allow primary healthcare staff to improve their skills and promote the implementation of a tiered healthcare service."
In China, Universal Medical Imaging is a leader in the domestic independent third-party medical imaging industry. The company employs more than 500 medical imaging physicians in over 30 cities across the country. By integrating high-quality resources from all over China, they can provide patients with imaging diagnoses of general diseases, but also cancer and cardiovascular and neurovascular diseases, offer multidisciplinary joint consultations, and more.
Chairman of Universal Medical Imaging, Yang Huanqiu, affirms: "By establishing this strategic partnership with Siemens Healthineers, we hope to leverage high-quality medical equipment 5G remote scanning assistant technology in order to provide diagnoses of difficult diseases for basic-level patients and better serve them in general."
As an industry leader in digital healthcare technology, Siemens Healthineers launched and continues to update its 5G remote scanning assistant technology in China. This solution enables grassroots hospitals to obtain guidance from remote experts for many procedures, including patient positioning, setting scanning parameters, real-time scanning, image post-processing, realizing real-time standardized remote diagnoses, and ultimately enabling grassroots patients to seek local medical treatment in a timely manner. Siemens Healthineers' 5G remote scanning assistant technology can be used in China with most of the company's imaging equipment, including ultrasound, CT, MR, PET/CT, and PET/MR. It is available in more than 200 hospitals with a total remote service time of more than 400,000 minutes last year.