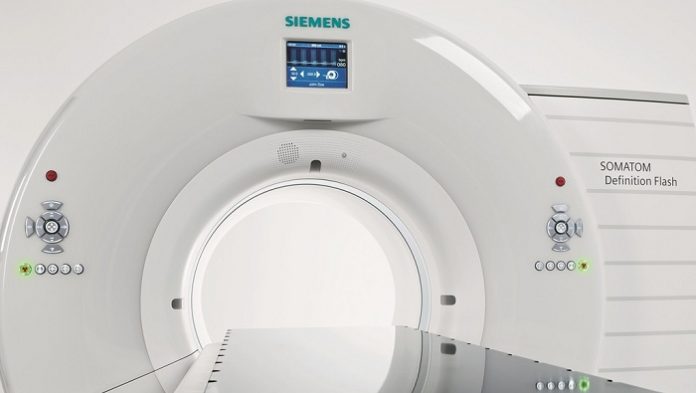 Siemens Healthineers and Florida Hospital, part of Adventist Health System, have announced a multi-phase collaboration agreement to transform health care delivery through the development of outcomes-based collaborative projects.

The long-term agreement leverages the imaging technology innovation and industry expertise of Siemens Healthineers as well as the integrated delivery network (IDN) of Florida Hospital and its ongoing investment in improving health care affordability, outcomes, and experience for their customers.
"Siemens Healthineers has a longstanding creative backbone, and they're always looking to create new solutions and innovative ways of delivering care across the health continuum," said Eric Stevens, a senior executive officer at Florida Hospital. "I'm really excited that we're addressing affordability and accessibility by creating cutting-edge health care that connects with people in a new and different way."
"Clearly, Florida Hospital is an innovative organization that is pushing the envelope to advance the way in which health care should be delivered in the future," added Michael Wendt, Senior Vice President of Diagnostic Imaging, Siemens Healthineers North America. "Siemens Healthineers is pleased to collaborate with such a forward-thinking organization."
In Phase I of the collaboration agreement, Siemens Healthineers and Florida Hospital Celebration Health will incorporate cardiac computed tomography angiography (CCTA) into the hospital's clinical protocol. The goal of the six-month study is to optimally assess and manage intermediate-risk patients who arrive at Celebration Health's emergency department (ED) with acute chest pain. The study will utilize Celebration Health's SOMATOM Definition Flash dual source CT system from Siemens Healthineers. Future phases of the collaboration agreement will similarly explore pathways to enhance the overall patient experience while delivering value-based, affordable care.
"This agreement with Siemens Healthineers underscores the desire of Florida Hospital to partner with innovative companies that share our goal of transforming health care through improved patient outcomes while driving down the cost of care," said Janis Moysey, Director of Alliance Innovation & Development, Florida Hospital. "We eagerly await the results of Phase I of this collaboration using dual source CT technology to enable optimized, lower-cost cardiovascular care for our customers." ¹
"Siemens Healthineers is excited to expand and deepen our existing relationship with Florida Hospital Adventist Health System through this long-term collaboration, which has the potential to expand precision medicine as well as transform the delivery of patient care," said David Pacitti, President, Siemens Healthineers North America. "We look forward to conducting projects that closely examine the continuum of care and the development of clinical pathways that test and advance the strengths of both parties."
¹ The statements by the Siemens customer described herein are based on results that were achieved in the customer's unique setting. Since there is no "typical" hospital and many variables exist (e.g., hospital size, case mix, level of IT adoption) there can be no guarantee that other customers will achieve the same results.
Siemens Healthineers is the separately managed healthcare business of Siemens AG enabling healthcare providers worldwide to achieve better outcomes at lower costs by empowering them on their journey towards expanding precision medicine, transforming care delivery, improving patient experience and digitalizing healthcare. A leader in medical technology, Siemens Healthineers is constantly innovating its portfolio of products and services in its core areas of diagnostic and therapeutic imaging and in laboratory diagnostics and molecular medicine. Siemens Healthineers is also actively developing its digital health services and enterprise services.
In fiscal 2017, which ended on September 30, 2017, Siemens Healthineers generated revenue of €13.8 billion and profit of €2.5 billion and has about 48,000 employees worldwide. Further information is available at www.siemens.com/healthineers
Opened in 1908, Florida Hospital is a faith-based institution focused on providing whole person care. It is one of the largest not-for-profit hospitals in the country, caring for more than two million patient visits per year – more than any other hospital in the country, according to the American Hospital Association. Florida Hospital stretches across the state with 26 hospitals, more than 4,600 patient beds, and more than 32,000 employees. The division includes the Walt Disney Pavilion at Florida Hospital for Children, dozens of outpatient facilities and Centra Care urgent care locations throughout Central Florida.
Florida Hospital provides a wide range of health services, including many nationally and internationally recognized programs in cardiology, cancer, women's medicine, neurosciences, diabetes, orthopedics, pediatrics, transplant and advanced surgical programs. Florida Hospital is a designated statutory teaching hospital and also trains physicians from all around the world on the newest technologies.
Siemens Healthineers
Jeff Bell, Tel.: (484) 868-8346
E-mail: jeffrey.t.bell@siemens-healthineers.com
Florida Hospital
David Breen, Tel.: (407) 303-8214
E-mail: david.breen@flhosp.org