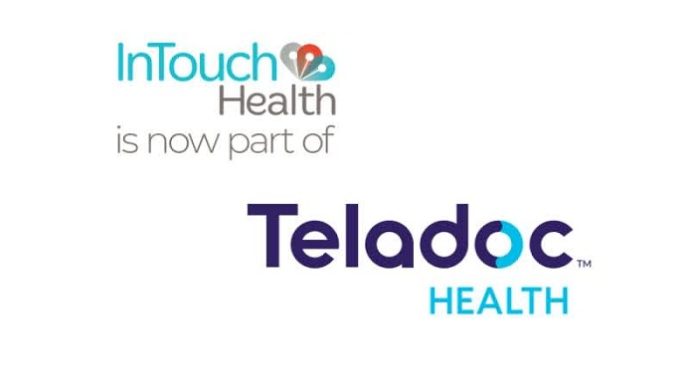 Teladoc Health, Inc., the global leader in virtual care announced that it has completed its acquisition of Santa Barbara, Calif.-area based InTouch Health. With the integration of InTouch Health's innovative telehealth capabilities linking providers to one another in complex medical environments, Teladoc Health will connect the care experience across in-patient, outpatient and home care settings, ensuring greater access to high-quality care and better health outcomes. At a time when virtual care has never been more important, the company is now the only global end-to-end partner spanning the full spectrum from acute visits and chronic conditions management to complex specialty care and remote surgery.
"As virtual care quickly becomes a necessity for all healthcare providers, the acquisition of InTouch Health positions us to lead this transformation in healthcare and be that single, integrated partner," said Jason Gorevic, chief executive officer, Teladoc Health. "Doctors and hospitals need medical-grade solutions and a unified virtual care strategy that can scale and grow with them. This acquisition makes Teladoc Health the first and only company to comprehensively deliver on that need."
In the wake of the coronavirus pandemic, consumer openness to telemedicine has never been higher and nearly half of providers are now delivering care online or by phone. At the same time, nearly two-thirds of consumers say they want the care they receive in their communities and virtual care to work together. With a platform purpose-built for healthcare, the organizations bring unparalleled clinical quality, technological innovation and operational scale to uniquely meet needs both inside and outside the four walls of the healthcare system.
Together, the company will support thousands of physician users, partnering with hundreds of hospitals and health systems around the globe.
"With both our longstanding clients and new partners that have come to us since the start of the pandemic, there is a seismic shift in the urgency and readiness of hospitals and physician practices large and small to virtualize now," explained Joe DeVivo, president, Hospital & Health Systems, Teladoc Health. "Providers are seeking an enterprise virtual care approach. With our proven healthcare industry expertise and unified platform, we are delivering a better way to engage with patients at every point along their healthcare journey."
About Teladoc Health
Teladoc Health is transforming how people access and experience healthcare. Recognized as the world leader in virtual care, Teladoc Health directly delivers millions of medical visits across 175 countries each year through the Teladoc Health Medical Group and enables millions of patient and provider touchpoints for thousands of hospitals, health systems and physician practices globally. Ranked #1 among direct-to- consumer telehealth providers in the J.D. Power 2019 U.S. Telehealth Satisfaction Study and Best in KLAS for Virtual Care Platforms for 2020, Teladoc Health leverages more than a decade of expertise and real-time insights to meet the growing virtual care needs of consumers, healthcare professionals, employers and health plans.