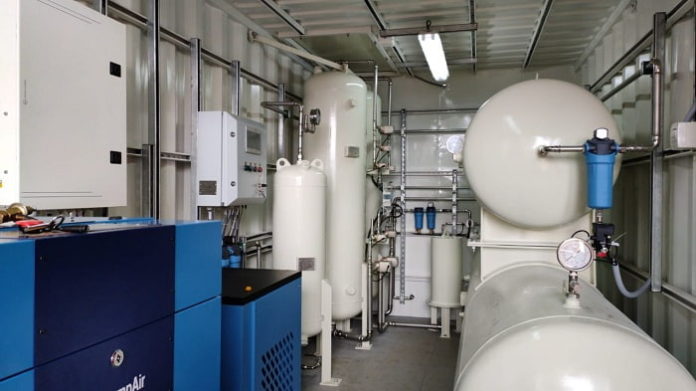 Recent tragic events in India and Iraq have focused minds on the safety measures in place at hospitals for the storage of oxygen supplies. Now gas processing systems specialist Oxair is urging medical and healthcare facilities across the world to avoid shortcuts and consider safety above all when ordering in their oxygen supplies.
At least 22 people died in a hospital in India when the flow of oxygen through ventilators was fatally interrupted. Meanwhile in Iraq 174 were killed in two separate catastrophic fires within three months at hospitals in the capital Baghdad and Nassiriya, reportedly caused by oxygen tanks exploding.
International health agencies had sounded warnings about a growing crisis of severe oxygen shortages, which is leading to hospitals outsourcing as many oxygen cylinders as possible. However, there are potential pitfalls such as a lack of suitable and safe storage space.  Oxair has developed a simpler, safer solution – and it has already been deployed and proven.
A significant number of hospitals across India and other regions of the Middle East and Australasia are now self-sufficient and saving lives with an off-the-shelf Oxygen Pressure Swing Adsorption (PSA) system. These are high quality, robust medical devices designed to last and deliver consistent, high purity oxygen on tap to hospitals and healthcare facilities – even in the remotest locations around the world.
As it extracts its supplies directly from the atmosphere, PSA Oxygen offers better patient care with a permanent flow of high-quality oxygen. This system saves room space, offers output pressure and a flow rate to suit the needs of the hospital and is capable of piping oxygen to every department where it is needed.
Oxair's system delivers constant oxygen of 94-95 per cent purity through PSA filtration, a unique process that separates oxygen from compressed air. The gas is then conditioned and filtered before being stored in a buffer tank to be used directly by the end user on demand. Orders for ready-to-use, standalone Oxygen PSA units can be turned around in just a few weeks, depending on local lockdown conditions.
David Cheeseman of Oxair said: "We've seen terrible consequences recently from a lack of life-saving medical oxygen, especially when treating Covid-19 patients. But there's a lot more to it than simply pulling in extra cylinder supplies. If exposed to certain conditions the storage, handling and removal of these cylinders can also be hugely dangerous. It's precisely the type of far-lying medical facility that might run out of oxygen, that is least equipped to store more of it safely and securely.
"We believe our PSA systems are the safest and ultimately cheapest solution for hospitals anywhere. The design of these PSA systems as 'plug-and-play' means that they are literally ready to start working as soon as they are delivered and plugged in, with voltage adapted to the country of delivery. So, hospitals can rely on technology that is tried and tested over many years, coupled with almost instant access to vital oxygen supplies under significantly safer conditions."
About Oxair 
Oxair is an ISO 9001 certified company focused on the design and manufacture of packaged oxygen Pressure Swing Adsorption (PSA) Systems, Oxair manufactures very small, medium to large Oxygen PSA Tonnage plants, Oxair also design and manufacture Nitrogen PSA systems up to 1000Nm3/hr.
Our portfolio also includes designing Nitrogen systems from Air Products Membrane Technology with whom we have forged strong links over the past 20 years for Nitrogen and other gases.
In addition, Oxair Design and Manufacture Heatless/Desiccant type Regeneration Dryers and filtration packages for a variety of industrial sectors including medical, gold mining, water treatment, oil & gas, food, chemical and biotech.
The dryers can be skid mounted or in a lifting frame certified for Off Shore lift if required. We also produce pressure vessels and skid fabrication and process piping, and our designs are focused on customer requirements of reliability, ease of maintenance, safety and plant self-protection.