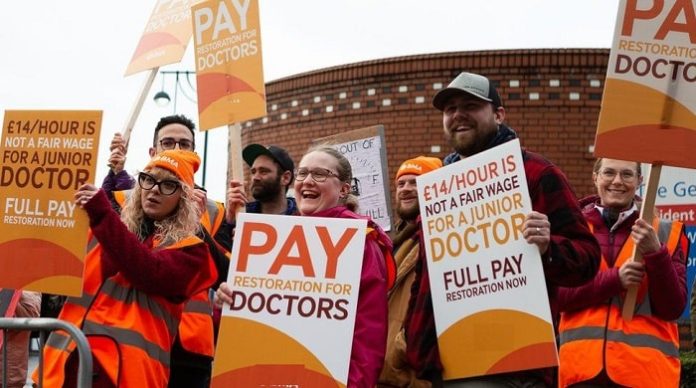 To make sure that care continues to be there for those dealing with life-threatening situations, NHS staff are going to prioritise emergency as well as urgent care, with several routine appointments as well as procedures for patients being postponed every day.
Apparently, the NHS happens to be dealing with the longest-ever strike action by the UK junior doctors, with more than five consecutive days starting on July 7.
This is also followed by the first walkout demonstrated by the consultants in more than 10 years, starting July 20, and radiographers striking from July 25 to 27.
It is well worth noting that individuals who need NHS care must make use of the services as they most likely would: A&E and 999 when it comes to a life-threatening emergency, and NHS 111 online when it comes to other health concerns.
Notably, patients with appointments who have not been contacted otherwise must attend as normal, and community services like GPs and pharmacies are also mostly unaffected by the strike.
Professor Sir Stephen Powis, the NHS national medical director, suggests that they will now witness an industrial action on 11 out of the forthcoming 14 days, and hence there is an incredibly busy and disruptive period for the NHS that lies ahead. As the staff continue to work tirelessly in order to offer patients the care they long to have, the next strike is expected to be longest and most disruptive yet. It is well to be noted that strikes have already impacted almost 600,000 hospital appointments throughout the NHS, with many more expected to be affected in the weeks to come.
In the next couple of weeks, people must still seek the care they need by calling dedicated health lines.
According to Sir Powis, their staff is already doing what they can, but they really cannot continue like this. Action is indeed having a significant impact on patients who are in need of routine care, with an increasing effect on NHS services as well as the hard-working staff as they try to maintain their services and also address a record-breaking backlog.
Notably, a previous action by the junior doctors saw 21000 to 24000 staff off duty per day because of industrial action.
Industrial action in June by the junior doctors witnessed 106,000 hospital appointments disrupted in three days. At present, it has been more than five days since the junior doctors have gone on strike, and therefore, it is likely that more appointments are going to be disrupted with the consultant strike also making its way.