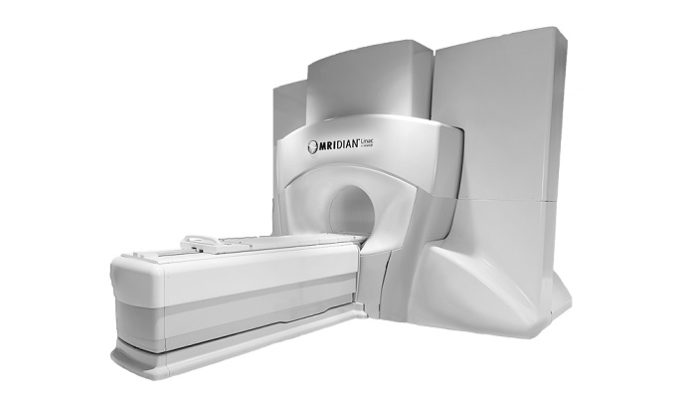 ViewRay, Inc announced that the University Hospitals (UH) Seidman Cancer Center in Cleveland has selected a MRIdian MR-Guided Radiation Therapy System as part of a master agreement for the purchase of up to four systems, and will be the first in Ohio at a research and teaching hospital to offer the precision of MRIdian's advanced MRI-guided radiation therapy to cancer patients throughout the region for pancreas, prostate, kidney, gynecological, lung, liver, breast, brain, spine, and oligometastatic cancers.
UH Seidman Cancer Center is part of the NCI-designated Case Comprehensive Cancer Center at Case Western Reserve University School of Medicine. Through this program, the National Cancer Institute (NCI) recognizes centers around the country that meet rigorous standards for transdisciplinary, state-of-the-art research focused on developing new and better approaches to preventing, diagnosing, and treating cancer.
"UH Seidman Cancer Center is at the forefront of clinical excellence and transformative innovation. There was unanimous multi-disciplinary support to bring ViewRay's MRIdian MRI-guided radiotherapy to our center and provide our patients with the latest radiotherapeutic advancements. We aim to continue the advancement of MR-guided adaptive radiotherapy through cutting-edge clinical trials and research to improve patient outcomes. Our incredible team is excited to collaborate with ViewRay to test the non-invasive form of MR-guided radiosurgery versus traditional surgical methods or other invasive ablative modalities (i.e., HIFU, cryotherapy, radiofrequency ablation) for the treatment of cancer. The addition of the MRIdian system to our center will further elevate our radiation oncology and medical physics residency programs by having one of the greatest breadths of treatment modalities to offer at any center in the world, all under one roof," said Dan Spratt, M.D., Chair of the Department of Radiation Oncology at University Hospitals Cleveland Medical Center, and Vincent K. Smith Chair in Radiation Oncology. "With MRIdian, we can offer cutting-edge, precise, and personalized treatment using soft-tissue tracking, automatic beam gating, on-table adaptive delivery, and build advanced tools to improve patient outcomes and minimize treatment-related side effects," said Rojano Kashani, PhD, the Chief of Physics at UH Seidman Cancer Center.
With some of the most advanced technology available, dedicated and skilled clinicians, and participation in hundreds of clinical trials, UH Seidman Cancer Center is a leading resource in the nation in the fight against cancer, and consistently ranks among the top cancer hospitals in the country out of more than 4,750 medical centers, according to U.S. News & World Report.
"Because MRIdian enables delivery of ablative radiation doses with tighter margins, we will be able to treat complex cancer cases, including inoperable tumors and patients who aren't good candidates for surgery," said Jordan Winter, M.D., Chief of the Division of Surgical Oncology at University Hospitals Cleveland Medical Center, Director of Surgical Services at UH Seidman Cancer Center and John and Peggy Garson Family Endowed Chair in Pancreatic Cancer Research and Jerome A. and Joy Weinberger Family Master Clinician in Surgical Oncology. "MRIdian expands the treatment options available to our patients, particularly those with tough-to-treat cancers whose options may have previously been limited, such as pancreatic ultra-central lung cancer tumors."
Lee Ponsky, M.D., Chair, Department of Urology, University Hospitals Cleveland Medical Center, Leo & Charlotte Goldberg Chair in Advanced Surgical Therapies and Master Clinician in Urologic Oncology shares in the excitement stating, "Our genitourinary program was already a premier center for the management of prostate, kidney, and bladder cancer. As a Urologic Oncologist who has helped pioneer the use of radiosurgery for prostate cancer and kidney cancers, I am thrilled that our patients will have access to MR-guided adaptive radiotherapy to further take these treatments to the next level, and we hope to expand the role of radiotherapy using this technology."
The MRIdian system provides oncologists outstanding anatomical visualization through diagnostic-quality MR images and the ability to adapt a radiation therapy plan to the targeted cancer with the patient on the table. This combination allows physicians to define tight treatment margins to avoid unnecessary radiation exposure of vulnerable organs-at-risk and healthy tissue and allows the delivery of ablative radiation doses in five or fewer treatment sessions, without relying on implanted markers. By providing real-time continuous tracking of the target and organs-at-risk, MRIdian enables automatic gating of the radiation beam if the target moves outside the user-defined margins. This allows for delivery of the prescribed dose to the target, while sparing surrounding healthy tissue and critical structures, which results in minimizing toxicities typically associated with conventional radiation therapy.
Over 27,000 patients have been treated with MRIdian. Currently, 56 MRIdian systems are installed at hospitals around the world where they are used to treat a wide variety of solid tumors and are the focus of numerous ongoing research efforts. MRIdian has been the subject of hundreds of peer-reviewed publications, scientific meeting abstracts, and presentations.