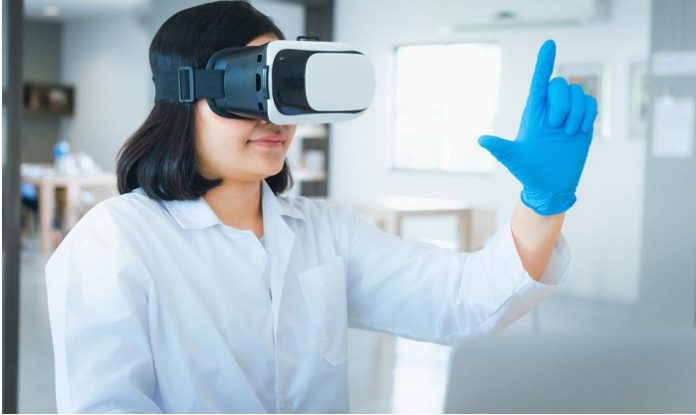 Virtual reality use while hand surgery resulted in significant reductions in intraoperative anaesthesia without having a negative impact on patient-reported outcomes, according to a recent study by Beth Israel Deaconess Medical Center researchers in Boston that was recently published in the journal PLOS One.

Researchers assessed the quantity of intraoperative anaesthetic given to 34 patients having hand surgery in a brief, eight-month randomised controlled experiment, either with or without the use of VR.
In comparison to the control group, the VR group received considerably less anaesthetic each hour. Significantly less time was spent in the post-anesthesia care unit (PACU) in the VR group, and patients were released from the PACU 22 minutes sooner than control patients. The VR group watched programmes of their choice using a virtual reality headset and noise-canceling headphones, while the control group received an anaesthetic as prescribed by an anesthesiologist during the operation.
The virtual programming, offered by telehealth VR clinic provider XRHealth, was made to encourage tranquillity and rest through scenes like a tranquil meadow, woodland, or mountain top. Patients could choose from a selection of videos on a web-based user interface that was presented as a theatre screen with a starry sky background or listen to a guided meditation in the virtual surroundings.
Anesthesia during hand surgery frequently comprises regional anaesthesia given before surgery and well-supervised anaesthesia care during the operation. Although anaesthesia is administered to patients prior to surgery, further anaesthesia may be required during surgery, which could lead to oversedation and other preventable consequences.
VR could prove to be a beneficial tool for patients and clinicians by diverting the mind from processing painful stimuli, resulting in minimal sedative use and a reduced risk of oversedation without negatively impacting patient satisfaction, researchers in the aforementioned study observed.
They did note certain study limitations, such as the fact that participants were aware of the potential of a lower sedative dosage. Additionally, results from patients who consented to little sedation could not be generally applicable to the overall populace, resulting in selection bias. Additionally, researchers noted that the study's healthcare professionals were not masked, which may have led to the striking variations in propofol dosage between the groups.
Their findings should be viewed as preliminary and in need of confirmation in further studies because there is a chance that bias could have an impact on both of these outcomes. Additionally, given these significant limitations, their findings are best suited to describe how the addition of virtual reality (VR) involvement to current anaesthesia practise for hand surgery can compare with the standard of care rather than to demonstrate that VR is a stronger pain control mechanism of action or is superior to other diversionary strategies scientists found.
Extended reality, also known as virtual, augmented, and mixed reality, is now employed in the operating room in a variety of ways that have an impact on both patients and surgeons.
For spine surgery, surgeons use Augmedics' xvision system, which utilises augmented reality technology. During implant surgery, a surgeon can view a 3D representation of the patient's spine thanks to Augmedics' technology, which has a 99.1% interventional screw placement accuracy rate. Surgeons can visualise a surgical experience using Precision XR's Surgical Theater by entering 3D imaging images into virtual reality. The body of a patient is conventionally scanned by professionals (MRI, CT scan, etc.). For surgeons to thoroughly examine in order to get ready for surgery, that scan is reconfigured into a 3D image in virtual reality.