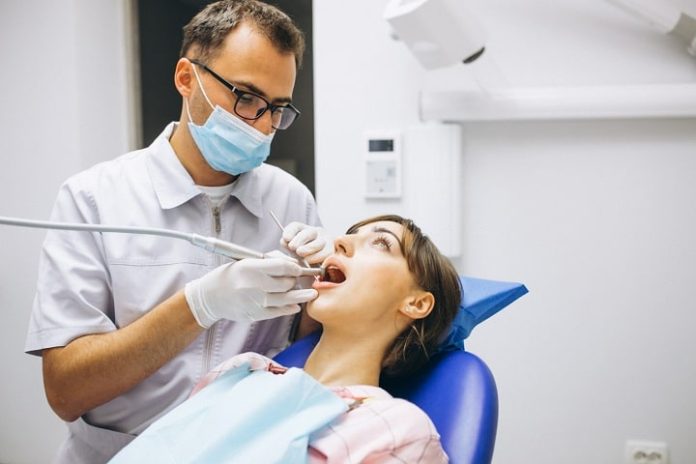 The onset and spread of COVID have precipitated drastic sweeping changes everywhere.  What was once ordinary and commonplace seems to now be the opposite. Measures taken to stop or slow the spread of the disease have had to be far-reaching and all-encompassing. As a result, run-of-the-mill habits like trips to the store, office hours, and doctors' visits have been adversely impacted.
It seems like one of the most impacted obligations is trips to the dentist's office. The need for heightened safety has exposed the risk inherent in exposing and opening the mouth for examination. Contrary to those aversions, dentists offices remain safe to visit. For a good reason, ignoring oral health and hygiene can be a greater risk to overall health.
If you are anxious about making an appointment to see your dentist, here are a few guidelines you can follow to certify that you remain safe throughout.
For Non-Emergencies
First and foremost, non-emergencies are not an excuse to avoid making an appointment. Dentists have emphasised that there is an inherent risk in failing to maintain a good dental routine. Such oversight can allow seemingly benign conditions to deteriorate, leading to other, more severe health conditions.
Regarding the virus: it remains a significant concern, even now. The virus continues to infect and affect people nationally and globally, with no end in sight yet. Putting off scheduling appointments for a dental concern can leave it untreated indefinitely. It can also prevent the early detection of a potential problem.
Furthermore, the change of diets has increased the need for more advanced dental care. The spread of the virus has made it necessary to stay at home due to government-mandated lockdowns. More time spent within such confines has altered eating habits. There has been an uptick in consuming sugary drinks and less healthy food options, which can adversely affect dental health, no matter how much brushing is relied upon to counteract it.
In Case of Emergencies
It is inadvisable to attempt to ignore an emergency in favour of minimising exposure. If a need to see the dentist becomes imperative, make your way to one as quickly as possible. Dental emergencies can escalate and transform into general health complications if they are not seen promptly. Signs that you should seek urgent dental care include:
Severe pain.
Swelling on the jaw, cheeks or gums.
Mouth ulcers that have not healed after two weeks.
One or more broken teeth.
A tooth that was knocked out.
For added safety, many dentists' practices have implemented protocols to align with mandated safety guidelines. Before making an appointment, please note that they now:
Ask patients to attend their appointments unaccompanied. If need be, only one companion is allowed.
Have fewer appointments available each day to minimise the number of people in the office at any given time.
Have spaced out the chairs in the waiting rooms to maintain appropriate distancing.
Request that patients stand at the reception in a certain way to avoid compromising safety.
Require masks to be worn at all times, except during the examination.
Use examination rooms in rotation to allow the aerosols to settle before a patient is ushered in.
Ensure that dentists wear face shields and special masks.
Your oral health does not have to take a back seat until authorities announce the all-clear. Rest assured that your dentist is making every effort to certify that you remain safe throughout your next visit and every appointment to make after that. Keeping up with your dental care will give you a definite advantage when masks are no longer required, and your smile can shine once again. Need a recommendation? Check out this reputable dentist in Murray Hill for consultations and appointments.