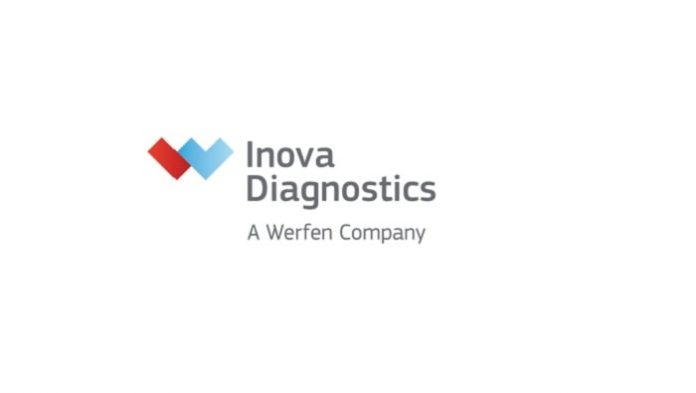 Inova Diagnostics, a world leader in autoimmune disease diagnostic systems and reagents for the clinical laboratory, is proud to announce the clearance of QUANTA Flash® Calprotectin by the US FDA.

QUANTA Flash Calprotectin aids in the diagnosis of inflammatory bowel disease (IBD) and helps differentiate IBD from irritable bowel syndrome (IBS). QUANTA Flash Calprotectin is one of 29 FDA cleared assays available on BIO-FLASH®, a random access chemiluminescent instrument, and can be run simultaneously with other QUANTA Flash assays. QUANTA Flash Calprotectin is the first fully automated, random access calprotectin assay available in the US.
Accurate detection of calprotectin levels can provide essential information for practitioners who are treating the millions of patients with gastrointestinal disorders. Timely differential diagnosis of gastrointestinal pain is crucial in order to provide appropriate care and avoid unnecessary procedures that lead to increased health care costs. QUANTA Flash Calprotectin provides precise quantification, with an analytical measurement range of up to 3500 mg/kg. With its wide dynamic range, high precision, and fast turn-around time, QUANTA Flash Calprotectin can improve patient care while helping to reduce costs.
KT Park, MD, MS, Chair of Clinical Care and Quality, NASPGHAN and Co-Director, Stanford Children's IBD Center at Stanford University School of Medicine commented, "Fecal calprotectin has revolutionized my clinical practice.  Calprotectin measurements during patients' diagnostic workup when the diagnosis could be either IBS or IBD provide direction and important information prior to endoscopic evaluations. Calprotectin testing supports a patient-centered, proactive approach to disease management, allowing accurate detection of indolent and often-missed inflammation. The highly accurate QUANTA Flash Calprotectin assay offered by Inova Diagnostics, with a broad quantitative range, is an asset to the clinicians' decision-making process."
About Inova Diagnostics
Inova Diagnostics is a privately held company headquartered in San Diego, California, and is a part of Werfen, a global leader in IVD with a long term commitment to providing innovative solutions for hospitals and clinical laboratories to improve patient care.  Inova Diagnostics manufactures IVD systems and reagents for autoimmune disease, and is a leader in the development and commercialization of new autoimmune technologies and diagnostic markers.  Further information about Inova Diagnostics can be found at www.inovadx.com.
About QUANTA Flash Calprotectin
QUANTA Flash Calprotectin is a chemiluminescence immunoassay performed on BIO-FLASH for the detection of fecal calprotectin in human stool samples.  High concentrations of fecal calprotectin, in conjunction with clinical findings and other laboratory tests, may assist in the diagnosis and management of IBD (ulcerative colitis and Crohn's disease).
About BIO-FLASH
BIO-FLASH is a random access chemiluminescent instrument for the autoimmune laboratory which delivers results in as little as 30 minutes.  BIO-FLASH offers a wide analytical measuring range and precise quantification for greater confidence in results, and is a progressive step forward to handle routine, specialized and STAT immunology tests.
BIO-FLASH is a registered trademark of Biokit S.A. and QUANTA Flash is a trademark of Inova Diagnostics, Inc. © 2018 Inova Diagnostics, Inc. All rights reserved.