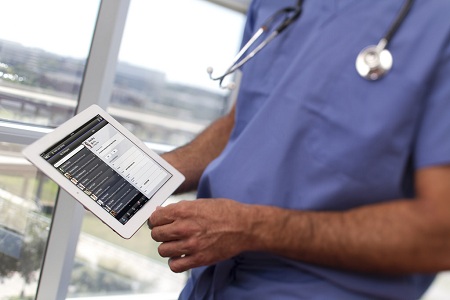 NetDirector, a cloud-based data exchange and integration platform, has engaged in a rapid expansion strategy in the healthcare industry over the last few years. Recently, the Integration-Platform-as-a-Service (iPaaS) has completed implementation with American Health Imaging, a regional network of radiology providers across multiple states, to provide increased accessibility and data utility in their company. 
American Health Imaging (AHI) began providing diagnostic imaging services in Decatur, Georgia, in 1998, and has since expanded to 21 locations. In each area, they distinguished themselves by providing excellent customer service and high quality diagnostic imaging for their patients and referring physicians. By partnering with NetDirector to provide cloud-based integration services, it is the goal of AHI to create an automation platform that will increase overall customer satisfaction through streamlined processes and to create internal manpower savings through enhancing their ability to scale the business without having to add staff.
"We want to provide the best possible patient care, to the maximum number of patients, while minimizing the need for human intervention in the process," said Dan Balentine, Chief Operating Officer at AHI. "By utilizing the NetDirector integration, it has allowed us to take our staff's focus off of the day to day busywork, and shift focus to providing unmatched patient care."
With traditional integrations, a company like AHI could be paying upwards of $20,000 plus an 18% annual maintenance fee for each vendor that would be integrated with AHI's EMR and other in-house systems. For AHI, this was clearly not the optimum solution. Several vendors might not have the volume of transactions to justify the integration cost, creating a system built around the exception and not the constant. NetDirector's one-to-many integration approach allowed AHI to integrate once with NetDirector, and use that single integration to connect to the entire hub of HealthData Exchange participants.
AHI utilizes a patient engagement platform called HealthLogix to help follow up with patients after exams or appointments, confirm scheduling, prompt for surveys, create a seamless check-in process, and more. The cloud-based integration model helped AHI bring this information directly into their Fuji Radiology Information System (RIS) and patient billing databases, to keep patient records current and to leverage the data they were collecting most efficiently, and allowed the utilization of HealthLogix's full functionality such as automating check-in procedures at a digital kiosk, and more.
Exchange EDI Integration – Insurance Coverage Confirmation & Verification
Additionally, in a time where high-deductible insurance policies are increasingly commonplace, insurance confirmation simply isn't enough information. AHI utilized NetDirector to connect with Exchange EDI, which not only confirms the participation in an insurance policy or group but analyzes policy levels and remaining deductibles. This allows patients and providers alike to understand the patient's responsibility up front – the transparency provided by this data allows for accurate collection of copays during visits, reduced collection costs down the line, and overall reduced revenue leakage for providers.
IntScripts Integration – Physician Referrals and Radiology Communication Integration
Finally, it was critical to make the ordering process for their referring physician population as simple as possible, so an integration was performed with IntScripts, which provided the ability to directly receive orders from the referrer's EHR and have the results automatically dropped right into the patient's chart.  This automation eliminates the traditional manual processes that were previously encountered by both AHI and referring physicians.
For patients, the NetDirector integration platform provides not only an elevated level of understanding of their coverage and responsibility through stronger integration between provider and vendor, but also makes life easier for their primary care doctor or other referring physician to communicate and refer patients. This increases the likelihood of single-service care, as primary care physicians are more likely to refer patients as needed, and patients can trust they are receiving the right treatment for them.
"The integration that we have created for American Health Imaging is a model case for the value of cloud-based integration in healthcare," said Harry Beisswenger, NetDirector CEO. "When we set out to enter the healthcare industry, our primary goals were to reduce costs for providers, increase potential care level provided to patients, and create an environment of data transparency and communication. AHI's integration has accomplished all of this and more."
Company Bio:
NetDirector provides a secure cloud-based data and document exchange solution for the healthcare and mortgage banking industries to deliver seamless data integration between parties. NetDirector bridges gaps created by disparate systems & technologies by allowing companies at any location to share data & documents securely over a single internet connection with any other member of the ecosystem. Our approach allows trading partners to collaborate and exchange data in a seamless, bi-directional, real-time manner. With security and longevity as a focus, NetDirector is a certified SOC 2 Type II Compliant company, a 6-year member of the prominent Inc. 5000, and currently processes more than 8 million transactions per month.
NetDirector
12363 Hampton Park Blvd, Tampa FL, 33624
Alexander Craddock, Marketing Manager
Phone: (813) 448-1208
Fax: (813) 749-7030