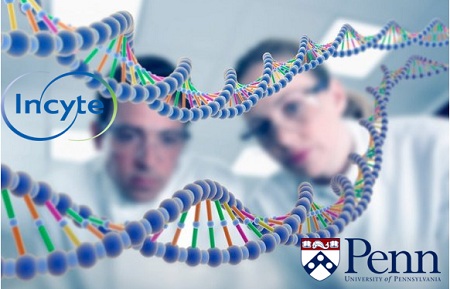 The University of Pennsylvania and Incyte Corporation, a Delaware-based biopharmaceutical company, have announced a research alliance to propel advances in cancer biology and immunotherapy. Steven M. Albelda, MD, the William Maul Measey Professor of Medicine, and Gregory L. Beatty, MD, PhD, an assistant professor of Hematology-Oncology, both in the Perelman School of Medicine and the Abramson Cancer Center at the University of Pennsylvania, will co-lead a new oncology research alliance.
The multi-year collaboration will bring together drug-discovery and development scientists from both Penn and Incyte to better understand immune responses to cancer and drive innovations in immunotherapy. Immunotherapy, which has become a leading edge method for cancer treatment during the past decade, is a type of treatment that boosts the ability of a person's immune system to fight diseases such as cancer.
"This exciting new alliance between Penn and Incyte is a vital part of our ongoing efforts to support and enhance innovation at Penn and develop strong research and development partnerships with industry," said John Swartley, MBA, PhD, associate vice provost for research and managing director of the Penn Center for Innovation. "Both partners are committed to improving and extending the lives of patients with cancer. Dr. Albelda and Dr. Beatty are outstanding scientists who bring superb collaborative skills to this important effort."
As part of the relationship, Penn researchers will use their expertise in preclinical biology and translational science to assess new therapeutics under development at Incyte enhancing, for example, the ability to select the patients who are most likely to respond to combination therapies. In combination therapy, patients receive two or more drugs (or other forms of treatment, such as radiation) for a single disease.
Additionally, Incyte and Penn will develop a bioinformatics program in clinical immunotherapy to develop and support new types of treatment based on immune cell infiltration. When immune cells are infiltrated into tumors, tumor cells are often destroyed, resulting in better patient prognosis. But studies have found that in some cases, infiltration of immune cells into tumors or normal tissue may speed up tumor progression and the spread of cancer to other parts of the body.
Incyte will supply financial support for these research programs and may also carry out grant-funded, collaborative research with Penn experts in other areas of cancer immunology.
Penn Medicine is one of the world's leading academic medical centers, dedicated to the related missions of medical education, biomedical research, and excellence in patient care. Penn Medicine consists of the Raymond and Ruth Perelman School of Medicine at the University of Pennsylvania (founded in 1765 as the nation's first medical school) and the University of Pennsylvania Health System, which together form a $5.3 billion enterprise.
The Perelman School of Medicine has been ranked among the top five medical schools in the United States for the past 18 years, according to U.S. News & World Report's survey of research-oriented medical schools. The School is consistently among the nation's top recipients of funding from the National Institutes of Health, with $373 million awarded in the 2015 fiscal year.
The University of Pennsylvania Health System's patient care facilities include: The Hospital of the University of Pennsylvania and Penn Presbyterian Medical Center which are recognized as one of the nation's top "Honor Roll" hospitals by U.S. News & World Report — Chester County Hospital; Lancaster General Health; Penn Wissahickon Hospice; and Pennsylvania Hospital — the nation's first hospital, founded in 1751. Additional affiliated inpatient care facilities and services throughout the Philadelphia region include Chestnut Hill Hospital and Good Shepherd Penn Partners, a partnership between Good Shepherd Rehabilitation Network and Penn Medicine.
Penn Medicine is committed to improving lives and health through a variety of community-based programs and activities. In fiscal year 2015, Penn Medicine provided $253.3 million to benefit our community.