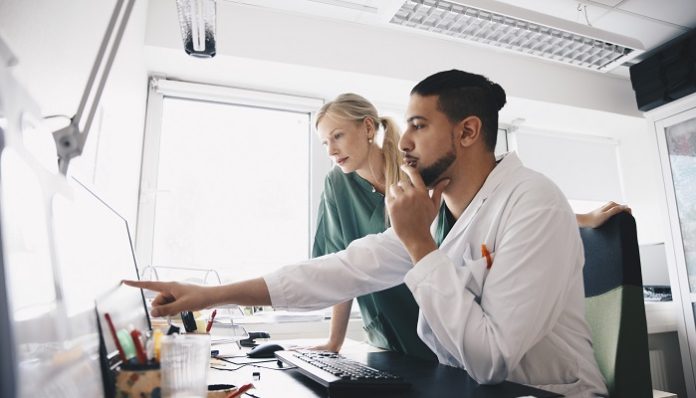 Technology has long been transforming how hospitals and physician practices interact with patients and submit claims for services. Now it is also enabling organizations to deal with a growing shortage of qualified workers that has hobbled operations and diminished patient satisfaction. Not only is this diminished labor pool hurting clinical staffing levels, it is also impacting administrative departments.
According to one MGMA Stat poll, 76% of medical practices report making significant operational changes to address staffing shortages. Although this labor shortage trend has been brewing for decades, the COVID-19 pandemic spotlighted the frustrations of finding workers to fill critical positions, especially in RCM departments.
The workflows created for collecting data and submitting claims represent areas of high complexity. In many cases, organizations depend on a staffer's domain knowledge for collecting and submitting the right information and dealing with claim denials. Oftentimes, these employees are engaged in the time-consuming and highly manual processes of chasing down needed information and ultimately making decisions of which claims are worth the effort. Recently, the strains on departments created by too few workers at a time of increasing patient activity has become particularly acute. Now, more than ever, these issues demand new thinking and solutions.
Improving processes and enhancing workflows
Organizations are turning to solutions like Change Healthcare's Revenue Performance Advisor (RPA) to automate time-consuming, error-prone manual processes and improve workflows. According to a survey of nearly 400 chief financial officers and revenue cycle leaders at hospitals and health systems in the United States by AKASA, the number of organizations using revenue cycle automation solutions increased by 12% in 2021 from the previous year. Fully 78% (up from 66%) of health systems surveyed were using or implementing these solutions, according to the report.
The factors driving this trend are multifaceted but ultimately come down to people—how they are deployed and the tools available to support them in their work. The healthcare billing cycle is complicated. It requires a high level of staff knowledge to ensure that claims are not rejected for preventable causes such as inaccurate insurance information. A loss of these staff members often means a loss of domain knowledge that is not easily replaced in the current employment environment.
Submitting "clean" claims is critical. Those that are validated and scrubbed before submitting typically get paid faster. The strength of RPA is that it provides an easy-to-use claims management solution that helps users get claims right on first pass and avoid costly resubmissions.
At Change Healthcare, our goal is to help healthcare organizations modernize and automate the revenue cycle process. Effective revenue cycle management tools free personnel for more complex and higher value tasks. It also allows organizations to navigate the claims process, reducing the likelihood of denials and creating more dependable and consistent revenue flows.
Time for a change
To address these issues, organizations can no longer continue with business as usual. Hospitals and practices must effectively engage with an increasingly important source of revenue known as the American patient.
As patients assume a greater share of their healthcare costs, it is becoming increasingly important to provide new processes and self-service tools. Empowering patients through online scheduling and digital check-in also shifts the burden for collecting vital healthcare and insurance information from the front desk to the patients themselves. It saves time and ensures that claims can be filed faster.
Younger, more tech savvy patients are demanding online tools that allow them to do more of the work themselves—from scheduling appointments to self check-in—thereby avoiding long wait times created by the manual completion of health and payer information forms at the front desk.
A revenue cycle management solution not only solves staffing shortages but also provides the kind of patient tools that offices have come to expect from other businesses and industries. According to a 2021 NextGen Healthcare poll, 49% of patients wanted the option to check in or complete paperwork digitally prior to their appointment.
Failing to accommodate these patient desires can have real consequences for providers. Fully 69% of patients said they would select another healthcare provider for more convenience according to a February 2022 Tegria poll. It also found that 79% of respondents want to use technology when managing their healthcare experience.
By establishing effective patient-driven workflows, the office can collect more complete data faster; and submission of claims becomes a much more efficient process. The end result? Claims that result in fewer denials and appeals. Identifying and managing claims becomes easier when RCM teams have all the necessary information at their fingertips.
Automating eligibility and benefits verification with an REM solution provides powerful advantages. Practices can obtain the needed information on patient eligibility and out-of-pocket costs within seconds—before patients receive care. This process encourages upfront payments and enables practices to set up the types of consumer payment plans that patients are used to receiving from other businesses.
Addressing labor shortages and meeting revenue goals
These processes affect more than just revenue flow. By reducing time spent gathering information, patients can receive care faster, resulting in better outcomes and greater satisfaction. Strains on the RCM department staff can negatively affect the patient experience. Offices have often reported care delays, long hold times for scheduling and customer service calls, and patient billing errors due to lack of experienced staff among the consequences of this labor shortage.
The benefits of revenue cycle management solutions are clear and compelling. Not only do they address immediate issues of labor shortages, they also put organizations on firmer financial footing by ensuring that revenue goals are met. They also provide an added benefit by giving patients the ability to have a personal hand in their own healthcare.