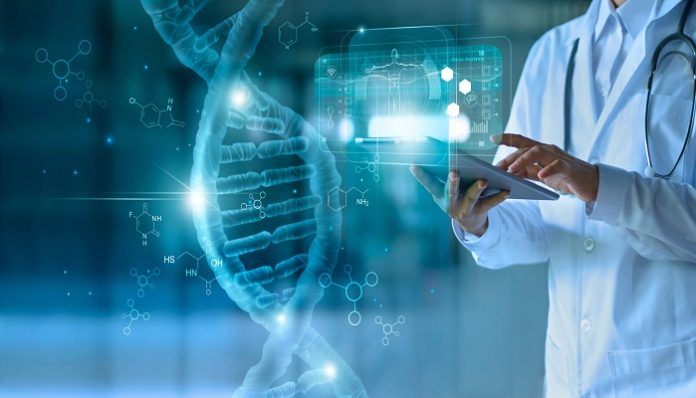 The pandemic has pushed many businesses to "the most important pivot point of the past couple years," as Dannielle Appelhans, COO of the Massachusetts-based biopharmaceutical firm Rubius Therapeutics, said in a piece on the MIT Sloan website. Appelhans added that there now appears to be "a path to move forward into what will be our new normal, or our 'work of the future.'"
No sector has been impacted as dramatically and obviously as healthcare. In the early weeks and months of the outbreak, organizations found themselves pushed to the breaking point by a large influx of patients. As a result, those organizations were left searching for time-efficient and cost-efficient ways to deal with a wide array of operational, clinical, and administrative challenges.
Artificial intelligence often proved to be the antidote, and is expected to be an even greater factor going forward, given the increased pressure clinicians face to produce accurate documentation as a result of value-based payment models. In addition, healthcare systems are continually striving to meet the challenges presented by a population that is growing older and older.
In a series of 2022 pieces for Forbes, Rick Newell, CEO of Inflect Health and Chief Transformation Officer of Vituity Healthcare, outlined the many aspects of AI in healthcare. His position was unquestionably nuanced, and he did not hesitate to present the technology's pluses and minuses. At the same time he wrote the following:
"In the history of mankind, I don't think there has ever been a more powerful way to solve problems with novel insights than through the use of AI. Its ability to solve fantastically complex mathematical problems and discover the subtle and nuanced relationships between data has incredible potential to improve healthcare."
Similarly, Top Markets Reports projects that the global healthcare AI market, which stood at $6.9 billion in 2021, will grow to $67.4 billion by 2027, a robust compound annual growth rate (CAGR) of 46.2 percent. That same report said the drivers of growth are such factors as the need to improve efficiency, reduce costs, and keep up with the demands of an aging population.
AI notably played a critical role in the development of the coronavirus vaccine. In the case of the Pfizer/BioNTech, for example, AI reduced the time it took to analyze data from a clinical trial from a month to less than a day, a key to that particular vaccine being rolled out in under a year.
AI can serve various purposes. It can automate image analyses and thus hasten preliminary diagnoses, as was the case when it was used to identify COVID-19 on chest X-rays. It can also be used to minimize dosage errors, play a role in robot-assisted surgery, and ease administrative burdens.
As noted earlier, the latter will loom ever larger as the world's population continues to age. In the U.S. alone, some 10,000 Baby Boomers will be turning 65 every day for the next decade, and by 2030 every Boomer (i.e., one of every five Americans) will be over that age. That will put an untold strain on healthcare systems and demand that technology like AI can help increase efficiency.
AI, particularly as it is used in robotics, can "bring a quick solution, reducing risk of human error and freeing up time for researchers," as Isma Bennatia, Vice President of Research and Development at the biotech company Amgen, told MIT Sloan.
Many organizations, like The Allure Group, a network of six New York City-based nursing homes, have taken a step in that direction. In Allure's case, robotics play an integral role in patient recovery and rehabilitation. Allure also incorporates AI-based technologies in their digital suite of services (i.e., remote patient monitoring).
As promising as AI has shown itself to be, it has its flaws. Christine Swisher, Vice President of Data Science at the Oncology AI company Ronin, noted on a July 2022 podcast that the technology is only as effective as the data it is given – that AI algorithms can "automate biases that are already part of our healthcare system." Care must be taken, she added, to provide healthy data:
"We monitor for a number of cohorts in our data and look for things like social determinants of health. A patient not having access to transportation: Does that result in poor performance of our model? We look at protected classes. We look at age, gender, cancer type. We look at the type of healthcare system they're in – is it an AMC or community cancer center? – and make sure our model performs well for all groups. If not, we have the system in place to detect that challenge, and fix them quickly."
All that said, the pros of AI in healthcare far outweigh some of the drawbacks. It can serve as a diagnostic tool, a rehab tool and free up clinicians from administrative tasks to better focus on patient care. Moreover, it helps scale the industry, so that it might meet the needs of an aging population.