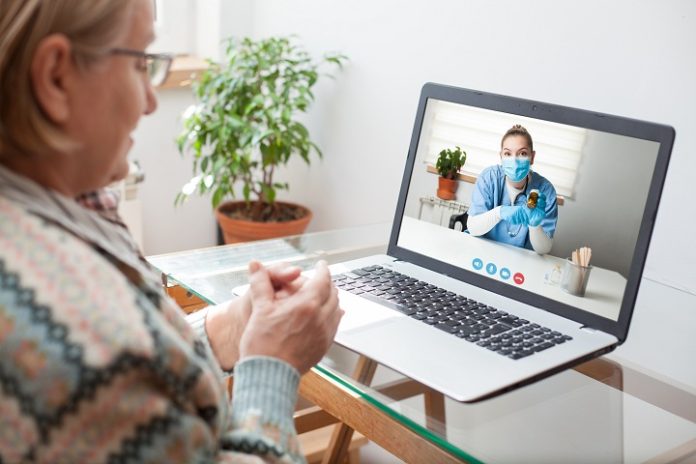 Today, self-management has become increasingly important in healthcare, more so in critical care, commonly referred to as chronic disease management. 

Now, since chronic illnesses represent a plight not just for the millions of affected patients, but also for the care providers and the health infrastructure as a whole, the significance of finding a powerful means of intervention has become a priority in the industry.
In one recent study published in the American Journal of Public Health, the author writes:
"For both clinical and economic reasons, the increasing number of persons living with chronic conditions represents a public health issue of growing importance, creating a situation in which self-management will continue to grow as a crucial approach to managing these conditions."
Virtual consults, commonly referred to as 'telehealth' can be leveraged as an effective solution on this front, especially when it comes to encouraging patients to follow a proactive care approach. 
In this piece, we will be looking at 
-why self management is crucial to critical care, and 
– how telehealth can help achieve this.
Why Self-Management is Crucial to Critical Care?
Since chronic conditions are usually long in their duration but comparatively slow in progression, self-management analysis translated into practice can offer those living with such diseases a means to conserve or even better their capacity to remain healthy and conscious over the course of their lives.
Some of the ways healthcare providers can help patients tackle chronic illnesses by inculcating within them self management best practices include:
Educating patients about the importance of self-responsibility to their happiness and wellbeing,

Formulating a plan to achieve personal health goals, and precisely defining them,

Inspiring patients to make positive lifestyle changes, and

Identifying support strategies for dealing with depression, fatigue, pain, or stress.
One might think that much of this sounds like a basic approach to proactive care. However, various studies have also depicted an increasing need to focus on self-management in patients suffering with chronic diseases.
Because the persistent and profound harmful effects linked with chronic illnesses can lead to an elevated "symptom burden" — or the negative psychological, physiologic, and emotional consequences — such patients often feel too overwhelmed to participate in positive self-management behaviors without intervention.
For instance, chronic care patients with congestive heart failure (CHF), diabetes, and chronic obstructive pulmonary disease (COPD) may simply "tune out" some of the instructions provided by caregivers because of this symptom burden, which can worsen it further.
So then, what exactly can healthcare providers do to keep this from happening?
The answer is simple: leverage telehealth!
1) Telehealth Increases Access to Specialty Care
According to one recent study conducted by the Pew Research Center, approximately 46 million Americans reside in the nation's rural regions at present. This points out that a considerable number of patients across the United States lack access to proper healthcare, and that they have to travel long distances just to be able to see a primary care provider at times.
In the case of patients with chronic conditions, they greatly rely on specialist care when trying to control their symptoms. Speciality care providers can be difficult to access in certain remote regions of the country. This makes it more arduous for chronically ill patients to consult doctors on a regular basis.
Telehealth solutions are rapidly helping healthcare organizations to provide people in rural regions with access to efficient and cost-effective solutions for managing chronic diseases from the comfort of their own homes.
For example, remote patient monitoring (RPM) works on the concept of leveraging virtual consultations in combination with the internet of medical things (IOMT) and medical devices. By using connected technology to transmit patient data to their care providers, telehealth helps patients gain access to specialist care, irrespective of their geographical location. 
2) Telehealth Helps Reduce Hospital Readmissions and Overall Care Costs
Patients with chronic diseases account for a little over 81% of all hospital admissions in America. This being a significant number, placing better chronic disease management strategies in place would also mean there will be comparatively fewer hospital readmissions.
How is this possible?
When physicians and specialists monitor a patient's condition remotely through telehealth, they can help the patient better follow their symptoms and alter the treatment path when the need arises. This considerably mitigates the risk of them having to be readmitted to the hospital. 
Telehealth can also, by virtue of its ability to maintain contact isolation, be optimally used to help ameliorate outcomes for patients who may be immuno-compromised. Its adoption is a win-win situation for both healthcare providers and their patients.
While care providers can leverage telemedicine to ensure patients are following recommended lifestyle changes, answer questions about their medications, and triage new symptoms swiftly to keep hospital readmission rates as low as possible; patients can leverage this technology to better manage their symptoms and cut down on their cost of care.
3) Telehealth can be Used to Place Patients' Health in their Own Hands
More often than not, chronic diseases demand lifestyle changes.
When left on their own, a few chronically ill patients may find it difficult to follow through on the treatment plans suggested by their physicians, which means there are increased chances of their condition deteriorating further.
Getting a telemedicine app developed for your practice or hospital that keeps a live record of an individual's exercise, diet and medication regimen, and embeds features to track vital signs would be an excellent option to keep patients invested in their own health. It will also improve patient compliance rates across the facility. 
Customized push notifications sent through such an app can prompt patients about eating healthy, adhering to their medication schedule, or even furnish suggestions as well as tips for them to stay active. This pushes them toward a better lifestyle. 
With a current RPM report of patient vital signs and IOMT diagnostics available to them during virtual consultations, healthcare providers receive a more comprehensive view of how treatment is progressing and what changes should be made with the treatment regimen to improve outcomes. 
One best practice here would be to store all patient data on the facility's cloud server. This boosts its interoperability across the healthcare organization and increases its accessibility so that the concerned physician can check it at any given point in time through something as convenient as their cell phone.
All in all, telehealth adoption can greatly benefit chronically ill patients trying to self manage their condition.
As forward-looking healthcare leaders, we constantly need to be on the lookout for ways we can make the transition to patient-centric, and value based care more seamless. Telehealth is definitely one state-of-the-art tech innovation that can help us do just that.