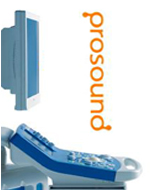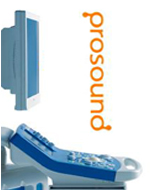 ALOKA CO., LTD., announced its new ProSound Alpha 6, the next generation of compact color ultrasound systems. This new multi-purpose system, providing unprecedented performance in a variety of ultrasound applications, is fully upgradable and easy to use.
Building upon the proven technology of the high performance ProSound Alpha 10 and Alpha 7, the ProSound Alpha 6 addresses multiple diagnostic applications in one system, a marked difference from other ultrasound systems. The new system is released with a full suite of application-specific probes and software, designed to target all specialist diagnostic areas in general imaging, cardiovascular, obstetrics & gynecology and internal medicine. The Alpha 6 high power processor allows a number of different imaging modes previously seen only in high end systems, without compromise on image quality and color Doppler sensitivity.
This latest addition to the ProSound Alpha series has also been designed for ease of use. Its compact, ergonomic design features a large, programmable touch screen panel layout for quick access to frequently used controls. The ProSound Alpha 6 is also designed to be mobile and is economically and environmentally friendly, with reduced power consumption.
The new ProSound Alpha 6 will make its debut appearance at the World Federation for Ultrasound in Medicine and Biology (WFUMB) in Sydney, Australia, between August 30 and September 3 and simultaneously in Europe at the European Society of Cardiology (ESC) Congress 2009 in Barcelona from August 29 to September 1. The system will also feature at the International Society of Ultrasound in Obstetrics and Gynecology (ISUOG) in Hamburg, Germany, on September 13-17.
Minoru Yoshizumi, President, ALOKA CO., LTD said, We are extremely proud to launch the new ProSound Alpha 6. ALOKA has been working on expanding the application of ultrasound diagnosis by developing numerous innovative technologies in partnership with experts working in clinical practice. Now I hope the new ProSound Alpha 6, a compact and versatile unit with a high performance/cost ratio, will broaden the customer base for ultrasonography. With this small but powerful system, we would like to bring the benefits of ultrasound diagnosis to those who need it around the world.
The ProSound Alpha series has a well-established reputation in large facilities and hospital imaging departments worldwide. The robust systems are fully functional in all work environments. The Alpha Series now offers diagnostic ultrasound solutions to meet all users needs, from research to the daily workflow of ultrasound departments, bolstering ALOKA's vision to "Illuminate the change; See the unseen."