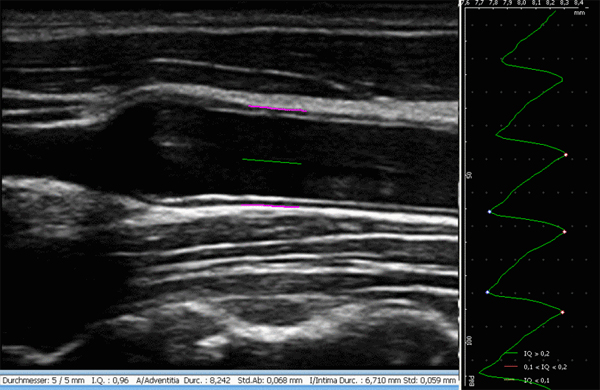 TomTec launches the vascular analysis solution M'Ath®1 (Measure of Atherosclerosis) as a further part of TomTec's CardioArena™ multimodality imaging program at the European Society of Cardiology congress 2009 in Barcelona.
The condition of atherosclerosis in the carotid arteries can be analyzed based on ultrasound imaging with the clinical application package (CAP) M'Ath®. For the detection of early atherosclerosis the automated IMT (Intima Media Thickness) and distensibility measurement provides important results. Semiautomatic plaque and stenosis measurements support the diagnosis in advanced stages of atherosclerosis.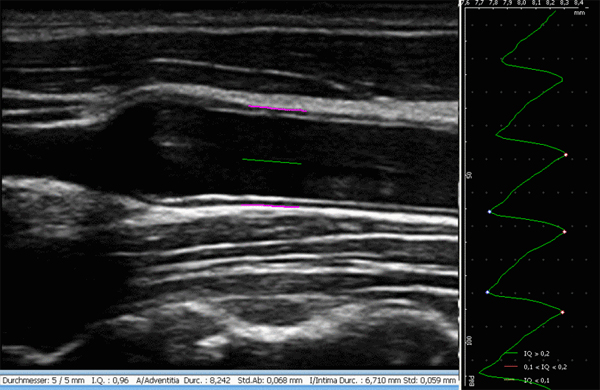 The M'Ath® CAP is well validated with more than 10.000 patients and offers reliable results. Additionally the user can work with different ultrasound systems and is not limited to specific vendors to perform all the measurements of this analysis tool.
The M'Ath® CAP is a further significant application for TomTec's CardioArena™ program. This vascular analysis solution is a "one step ahead" clinical application package which will run on single workstations or within a Cardio PACS environment from TomTec. Together with the Image-ArenaTM platform M'Ath® offers a powerful and easy to use application for vascular diseases" said Frank Schlau, TomTec's Chief Marketing Officer
About TomTec:
TomTec Imaging Systems GmbH, with headquarter located in Munich Germany holds an inventive leadership position in the field of diagnostic medical imaging applications and Cardio PACS solutions. The company maintains close working relationships with many leading universities and device manufacturers around the world. TomTec's product portfolio encompasses a wide range of 2D and 3D/4D technologies for visualization, analysis, reporting and archiving of multimodality imaging data. TomTec solutions are applicable in the fields of Adult- and Pediatric Cardiology as well as Obstetrics, Gynaecology, Radiology, and Vascular Imaging.
For more information, please contact:
Sylvia MartíMarketing & Communication Manager
TomTec Imaging Systems GmbH Edisonstr. 6
85716 Unterschleissheim Germany
Tel: +49 (0) 89 32175 516
E-Mail: smarti(at)tomtec.de
http://www.tomtec.de