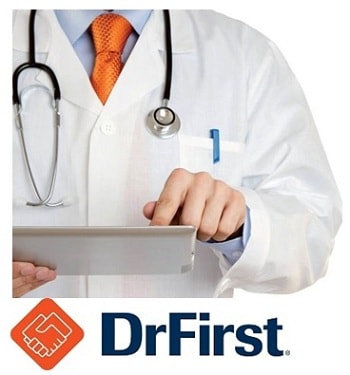 DrFirst, the market leader in delivering intelligent medication management solutions that improve patient safety, announced innovations that enhance data quality, improve clinical workflow and deliver stronger adherence to therapy.
DrFirst has launched SmartSig for MEDITECH 6.x bringing data quality and process automation advancements to MEDITECH customers. In addition, DrFirst has launched the only fully integrated PDMP Access solution, enabling state-compliant access to PDMP, seamlessly enabled within a single clinical workflow. Both the SmartSig and PDMP Access solutions simplify clinical workflows, improve data quality, increase care team efficiency and fully integrate with DrFirst's suite of intelligent medication management products.
MEDITECH 6.x clients can now add SmartSig to their existing DrFirst solutions to enhance prescription quality, streamline workflows and reduce transcription errors. Current prescription routing technologies provide free text sig information for dosing instructions. This poses a challenge for pharmacists, who must manually sift through the sig data in order to create prescriptions, as well as for staff responsible for the labor-intensive medication reconciliation process.
DrFirst's SmartSig solution resolves these issues by converting free text sig data into programmable data yielding discrete sig components within a patient's medication history. SmartSig uses proprietary algorithms to process and validate results and codifies sigs into each facility's standard terminology, e.g., "by mouth" versus "oral" or "PO." In addition, SmartSig helps staff resolve these gaps by supplying alternative drug IDs for best-case drug matching and details for incomplete or uncommon sigs. With SmartSig, hospitals decrease the number of incomplete or error-filled patient medication records, which in turn minimizes pharmacy call-backs, reduces workflow disruptions and decreases patient treatment delays. Hospitals also reduce the average number of "clicks" required for medication reconciliation by 50 percent, resulting in additional time savings.
"SmartSig produces quantifiable results – and quickly," said G. Cameron Deemer, president of DrFirst. "One large healthcare organization using our SmartSig solution has been able to save more than 300 staff hours and nearly one million clicks per year. More importantly, SmartSig customers benefit from the most complete medication history in the industry and best-practice medication reconciliation, empowering providers to make more informed decisions at the point of encounter."
DrFirst's new PDMP Access solution addresses a critical workflow challenge for prescribers accessing prescription drug monitoring program (PDMP) databases. In an effort to reduce prescription drug abuse and diversion, an increasing number of states are requiring practitioners to review PDMP data and verify patients' medication history prior to prescribing controlled substances. This process typically requires providers to exit their prescribing workflows, log into a separate state-run database, query their patients' records and then return to the prescription system. Rules vary by state, but where permitted, PDMP Access allows prescribers to check their PDMP without ever having to leave the prescribing workspace. Instead, they have zero-click, automated patient look-up within the PDMP database using patient demographics.
"PDMP Access is the industry's first solution to integrate access to PDMP information from within prescribers' existing workflows," added Deemer. "Historically, providers waste as much as two-and-a-half minutes each time they have to jump between their EHR and a PDMP database. With PDMP Access, the same process takes just a few seconds, saving prescribers time, facilitating compliance with state mandates and driving patient safety. DrFirst continues to deliver innovative solutions that reduce physician burnout while improving adherence to therapy and simplifying workflows to reduce errors."
PDMP Access is currently available in the 30 states that have PDMP regulations. DrFirst will add additional connectivity as new states enact PDMP checking.
MEDITECH customers can learn more about SmartSig for MEDITECH and PDMP Access at the 2017 International MUSE Conference May 30 to June 2 in Grapevine, Texas.
About DrFirst
DrFirst, the nation's leading provider of medication management solutions, enables stakeholders across the healthcare industry to intelligently utilize comprehensive real-time data and connectivity to increase their patient safety ratings, efficiency and profitability. Today, over 170,000 healthcare professionals and over 60% of Electronic Health Record vendors, depend on DrFirst's innovative software solutions to improve clinical workflows, expedite secure collaboration across a patient's care team and drive better health outcomes. The company's integrated technologies include its award-winning electronic prescribing platform, the most comprehensive medication history available, clinically specialized secure messaging, as well as patient medication adherence monitoring and benefits checking. In addition, DrFirst was the first to offer e-prescribing for controlled substances (EPCS), and is considered the industry standard for providers nationwide. For more information, please visit www.drfirst.com
General Inquiries: (888) 271-9898
Product and Service Sales: (866) 263-6511
Customer Support: (866) 263-6512
Corporate Headquarters: (301) 231-9510
Fax: (301) 231-9512