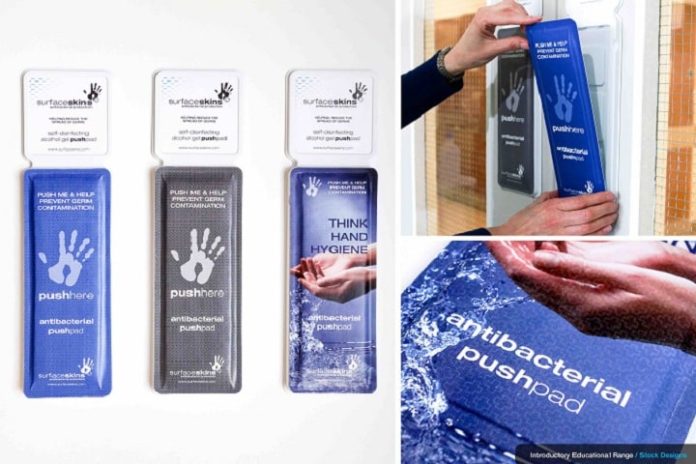 Developed by the Nonwovens Innovation and Research Institute (NIRI) and engineered to help prevent the spread of healthcare associated infections, Surfaceskinsantibacterial door push pad and pull handle technology received the Innovation Award at this year's Research, Innovation & Science for Engineered Fabrics (RISE®) Conference, adding to a raft of awards already won for the globally-patented healthcare technology.
Surfaceskins came about through the observation that, while gel dispensers in hospitals and medical waiting areas make hands clean, as soon as your hands touch a dirty door handle or push plate you can become contaminated with germs left by previous users. An estimated 80% of all infections are known to be transmitted by hand contact and compliance with the use of gel dispensers by healthcare workers can be lower than 30%. Surfaceskins work in conjunction with gel dispensers and hand washing, as a vital infection control measure designed to complement existing hand hygiene practices and protocols, breaking the transmission chain that contributes – within the USA alone – to 1.8 million Healthcare Associated Infections (HCAIs) per annum, at an estimated cost of US$28 – 45 billion, and 99,000 deaths each year.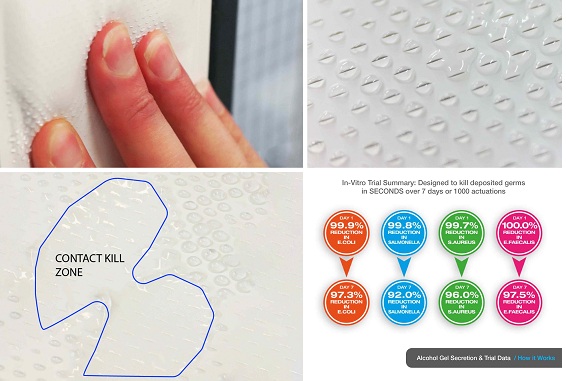 Surfaceskins employs a uniquely designed nonwoven-film system design to store, distribute and dispense standard alcohol gels to ensure all the product surface is active. The product comprises both vertically-lapped (v-lap) and spunbond nonwovens; the v-lap material acts as a reservoir for the gel, whilst the spunbond performs an ADL (acquisition distribution layer) function, meaning the liquid gel is still available at the top of the pushpad by the end of the product lifespan. The perforated film top sheet and micro-valves in the top sheet open and close with pressure, ensuring the gel doesn't evaporate.The combination of technical performance and the relatively low cost of nonwovens makes Surfaceskins an inexpensive, commercially-viable consumable product ideal for hospitals, SCBU's, HDU's, ICU's, elderly wards, food preparation, washroom, toilet, offices and other high risk traffic areas.
Seven years in development, the final Surfaceskins product won over £3 million in pre-orders, before launching last year. Prior to winning the RISE Innovation Award, Surfaceskins infection control technology won numerous innovation awards including Medilink Innovation in Healthcare Award; Shell LiveWIRE Grand Ideas Award, and Venturefest Innovation Showcase Award as well as being nominated for IDEA19 Achievement Award and shortlisted for The Spectator Disruptor of the Year Awards.
About NIRI:
Spun out of University of Leeds in 2005 to focus on applied research, industrial innovation and project development in nonwovens, NIRI employs more than 20 multidisciplinary personnel and has recently invested significantly in new facilities including: a textile and fibre engineering laboratory; industrial specification nonwoven plant, and comprehensive testing and analysis facilities. NIRI has successfully delivered over 450 projects for more than 200 clients, worldwide.
About Surfaceskins Limited:
The company was born form a collaboration between the textile and product and process development specialists at NIRI and a team of industrial design consultants, Simon Scott-Harden (ZELOcreative) and Adam Walker (Lensnectar).  The Surfaceskins range of products has been developed by a team combining experienced business acumen, technical expertise and healthcare sector knowledge.