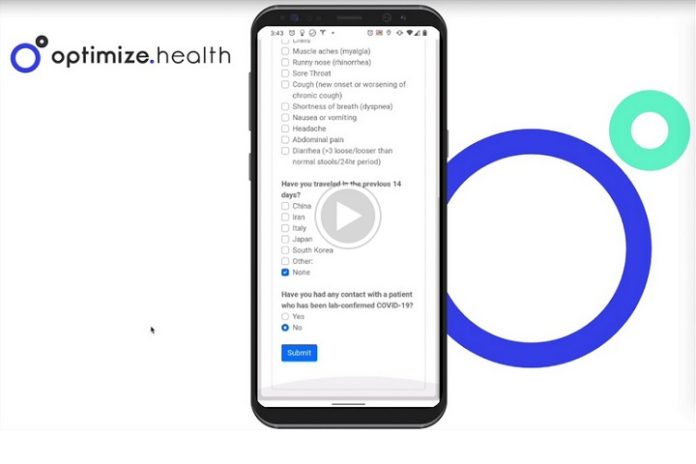 optimize.health, the digital healthcare platform that powers provider reimbursements for the new wave of remote patient care, today announced the release of a new COVID-19 screening survey designed to help healthcare workers assess patient risk remotely and analyze their local communities at scale. The company will make the COVID-19 screening tool available at no cost to physician practices, hospitals and patients.
The free digital survey can be sent directly by physicians and nurses to their patients who are concerned about potential exposure to the novel coronavirus that was last month classified by the World Health Organization as a pandemic. After viewing the patient's responses, healthcare providers can quickly determine the best course of action for each patient and coordinate next steps – whether that is to stay home, seek testing, or pursue medical care.
"A patient often enjoys a long-standing relationship with their existing healthcare provider, who has access to their full medical records and is therefore better positioned than a purely online-based tool to provide appropriate care," said optimize.health CEO and co-founder, Jeff LeBrun. "We designed this screening survey and additional tools to help those on the front lines of this pandemic give the best care to their communities while reducing the number of in-person visits required."
The new COVID-19 screening tool can be used independently or in conjunction with optimize.health's existing remote patient monitoring platform, which includes software that integrates with Bluetooth and cellular-based devices for monitoring pulse oximetry, blood pressure, blood glucose, weight, and medication adherence. The company became a national leader in outpatient remote patient monitoring after Medicare and private insurers began reimbursing these services in 2019.
"The patients considered at risk of suffering greater complications from COVID-19 generally have the same types of chronic conditions – including heart disease, diabetes and respiratory issues – that physicians are already monitoring and managing through our platform," added LeBrun. "This type of technology can help protect our nation's healthcare workers and reserve our limited hospital resources for the people who need it the most during this crisis. We hope that by making this free to healthcare workers we can help combat this virus and prevent infection among those who are risking their lives to care for their affected communities."
optimize.health's corporate headquarters are based in Seattle, WA, with additional employees in Phoenix, Houston and Charlotte, NC. The company, which has been growing rapidly since 2019, includes employees and advisors whose backgrounds span some of the world's leading health and technology institutions, including Google, Microsoft, Apple, Facebook, Amazon, Novartis, Duke University and the Institute for Health Metrics. The team includes clinicians (MDs and nurses), software engineers, designers and data scientists. The company's investors include Bonfire Capital (Los Angeles), Jumpstart Capital (Nashville) and many angel investors, over 10 of which have medical degrees.
Since its founding in 2015 as Pillsy Inc., optimize.health has worked with several top-tier research and university hospitals, as well as independent and government-owned medical facilities. The firm is also the recipient of an NIH HEAL Initiative grant, awarded for development of a digital health solution designed to facilitate treatment of the opioid epidemic.