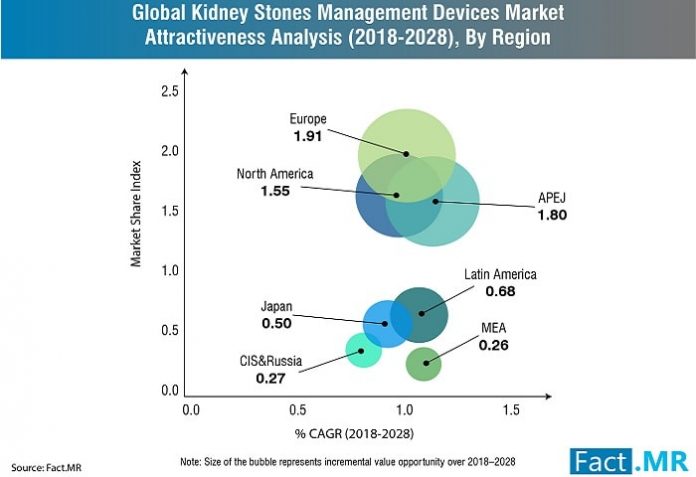 Over one in eleven people in the world are affected by kidney stones. More than 500,000 such patients find the need to visit emergency rooms for kidney stones treatment each year, out of which more than 50% of patients experience one or more recurrences. The condition is especially common among men as they are at higher risk of contracting kidney stones compared to that of women, owing to a relatively higher presence of salt and protein in their diets.
The demand for affordable, minimally invasive and non-invasive treatments for kidney stones are rising faster than ever before. On one hand, the sale of kidney stone management devices are expected to exceed a million units within the next 10 years. On the other hand, device manufacturers are continuing to face major challenges when it comes to creating effective solutions for kidney stones of a larger size.
Technological innovations in components for treatments using techniques such as extracorporeal shock wave lithotripsy, endoscopic removal of kidney stones (URS), and percutaneous nephrolitholapaxy (PCNL) are creating a steady demand for newer kidney stone management devices that enhance the efficacy of an ureteroscopy procedure.
Crystal clear visualization, enhanced efficiency of procedure, and increased speed of kidney stone fragmentation are some of the major requirements of any kidney stone management device in the market.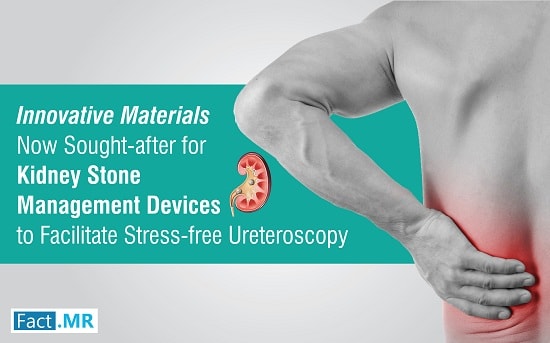 The addition of Flexible Digital Ureteroscope by manufacturers such as Olympus in the portfolio of medical devices enables healthcare professionals to gain bright high-definition visualization, along with colorconsistent images. The device is capable of working with Narrow Band Imaging technology, which improves visibility of vascular structures in the renal system. Wide field of view gives a better visualization of medical instruments that are in the endoscopic image. Fine manipulation of the device is made possible through rotational capabilities of the insertion tube and an optimized ergonomic design.
For percutaneous nephrolithotomy, a popular procedure to remove renal calculi larger than 1.5 cm, technologies such as intracorporeal lithotripters, PCNL tract sealants, and other stone manipulation devices such as Swiss LithoClast Select with Vario ®, Gyrus ACMI CyberWand ®, Olympus Invisio ® Smith have gained greater prominence in the recent years. The CyberWand dual ultrasonic lithotripter system by Olympus is showing great promise. The device contains 2 probes that emit vibrations at low and high frequencies to disintegrate stones of various sizes at a rapid rate, and at lower overall costs. These devices are designed in such a way to minimize overheating, malfunctions and occlusion.
While pneumatic lithotripters use compressed air to efficiently break down kidney stones, the difficulty and tediousness of extracting stone fragments from the renal system holds it back from being a preferred device for urologists.
Some lithotripters such as Dornier's HM3 make use of peizoceramic crystals at specific frequencies to enable greater power output to increase durability and reduce heating.In these devices, a number of peizoceramic crystals are aligned on a concave metallic surface, which display conformational change on the application of high voltage currents to effectively produce high peak pressure, and very small focal points, for stone disintegration. These devices are widely regarded to be safe for patients who are using pacemakers.
Rigid nephroscopes, such as the Olympus – OES Pro Mini Nephroscope are now being developed with digital functionalities for improved visualization of calyces and the renal pelvis region, with sheath designs that offer efficient flow, and a longer length that makes it also ideal for use on obese patients. The device efficiently integrates a 1 mm digital camera and a LED light source in the endoscope.
Increasingly, single use ureteroscopes have been finding popularity among a number of healthcare organizations due to the reduced downtime arising from broken equipment, which consequently results in reduction of delays and cancellations in treatment, enhancing access to care and is even more cost effective in comparison to conventional counterparts.
The tubeless approach to nephrolithomy by Chesapeake Urology is now being used more commonly, where ureteral stents are utilized, and stones larger than 2cm in diameter need to be removed. Attempts have been made to improve tract homeostasis, decrease leakage of trace post operation and to provide tissue support in the absence of nephrostomy through sealants and matrix-type products. These sealant products focus on lowering pain, requirements for analgesia and reduced wound soakage.
Laser technology has resulted in the widespread adoption of ureteroscopy (URS) for treating stones, as the procedure enables higher efficiency to disintegrate the kidney stone into fine dust without causing additional damage to nearby soft tissue. Laser lithotripsy for URS is increasingly being used as the primary treatment option for kidney stones in North America, through systems such as the VersaPulse® PowerSuite™ and Lumenis Pulse systems, which make use of repetition frequencies of 50 Hertz at energy pulses of 0.2 to 0.5 joules.
With steady improvements in medical infrastructure, and increasing preference for hospital treatment the rising practice of kidney stone patient management by certified clinicians and the use of intracorporeal lithotripsy for greater understanding of ureteroscopy is also witnessing rapid growth.
Modern kidney stone management instruments have shown significant improvements in reduction of trauma and treatment duration along with a widened scope of functionality. Artificial intelligence and imaging biometrics are expected to be some of the key technologies that will be used for ureteroscopy products and services in the near future.
The insights presented here are from a research study on Kidney Stone Management Devices Market by Fact.MR.