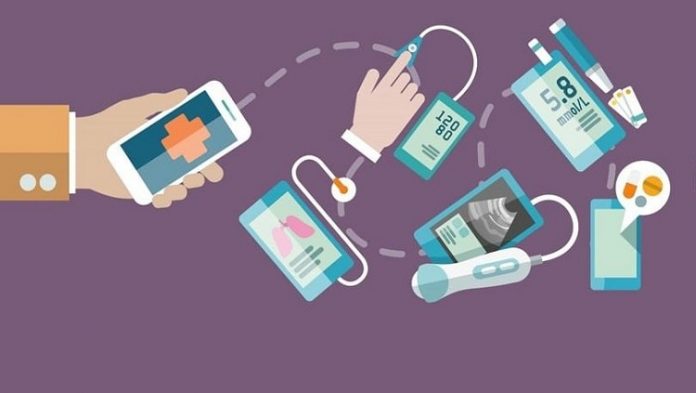 In this rapidly changing world, information communication is essential. Accessibility of information has always been challenging and it becomes much more complex when it comes to health information. We live in an era of electronic communication that makes tasks easier for most of us day by day.

"In a time of drastic change, it is the learners who inherit the future.
The learned find themselves equipped to live in a world which no longer exists."
Eric Hoffer (1902-1983)
Introduction
In this rapidly changing world, information communication is essential. Accessibility of information has always been challenging and it becomes much more complex when it comes to health information. We live in an era of electronic communication that makes tasks easier for most of us day by day. For example, how many times in a year do we visit our physical bank branch for transactions anymore? Information Communication technology has changed the modus operandi forever and believe me it will not remain the same.
The world of innovation despite challenges will ensure that change is the only constant.Ironically, when it comes to healthcare, we are forced to go to hospitals for traditional face to-face consultation and follow on care. Such visits to the hospitals, especially follow-ups for prescription refills, leads to increased cost of care and brings down the optimum utilization of healthcare resources.
The healthcare community is looking for a change that can transform the delivery of healthcare and bring more qualitative healthcare within affordable, sustainable and accountable dimensions.While eHealth is the use of information and communication technology for health at the local site and at a distance (WHO 2004a), Telemedicine or Telehealth (terms which are used interchangeably) is the use of information communication technology for diagnosis or treatment at a remote site.Telehealth is the remote delivery of health-related services and information via telecommunications technologies.
Telehealth can happen between a patient and a clinician or between two clinicians, the latter being normally described as telemedicine. It includes an infinite variety of technologies, ranging from patient home monitoring systems to medicine dispensing machines.[1]
A decade ago, healthcare stakeholders were quick to sense the importance of the subject but were slow in adoption. Many slow but steady initiatives at the global level are increasing the adoption of Telehealth/Telemedicine. On the one end, there are developed countries that have much refined and mature techniques in healthcare practices with thoughtful well-defined processes at work while on the other, there are developing or underdeveloped countries where healthcare is nonexistent in sections of society. Surprisingly, most countries are now adopting telemedicine application and techniques in healthcare for their own reasons. To adopt telemedicine, information communication infrastructure is essential. Network systems are vital for upcoming international coordination, cooperation and collaboration in areas of global healthcare.
International Initiatives
Despite many challenges in adoption of telemedicine at various levels, a significant development can be seen worldwide towards adopting telemedicine applications, tools and techniques.  Telemedicine has become a powerful medium and has added new dimensions to healthcare, not only to render therapeutive healthcare but also educational, supportive and preventive care.  Telemedicine initiatives can be witnessed across the world in various forms and dimensions. It has its reach in countries like India, Nepal, Pakistan, Korea, Australia in Asia, countries in Africa and varying presence in developed countries like the United States, Canada and the United Kingdom at the same time.
The increased focus in adoption of Telehealth applications across the globe is expecting a growth of nearly 10 percent CAGR in clinical applications while its market is predicted to touch US$703 million and a mind boggling US$ 3987 million in homecare applications by 2010[2] with a CAGR of 56 percent.
eHealth is becoming the third pillar of European healthcare (€11 bn in 2004, estimated to be around €50 bn in 2010) and expected to touch a whopping five percent of total health budget by 2010. For example, in the latest development in NPfIT, regions of Kent, Newham and Cornwall are running telemedicine pilots for over 3,000 patients, and are currently funded by the Department of Trade and Industry and Communities and Local Government. According to the Improving Chronic Disease Management report by the DoH, more than 15 million adults in the UK live with a chronic disease[3]. The DoH has launched a new telehealth initiative in 2008 called Whole System Long Term Conditions Demonstrator Programme, which will install more than 7,000 devices in the three selected areas (Kent, Newham and Cornwall). These devices will be able to measure blood pressure, pulse and blood glucose levels, as well as deliver medication reminders and monitor bed occupancy.
Satellite-based telehealth solutions are also underway. Private companies are collaborating in new ventures and running projects, which aim to connect telehealth user communities across Europe including Cyprus, France, Poland and the UK, as partners.
Scotland is ahead in terms of telehealth, and this is largely due to the country's geography, with numerous remote locations which can benefit from distant care. The government set up the Scottish Telemedicine Action Forum as early as 1999 and in 2006 the Scottish Centre for Telehealth (SCT) was created, which is running a vast array of projects.
There are numerous initiatives in US too where Telemedicine is increasingly used to address different challenges. One such is Tele-psychiatry in rural regions where specialists are in short supply. Telemedicine is spreading its wings in almost all the specialties with versatile modes of delivery using satellite, videoconferencing, telephone and even telehealth robots.  The U.S. Army Telemedicine and Advanced Technology Research Center (TATRC) manages more than 200 research projects in advanced medical technologies, with concentration in disciplines such as simulation, distance learning, information and communications, or robotics to name a few.   In recent years, TATRC has progressively increased its international portfolio and is now overseeing several programs in cooperation with foreign countries.
There is a wonderful example of the use of telemedicine during the 2005 earthquake disaster in Pakistan, where an estimated population of 150,000 required treatment for severe post quake mental disorders.  A recommendation was made to use e-psychiatry technology, as there were few qualified resources to help widely affected remote areas. The Institute of Psychiatry in Rawalpindi was utilized as the main hub for connecting remote centers. With limited mental health resources and almost non-existent mental healthcare in the primary care setup, e-psychiatry filled the gap to a large extent.
There is another example in India where a nonprofit organization, Byrraju Foundation created a remarkable milestone by connecting over a million people in 185 villages in Andhra Pradesh, India.  The objective was to make the rural population self-reliant providing services in the area of healthcare and education. This on-going initiative has helped save many lives by facilitating second opinions and creating healthcare awareness.
Challenges and Benefits
The way forward is challenging for all stakeholders.  Some of the challenges are:
• Cost of implementation, maintenance and sustainability
• Availability of high speed telecommunications lines
• Low healthcare organizational readiness
• No uniform healthcare standards
• Deployable Solutions suitable for different markets
The benefits of the strategic use of remote healthcare solutions are enormous if implemented with focused objectives of the need of in each   geographical region.  It can:
• Improve access to healthcare services in rural and underserved areas with teleconsultation and using tele-ECG and TelePACS programs.
• Reduce travel time and lower costs for patients who just need a prescription refill.
• Improve quality of healthcare through timely diagnosis and treatment. For example, if ECG data is sent at the preliminary stage of angina, then an appropriate action can be taken to control further damage within the golden hour.
• Reduce isolation of rural practitioners. Second opinion helps the rural practitioners to stay in touch with specialists and also sharpen their skills at the same time.
• Expand educational offerings highlighting that prevention is better than cure. Telemedicine can help create awareness about various diseases and comes very handy at the time of epidemic and natural calamities.
• Improve quality of care for people with chronic or lifestyle diseases, like diabetes.
Bottom Line
Telemedicine has tremendous potential to change the dynamics of healthcare but its optimum utilization is yet to be harnessed.  It warrants collaboration from all segments of the healthcare community to define and apply uniform standards, cost-effective deployable solutions and a mindset to change healthcare delivery.  While public or government authorities can mandate development of solutions based on future needs, the private players can support by bringing deployable capability and maturity into the system. This can be done by creating innovative healthcare solutions that enable current systems to connect to telemedicine for transforming healthcare delivery to the desired level where it becomes more accessible, affordable, qualitative and sustainable and ultimately helps the community as a whole.
References:
http://pacificfamilyhealth.wordpress.com/2007/03/21/challenges-of-telemedicine-in-developing-countries/ (Challenges Of Telemedicine In Developing Countries, March 21, 2007 by rodney itaki)
eHEALTH: INTERNATIONAL INITIATIVES, STRUCTURES AND TRENDS by F. Lievens, M. Jordanova
---
[1] Update of the UK public health market profile by Kabledirect.com
[2] Source Data Monitor – Telehealth Spending Through 2012 North America and Europe
[3] Update of the UK public health market profile by Kabledirect.com