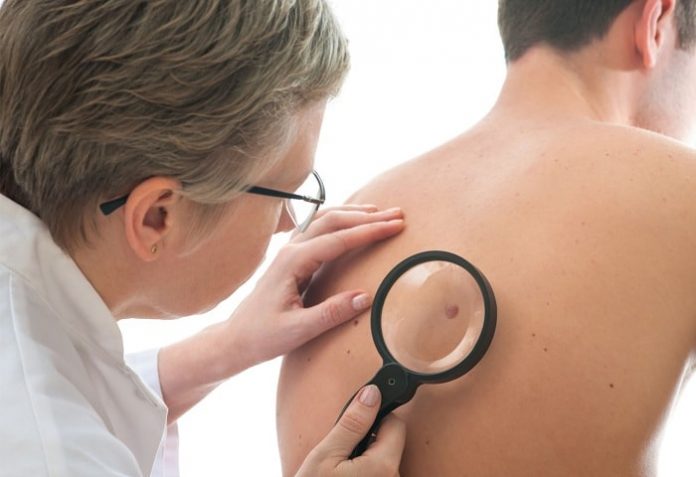 We all know that the statistics for skin cancer are staggering: the diagnosis and treatment of non-melanoma skin cancer (NMSC) in the U.S. increased by 77 percent between 1994 and 2014, and about 90 percent of NMSCis associated with exposure to ultraviolet (UV) radiation from the sun.
Not only is the number of new skin cancer patients growing every day, but it's also placing a huge financial burden on the national healthcare system overall. As years go by, more and more people in the 65+ age range are especially at risk of developing NMSC, as well. Worst of all, NMSC is three times greater than all other cancers combined.
Mohs surgery, which is considered the gold standard of skin cancer treatment today, often comes with serious risks, complications and side effects – not to mention takes a toll on a patient's cosmetic features and quality of life. As a result, patients increasingly ask doctors for other options to treat their skin cancer, and doctors want new ways to treat their "surgically fatigued" patients at the same time.
Enter superficial radiation therapy, or SRT: a non-invasive, highly effective alternative to surgery that treats NMSC. Here's how it works:
Radiation Saves the Day
SRT delivers precise, calibrated, low-dose radiation to destroy cancer cells, is painless and doesn't involve cutting, bleeding, stitching or anesthesia. There is also no risk of infection or scarring and no need for reconstructive plastic surgery.All in all, this is a cost-effective proposition to the healthcare bottom line, all of the while delivering an easy treatment regimen with a positive patient outcome.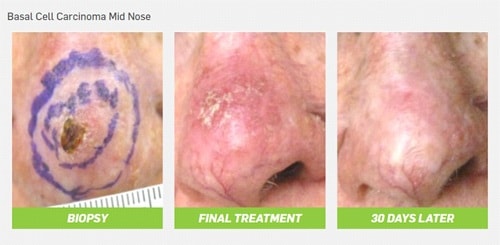 With SRT, getting skin cancer on prominent areas of the body doesn't have to mean that people will completely change their appearance –in fact, it has no impact on looks or quality of life whatsoever. Patients can lead a normal life without having to miss work, time with their families or general hobbies.
While patients make a couple of trips to the treatment center, their time in the room is routinely five minutes or less. And for diabetic patients who have NMSC on their lower limbs, eliminating cutting and having to make numerous trips to the wound care center is a huge relief. The softer, less-penetrating radiation that's accurately delivered to lesionsthrough SRT allows for easy treatment and quick healing.
Simply put, patient satisfaction is proven by the fact that once a skin cancer patient is treated with SRT, he or she will avoid all other options. It's easy on the patient and healthcare system itself.
What to Expect
Doctors who currently use SRT in their treatment centers all over the U.S. treat about 20 to 60 new patients per month. The systems are typically deployed in the existing CT Sim room or HDR room. Due to the fact that SRT is truly mobile, the machines are easy to set up, only requiring the run of a cable and proper electrical connection.
Since these two rooms are shielded, there is also no need for an additional shielding expense. Patients are treated on a typical gurney or in a chair, andfraction times are routinely between 30 and 50 seconds, so patient time in the room is very short. In fact, it's quite feasible to treat around 12 patients per hour.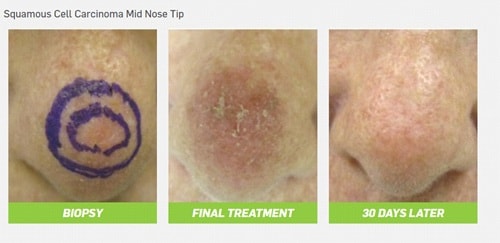 When we think of the ACO environment, the two topics that come to mind are patient satisfaction and cost containment. There are no consumable items that are required with SRT. Room prep adds no extra costs, and SRT only requires one operator. Additionally, the systems only require calibration once per year, which translates to almost no downtime.
It's Not Just About Skin Cancer – SRT Works for Keloids, Too
Another use for SRT is for the treatment of keloids, areas of irregular fibrous tissue that are formed at the site of a scar or injury. More often than not, 50 percent of keloids return in about 16 months. Making matters worse, they usually come back larger and more difficult to treat than the first time.
Users of SRT have discovered that, by using this type of therapy and the proper protocols, keloid treatment will have a success rate of 92 to 100 percent where the keloid does not return. Patients actually experience a cure for their condition, and the healthcare system limits the costly expense of treating the same condition over and over again.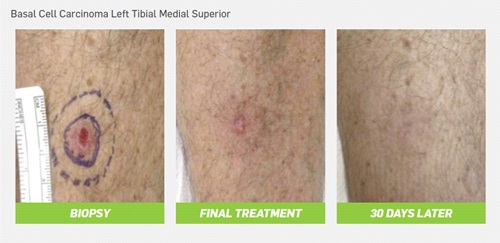 SRT in the Context of Patient-Centered Healthcare
Of course, patients have endless opportunities to find out about different avenues of care, andthey are more educated and aware of what they want when it comes to types of treatment. Doctors are listening to what their patients are asking them for to ensure that they are satisfied with their level of care.
Patients now want more options to choose from when it comes to treatment, as they have the world at their fingertips via the Internet; with a few quick online searches, for example, they can find out everything that they need to know for their condition and how to treat it. They will be vigorously going after the treatment that they think is best-suited for them and expect their doctors to have these treatments readily available to them. If they don't, they willsurely look elsewhere.
All tools at a doctor's disposal to treat both NMSC and keloids under one condition or another will have a need to be used, including SRT. For all cases, patients should be made aware of all their options, and doctors must help patients to choose what is right or best for them and their unique health circumstance. The healthcare system should do the same as it works diligently to curtail the costs of satisfying patients.
Patient education is the key to not only understanding all of the treatment options that are out there but also ultimately saving lives – what we are all here to do.