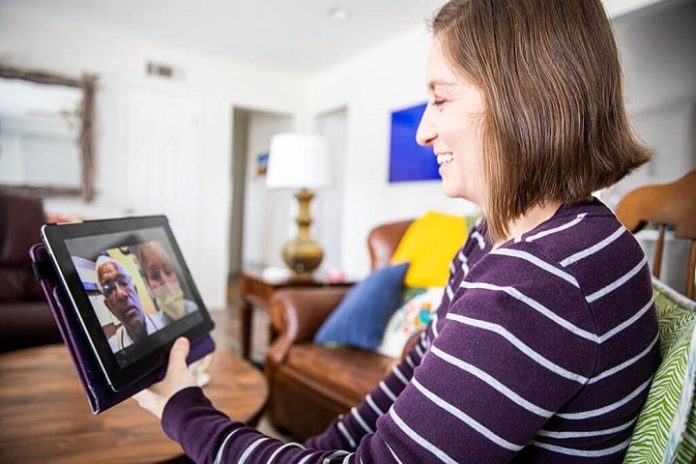 Digital technology can transform the home to "hospital of the future"
Powered by digital technologies, the home is becoming the foundation for personalized healthcare of the future. The home has the potential to become the epicenter for delivery of care services, self-care, and evidence generation about health. In the 19th century, the family doctor made house visits to attend to the entire family. Today, smart sensors, remote patient monitoring, virtual medicine, and outgoing home care services bring healthcare into our homes, creating the virtual house doctor of the 21st century. Home-based care is not only more convenient and safer than the hospital setting, but it also improves health outcomes.
Driven by the COVID-19 pandemic, consumer expectations and the transformation of healthcare systems shifting from inpatient to outpatient care, the home is rapidly becoming the "hospital of the future." Consumers are asking themselves, why healthcare services can't be as simple and easy as getting a delivery from online retailers. Some healthcare experts have been pushing back, arguing that healthcare is too complex, but the rise in telehealth and virtual health services, driven by the COVID-19 pandemic, have proven these skeptics wrong. The new virtual world of medicine is here to stay, enabling people to access care whenever and wherever they need it, with the home as a focal point of health, care delivery, and self-care.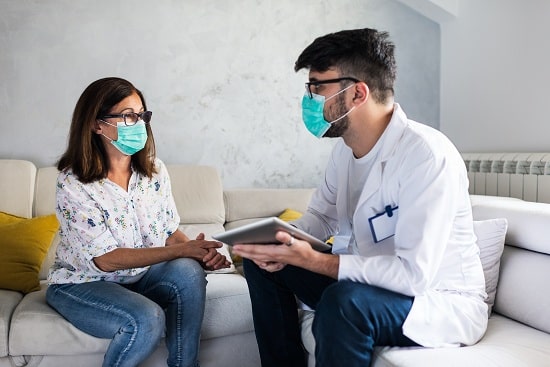 In the 19th century, the family doctor made regular house visits to attend to the whole family. This historic model of home-focused care melted away in the modern, industrialized society with institutionalized, hospital-based care becoming the ideal model, which ultimately turned the patient into a tiny piece in an overwhelming healthcare puzzle. Now, fueled by digital, smart technologies, the services around the home can transform into a virtual house doctor delivering individualized care in the safety and convenience of your own home and empowering person-centered healthcare.
There are several factors driving this trend:
Management of chronic disease: There are more patients today with chronic conditions who utilize complex, high cost, poly-therapies. A total of 67% have multimorbidity, the coexistence of two or more chronic conditions, which increases with age:from 50% for persons the age of 65, 62% for those between the ages of65 and 74, and 81.5% for those aged 85 or older. 1We have known for many years from medical research that the management of chronic diseases is more likely to improve patient outcomes and quality of life when people are treated and cared for in their own home compared to hospital-based care. These benefits have been demonstrated across several chronic diseases, including heart failure2, Chronic Obstructive Pulmonary Disorder(COPD)3, and type 2 diabetes4, where home-based care has shown improved health outcomes compared to institutional, in-patient, hospital-based care.
Smart technologies: The transformation from hospital-based to out-patient and in-home care gained real traction with the rapid expansion of digital technologies. These technologies, including personal remote monitoring tools, smartphones and sensors, have enabled people to stay connected with their healthcare providers, monitor their own health, and enhance their self-care abilities. Digital technologies have also become useful tools and platforms for healthcare provider systems that are expanding their virtual care and urgent care out-patient offerings to reduce the costs of unnecessary hospitalizations and maintain or grow their patient volume. Forrester predicts that healthcare organizations that don't deliver virtual care will face customer attrition.5
Consumer preferences: The vast majority of consumers prefer to have care delivered at their home.6 73% of consumers prefer recovering at home instead of in a medical facility following a major medical event. 69% are interested in regular, at-home check-ins with their doctors. 63% would prefer to get healthcare at home if the alternative is going to the doctor or medical facility. Caregivers of the elderly had the highest level of interest at 76%.
Personal empowerment and self-care: A further factor is the continued rise in personal empowerment as more people want to be directly engaged in their own health and self-care routines. This has further elevated the adoption of personal health technologies. The transformation towards the healthy home will provide people with more tools, platforms, and support services to engage actively in their own health and prevent and manage diseases if and when they occur.

Infection prevention: In the U.S., the pandemic has reinforced the poor quality of many nursing homes and lack of protection of their residents against infectious diseases. This may lead more people to prefer receiving long-term care at home, rather than in a nursing home. Furthermore, the COVID-19 pandemic has caused many people to switch their interactions with healthcare providers to telemedicine and virtual care, when possible, fearing getting infected with the virus during in-person visits. Telehealth is now gaining traction beyond the pandemic as patients and providers are getting more experienced using telehealth for their interactions. Telehealth connections can happen anywhere, but many people prefer doing this from their home.
Rapid growth in home healthcare
These and other trends have sparked a rapid growth in home healthcare. The global home healthcare market is projected to grow from $281.8 billion in 2019 with a projected compound annual growth rate of 7.9% from 2020 to 2027.7
Investment in home healthcare is growing, with interest driven by private and public payers alike. Prior to 2020, home health operators spent years trying to explain the value of their services to private payers and Medicare Advantage plans. Despite those outreach efforts, most providers have still struggled with non-competitive rates and strict limitations around utilization. Now, 97% of health plan executives believe more care at home is better for both their organizations and their members.6 A similarly high percentage said they believed treating members at home is more cost effective than facility-based care.
We are witnessing a growth healthcare services being delivered as in-home services. This includes in-home phlebotomy where phlebotomists and/or home care nurses draw blood from patients in their own home. This relieves patients from having to go to a lab or a doctor's office to have blood tests performed. This is not just a matter of convenience, but a matter of safety for patients with chronic diseases or complex conditions and for those who are immuno-compromised. In-home phlebotomy also holds the potential to help patients overcome barriers to treatment adherence. Barriers to adherence are lowered when patients aren't required to visit labs or physician offices in-person to have lab workup done to determine their eligibility to treatment, establish proper dosage, or to monitor safety for therapy maintenance.8
There is also a growing trend towards remote medication monitoring and management. Systems for monitoring and managing therapies include smart pill boxes and reminders that will prompt people to take their medications as prescribed and send automated signals to the pharmacy to refill and deliver their medicines when needed.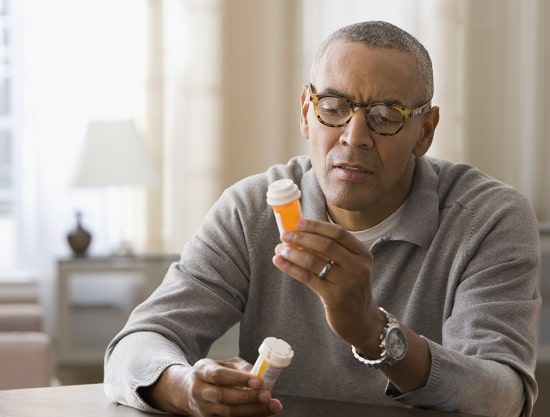 A vision for the healthy home of the future
We are just at the beginning of the movement towards the development of the idea that the hospital can be our home. We will see a continued proliferation of tools and platforms that will facilitate the transformation towards home-based healthcare.
Here is what the future could look like:
Vital signs from the bathroom: Digital technologies now enables the bathroom to be a setting for daily monitoring of our vital signs that can be shared with caregivers, friends and providers using peripherally connected links. This can include tools for digital temperature reading, weight management, blood pressure measurement through visual scanners, pulse oximetry, and technologies for measurement of lipids and blood glucose, etc.
Early disease detection: There will be sensors in the home enabling trusted caregivers, friends, and providers to monitor patients remotely, when patients give permission. These sensors could detect early signs of diseases even before the onset of clear symptoms of a clinical condition. As an example, sensors in the floors and walls can send signals and alerts if elderly people don't get out of bed in the morning, or whether their sleep patterns are deteriorating. This example has significant benefits for the early detection of neurodegenerative diseases, where medical research has demonstrated that disrupted sleep patterns may be an early marker of Parkinson's Disease.9
The bedroom as the "hospital room": Technologies for administration of care can be established in the bedroom, for example, the delivery of oxygen to help improve the lung function and breathing. This is critically important for people with COPD, and many people have recently been treated with portable oxygen machinery to improve their breathing function after being affected with COVID-19. Rather than having portable oxygen tanks and heavy rental equipment, we will potentially see oxygen delivery systems built into the wall of the bedroom.
The connected, data-driven healthy home: The connected nature of the healthy home will also enable the home to be a data-driven home. Through the digital connections, a myriad of data can be collected for real world evidence generation regarding personal behavior, healthy lifestyle, disease progression, and disease management, provided that people opt-in to participate in medical research using their home as a base.

Multidisciplinary collaboration
Advancing the new models for the healthy home will require innovative and disruptive collaborations between home care companies, life science companies, health systems, healthcare professionals and organizations, technology companies, urban planners, designers, and architects.
There are many challenges on the road – financial, legal, technical, medical – but the underlying drivers for the transformation from institutionalized to home-based care are strong and sustained.
The future of the healthy, connected home is here.
Reference
1. Salive ME. Multimorbidity in older adults. Epidemiol Rev. 2013;35:75
https://pubmed.ncbi.nlm.nih.gov/23372025/
2. Feltner C et al. Transitional Care Interventions To Prevent Readmissions for People With Heart Failure. AHRQ Publication No. 14-EHC021-EF May 2014.
https://www.ncbi.nlm.nih.gov/books/NBK209241/pdf/Bookshelf_NBK209241.pdf
3. Davies I et al. "Hospital at home" versus hospital care in patients with exacerbations of chronic obstructive pulmonary disease: prospective randomised controlled trial. BMJ 2000;321:1265–8
https://www.ncbi.nlm.nih.gov/pmc/articles/PMC27532/pdf/1265.pdf
4. Han L et al. Are home visits an effective method for diabetes management? A quantitative systematic review and meta-analysis. J Diabetes Investig 2017; 8: 701–708.
https://www.ncbi.nlm.nih.gov/pmc/articles/PMC5583953/pdf/JDI-8-701.pdf
5. ForresterNow: Predictions 2020: Invest In Virtual Care To Meet Soaring Patient And Member Demand In 2020.
https://www.senderoconsulting.com/wp-content/uploads/2020/10/Predictions-2020-Invest-In-Virtual-Care-To-Meet-Soaring-Patient-And-Member-Demand-In-2020-Forrester.pdf
6. CareCentrix: Health-at-Home 2020: The New Standard of Care Delivery.
https://www.carecentrix.com/wp-content/uploads/CareCentrix-Health-at-Home-Report.pdf
7. Grand View Research. Home Healthcare Market, Trends, Analysis & Marketshare.
https://www.grandviewresearch.com/industry-analysis/home-healthcare-industry
8. IQVIA. Overcoming barriers to patient adherence. BioPharma Dive, December 14, 2020.
https://www.biopharmadive.com/spons/overcoming-barriers-to-patient-adherence/591821/
9. Pushpanathan ME et al. The relationship between sleep and cognition in Parkinson's disease: A meta-analysis.
Sleep Medicine Reviews. Volume 26, April 2016, Pages 21-32
https://www.sciencedirect.com/science/article/abs/pii/S1087079215000696?via%3Dihub