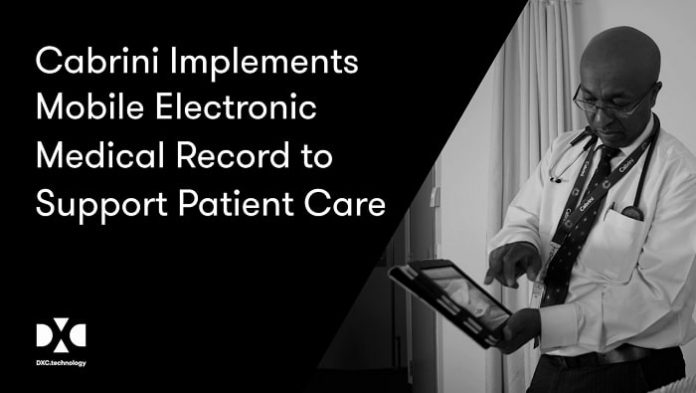 Cabrini Health's Brighton Hospital, an acute care facility that specializes in cancer services, women's health and surgery, recently boosted the speed, precision and quality of its clinical services by improving access to clinical and administrative patient information and introducing electronic medication management.
Developed and implemented by DXC, the two solutions provide doctors, nurses and pharmacists with anywhere, anytime access to information via mobile devices such as iPads and iPhones, as well as tablets or laptops mounted on wheeled workstations. In addition to real-time access to clinical information, the solutions also enable doctors to order services and medications and support nurses during drug rounds.
This has enabled us to provide patient care in a superior far superior [and] efficient manner, says Sue Hewat, general manager and nursing director at Cabrini.
AN OUTDATED DATA SYSTEM
In a beachside suburb south of Melbourne, Cabrini serves patients with five state-of-the-art operating rooms, 141 licensed beds, several specialty centers, and on-site consulting suites for 50 medical specialists.
The hospital is known for providing superior, individualized care — and it wanted to enhance and simplify its patient data system to make it easier for staff to do this important work. Previously, the medical records had been centered on paper files, with siloed digital repositories accessible only onsite.
"My ward rounds would take quite a long time," says Amanuel Tesfai, a visiting physician who used to struggle to gather lab test results, radiology images and other necessary records when working at Cabrini.
Nurses, too, sometimes struggled to find information, "leaving the patient at the bedside" while asking for telephone orders from doctors or checking medical notes, Hewat says.
And, pharmacists tussled with a scattered, inefficient system for processing prescriptions. "We used to have faxes, paper charts everywhere," says Quyen Hoang, a pharmacist at Cabrini Brighton.
To address these shortcomings, the hospital called on DXC.
A MOBILE APPROACH
The new system developed and implemented by DXC lets medical staff use mobile devices to access patient data, share files and information, and take action from anywhere via an Internet connection.
The scope goes beyond improved data access, collaboration and communication. It also integrates electronic medication management. For example, the system proactively reminds caregivers if a patient has allergies, and it keeps tabs on the amount of medicine that's been administered, alerting staff to drug administration times, potential overdue medication, drug-to-drug interactions, dose-withholding or dosage mistakes. Clinicians can access customizable protocols and quick-lists that guide best-practice care.
DXC played a key role in training staff and fostering adoption of the system.
"From the beginning, there was a lot of interaction with DXC," Hewat says, adding that DXC conducted focus groups with doctors, nurses and pharmacists to better understand the product's usage and adoption.
This involvement was "critical to the success" of staff, which faced a steep learning curve. "The change to an electronic platform in the clinical setting was a massive leap," Hewat says. Training included online learning modules that could be accessed on demand, as well as the training of "super users" among different staff groups to assist peers and act as champions for the new system.
BENEFITS BEYOND HOSPITAL WALLS
The benefits for doctors, nurses, pharmacists and patients have been widespread. Because he can now pull up patient information on his mobile device anytime, anywhere, Dr. Tesfai now does his ward rounds in about 40 percent less time. "It makes my work go a lot quicker, going through results and checking on their medications, which I can do even before I see the patients," he says.
His interactions with patients have become more productive. He can use his iPad now to show scans and other relevant clinical information, more clearly explaining the plan of care. "They accept your treatment better," he says.
The system also lets Dr. Tesfai communicate efficiently with nurses and respond more quickly in emergencies.
Pharmacists have valued the improvements as well. They can more easily understand doctors' prescriptions and notes, and they have better access to patients' data.
You don't have to roam around the hospital looking for medication charts,
says Hoang, who can't imagine ever going back to the old way. "This is so much easier for everyone and so much more efficient."
Hoang also finds it easier to communicate with doctors and nurses by posting a note about potential problems related to dosage or drug administration right in the electronic medication chart.
The system has also had an impact on patient care outside hospital walls. The home care program, in which hospital staff go to patients' homes, has also benefited staff members greatly. These roaming doctors and nurses can now see test results in real time and act accordingly during visits to the patients, Hewat says. They're also able to load notes into the system, where they can be reviewed by colleagues in the hospital and elsewhere, leading to better collaboration.
Ultimately, the system has helped Cabrini Brighton achieve the project's most important goal: "We have been able to improve the satisfaction and the care of our patients and their families," says Dr. Tesfai.*
*This success story was originally written by CSC, which has become DXC Technology as of April 2017.