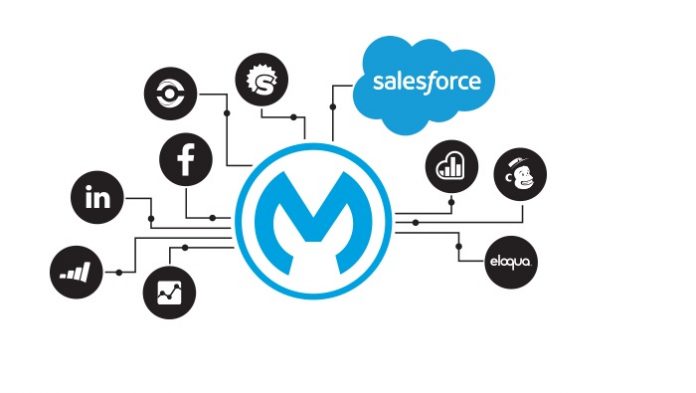 Hologic is a leading global healthcare and diagnostics company with over 5,000 employees. They are an innovative healthcare company with market-leading products for early detection and intervention, with a strong position in women's health.
Driving best in class customer engagement
To support their continued investment in improving customer experiences,Hologic decided to adopt Salesforce's sales cloud, service cloud, and marketing cloud products. Their goal: provide their growing sales and support teams with 360-degree customer views populated with real-time data.
Due to the projected business impact expected from the Salesforce deployment,the executive team set an aggressive six-month timeline for the company to bring a pilot group into production. Sharing data in real time across multiple systems would be critical to realize the promise of a single platform of engagement. At first, this deadline seemed very challenging for the Information Systems (IS) team. According to Kevin Brownlie, Sr. Director, Applications Technology and Development at Hologic, the IS team "had concerns that [they] would be able to get this project done with the current toolset."
Constrained with a heavyweight integration stack that slowed development time,the IS team needed a faster way to deliver integrations in order to keep pace with the growing needs of the business.
Evolving business demands drive the need for increased IS agility
The scope and complexity of the project, which required real-time integration across multiple hosted and cloud systems, demanded new tools to make development faster and more agile. They quickly identified that in order to be successful, they needed a new integration platform that could support real-time data transfer across a variety of enterprise applications, including Salesforce, Oracle EBS, and Agile PLM.
We wanted to work with somebody that was focused on integrations," said Brownlie. "And we needed real-time functionality in order to support our business processes. When something's been sold, our sales reps and fulfillment team need to know immediately to facilitate a same-day or next day delivery.
After conducting an exhaustive analysis of vendors to support their integration needs, Vasil Valkov, Systems Integration and Software Development Manager at Hologic, identified MuleSoft as a "cutting edge technology" and "the best, easiest solution for integrating with enterprise applications."
Increasing development speed through API-led connectivity
The Hologic team has been able to increase the overall speed of development through their adoption of API-led connectivity,powered by MuleSoft's Anypoint Platform. API-led connectivity packages underlying connectivity and orchestration services as easily discoverable and reusable building blocks, exposed by APIs.
For example, Hologic recently developed an integration between Salesforce, Steelbrick (a CPQ engine), and Oracle EBS, that takes a product quote and converts it to a sales order. When the team needed to replicate this functionality for service and repair quotes,
they were able to reuse many of the same assets developed for the initial integration.
Furthermore, they've built a foundation of reusable assets that will help them
accelerate the development of future projects.
Tripling the speed of integration with cutting edge technology
MuleSoft's ease of use, robust library of over 140 connectors, and native support for SOAP and REST services made coding integrations quicker, simpler, and easier for Hologic's developers.
With MuleSoft's platform, any type of data can come in and any type of data can come
out. You can take inputs and convert them to any outputs you want, giving programmers
the flexibility they want to manipulate the data to whatever payload is needed,said Valkov.
Prebuilt connectors for Oracle EBS and Salesforce supported simplified connectivity to
their respective APIs, allowing Hologic to immediately begin developing end-to-end preproduction integrations.
With Anypoint Studio, MuleSoft's graphical design environment, Hologic's developers
were able to easily build, edit, and document integrations with simple drag and drop functionality. Consequently, Hologic's developers were able to ramp more quickly with MuleSoft than with their current integration platform, further accelerating developer productivity. As Brownlie explained, "there was a quicker learning curve, since it's a tool specific to integration. We have guys that are more of an expert in MuleSoft after 3 months than they were after a year and a half with our current integration platform."
As a result, in the first four months of use, the team produced 25 end-to-end, real-time integrations, and to date, MuleSoft's has enabled Hologic to build and launch integrations three times more quickly than before. Brownlie estimated that it would have taken "at least 50% longer" to deploy Salesforce without MuleSoft, which would have prevented them from delivering the project in the timeframe demanded by the business.
An agile future, powered by MuleSoft
By implementing Salesforce, Hologic intends to bolster their market leadership and drive increased revenue through improved customer engagement. Moving forward, Hologic now plans on migrating existing integrations to the MuleSoft's platform and to support new additions to the IS stack. Their end goal is to make MuleSoft the sole platform for all of their integrations, thereby empowering the IS team to nimbly respond to whatever the business demands in order to support continued growth. As Valkov stated, "No matter what new solutions our executives want to bring on, now that we have MuleSoft, we know we'll be able to integrate them easily."
MuleSoft's mission is to help organizations change and innovate faster by making it easy to connect the world's applications, data and devices. With its API-led approach to connectivity, MuleSoft's market-leading Anypoint Platform™ is enabling over 1,000 organizations in more than 60 countries to build application networks. For more information, visit https://www.mulesoft.com.
MuleSoft is a registered trademark of MuleSoft, Inc. All other marks are those of respective owners.